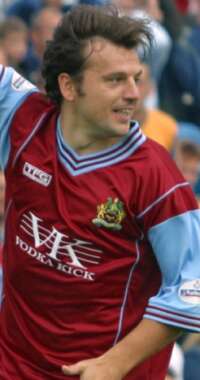 Robbie Blake - goals in last four home games
Everything was looking good though in the build up to the game. We'd gone on a run of four games without defeat, the last three of them against teams in the top group in Reading, Sunderland and Sheffield United.
And although Richard Chaplow was out suspended we had David May back after serving his one match ban and had signed Jay McEveley on loan from Blackburn to give Stan more options at the back since the days when Steve Davis was mobile.
Coventry, the visitors, had won only once ever at the Turf and that was in our last ever First Division game, and had suffered a bad week with first the Youssef Safri foul against Sunderland and then far worse the dreadful news that player/manager Gary McAllister had stood down to be with his wife Denise who is desperately ill.
As well as McAllister they were also without the suspended Safri and Julian Joachim had completed his recent spell of not being injured and was out with his latest hamstring injury.
It was all looking good for the Clarets and we were all looking forward to a last good Turf Moor day before Christmas and the hopes of three successive home wins for over a year.
But the peace was shattered even before sunrise with more than one national tabloid carrying the story of a serious training ground incident at Gawthorpe involving manager Stan Ternent and central defender David May.
There were queues at local newsagents as supporters picked up their copies as news spread and it was certainly a major talking point before the game. Stan though was in his normal position in the home technical area and that can only suggest the tabloids have it wrong, surely the club would have taken action had it been true.
But even so the allegations are serious and with no one else from Turf Moor making any comment whatsoever it was left to the manager after the game. He clearly hasn't taken it seriously, made a joke of it and even suggested that it was good publicity for his book which goes paperback next month.
It all put a dampener on things, we needed a lift, and the game as just about to get underway when the club deciding to make a presentation to the suspended Richard Chaplow. Referee Mick Fletcher was just about to signal the start of the game but there was even more and Mr. 'Here at Turf Moor' thought he would play '500 miles' as we kicked off. You sensed nothing was going to right – and it didn't.
We attacked Coventry from the off and Glen Little, on the left, twice tricked his way into good positions in the first few minutes and twice got decent balls into the box. We really should have scored from one of them but Paul Weller, starting for the first time since his four minute cameo against Millwall, couldn't quite turn the ball in from close range.
"Chaplow would have scored there," could be heard around the ground. They were probably right and Weller does seem to have lost the ability to score goals although this was the afternoon when that ability would return.
Absolutely nothing had been seen of Coventry for the first eight minutes but then in their first more forward they took the lead and what an awful goal it was. Patrick Suffo was somehow allowed to turn with ease on the edge of our box and then get in a shot which frankly had nothing behind it.
It beat Jensen though and we then had the usual scenario of the entire defence pointing fingers at the Danish keeper with him pointing fingers at the defenders. They were both right, no way should Suffo have got a shot in but no way should it have been a slow to react keeper no matter how unsighted he might have been.
We tried to get back into the game and certainly had much of the possession with the game always appearing to be heading towards the Cricket Field End where a small gathering from the West Midlands had managed to find each other.
But not once did you think we might equalise, not once did we look as though we might equalise, and apart from one effort from Robbie Blake the former Claret in goal Gavin Ward was almost a spectator.
Then disaster struck just before half time when some dreadful full back play from Mo Camara gifted the ball to Coventry. Twice they threatened to give it away but still kept possession before hitting in a cross from the right.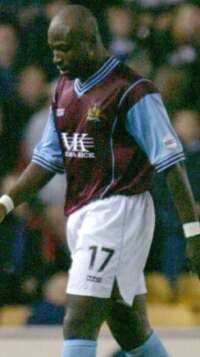 Arthur - four red cards since August last year
It was Andy Morrell who crossed the ball with not a single Coventry player in our box. But that didn't matter because with so much time and space Paul Weller's confidence in front of goal was restored as he headed unchallenged into the corner to Jensen's left giving him no chance.
Two down and the opposition had only had one effort at goal and seconds later it could and should have been three when Micky Doyle's effort was saved after a Suffo shot deflected to him. Doyle really should have given Jensen no chance.
Half time and two down something had to be done and it was, we changed two of our back four. Off went the disappointing Mark McGregor and the inept Lee Roche with our best defender David May and Dean West coming on.
Ray Pointer had been on the pitch at half time and hopefully this great goalscorer of forty years ago could inspire us. We needed an early goal and we got it and not surprisingly from Robbie Blake.
It was inspirational stuff from Tony Grant as he played a ball right across the box from left to right for Robbie Blake who hit home with some help from Ward who should have done better with it.
Blake has now scored in each of the last four home games and the first to do that since David Johnson was here on loan in the spring of 2002.
We piled forward now but Coventry, a poor side without doubt, got men behind the ball and made it difficult for us. So difficult in fact that we created virtually nothing. Most of the good work was coming from Blake and no surprise either given the way the midfield played.
And it was midfield where the next change came with Luke Chadwick giving way to a yet another defender with the introduction of new boy McEveley who received a warm reception. Never has the lack of player been more evident, losing and yet the only three substitutes available for use all being defenders.
We tried McEveley on the left hand side of midfield but when that didn't appear to be achieving much, and following some frantic waving of arms from Stan, he swapped with Camara.
It all seemed to peter out though and despite throwing men forward an equaliser never looked likely until the ball dropped for Camara five minutes from the end after some poor defending. But the Burnley full back cum midfielder failed to find the target and still searches for his first goal in English football.
The last piece of the action involved referee Mick Fletcher who I thought didn't have a bad game. Arthur, already booked, was penalised in the centre circle deep into stoppage time and he knew what was coming when Fletcher reached for his pocket. The second yellow saw him sent off for the fourth time since August of last year and he now misses the game against Stoke at home on Sunday 28th December and also the cup tie at Wycombe or Mansfield.
Glen Little can count himself very fortunate not to have gone shortly before that after kicking out at a Coventry player having already been booked. But the yellow card he collected will now see him miss the Stoke game.
We could have got something, we could even have won it, but we should not be fooled into thinking that this was anything other than a dreadful performance against a poor Coventry side.
The inconsistency continues and that's no surprise with the lack of players and all three useable subs being defenders. It is just something that we have to expect for the forseeable future although it doesn't make good watching. And that's why the crowds continue to drop.
Thank goodness Chappy is back next week. We may be getting over carried away at times but this was game was a fantastic advertisement for him. How he was missed.
The teams were,
Burnley: Brian Jensen, Lee Roche (Dean West 45), Mark McGregor (David May 45), Arthur Gnohere, Mo Camara, Luke Chadwick (Jay McEveley 73), Paul Weller, Tony Grant, Glen Little, Robbie Blake, Ian Moore. Subs not used: Joel Pilkington, Matt O'Neill.
Coventry: Gavin Ward, Andrew Whing, Callum Davenport, Mo Konjic (Richard Shaw 43), Steve Staunton, Micky Doyle, Johnnie Jackson, Yazid Mansouri, Stephen Warnock, Patrick Suffo (Craig Pead 78), Andy Morrell (Dele Adebole 72). Subs not used: Scott Shearer, Dean Gordon.
Referee: Mick Fletcher (Warley).