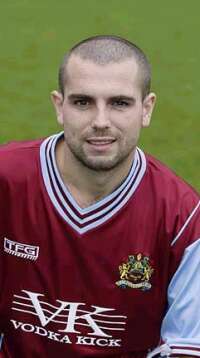 Star Geezer - Mark McGregor

Clarets played their worst ninety minutes of the season, repeating their dire run of performances against Watford and painfully reminding many of the FA quarter final debacle of last season. Yes Watford's happy three hundred made their return trips with mobiles clamped to the sides of their heads, gleefully telling their mates back home of just how bad Burnley were in this all important game.
The psychologically important fifty point barrier is now attained by the Hertfordshire side, but Clarets fans are looking to further increasingly important home games to make that similar target, but after successive home defeats, the Clarets desperately need a Turf Moor tonic if points are to be gained in the remaining home fixtures.
With Clarets suffering the loss of Chaplow, dead-legged at Walsall, then further the early losses of Weller and Wood, the guts were ripped out of the heart of the side. That though is a poor reason for the gutless display offered today by a meek and pathetic Clarets, who, Mark McGregor apart, were simply awful from the first whistle to the last.
Tactically inept and lacking a leader this was as bad as it has been all season and one of those days when you wonder why you bother, patience a necessity when Clarets play like this.
With Watford also missing key players for this key game, they simply were the hungrier of the two sides, were also nervous, yet managed to create chances aplenty and looked like a side with an objective, deservedly taking the three points to move clear of the danger zone.

Clarets took to the field with the same eleven as had been victorious at Walsall, lost the toss and therefore played in the wrong direction in the first half.
Wood took a knock on the knee in the second minute and despite obvious need for replacement, he went down more times than Bruno, it was a quarter of an hour later before he was eventually replaced.
In the meantime, Weller clearly was not match fit and signalled his desire to get into the bath first leaving the field before the quarter hour with Johnrose replacing Weller and Chadwick getting a run out in place
of Wood.
In between, the Beast was called upon to parry from Helguson's glanced header, but in truth the game was poor, with little in the way of quality coming from either side in the first half hour. Branch managed a
decent blocking tackle on Bouazza, for which he was curiously pulled up by the very curious and at times mystifying referee, a Mr Boyeson from planet Myopic.
The less said of Mr Boyeson the better. It would be easy to blame his ineptitude, but this would be a detraction from real problems elsewhere on the pitch. He did though allow Clarets an opening goal, scored somewhat against the run of play and a goal as scruffy as the game.
Blake's corner was scooped up into the air, Chadwick won the first header and McGregor headed home for his first goal of the season, nodding home from ten yards as 'keeper Chamberlain scrambled in vain across his line.
It was the only the sincere home cheer of the game and it would be fully fifty five minutes before the 'keeper would be forced into a further save, enough said. So undeserved it may have been but Clarets were in the lead again, could they capitalise.
No was the simple answer. Branch began the rearward trend towards Jensen's goal, conceding a needless free kick within two minutes from which Clarets survived. Camara tried a chest back inside the six yard box causing panic between a startled 'keeper and his centre half, Branch hooking the ball out of the 'keepers hands as the two managed to clear, but this was small feed compared to the comedy of errors in Watford's equaliser ten minutes from the break.
Camara's attempts to control a bouncing ball were from the school playground allowing Devlin to nip past him and advance to the edge of the area, where Exocet like, Branch needlessly took him out with a slide tackle from the same school as Camara. Stan later called it naïve, most others referred to it in less polite terms, Mr Boyeson had little option and Devlin despatched a low spot kick to Jensen's right for one-one.
Johnrose managed to concede a further silly free kick, but the Clarets survived again and to the break and as the teams left the field, many could only hope that the managers enforced view from the stand game him the vision to put matters right in the second half which surely could only improve on the first.
HT 1-1 and a round of half time scores that were as bad as the Clarets performance.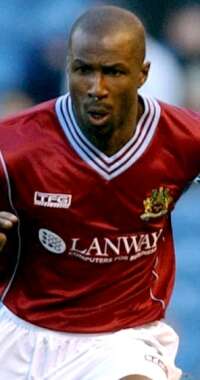 Star Gazing Gold Medallist - Mo Camara

The second half was worse and Clarets began it as though there were already defeated. Watford were allowed to pass in and around the box at will, with no Claret prepared to close down, mark or tackle.

It infuriated the crowd to see Clarets play so meekly and Stan changed things after only seven minutes, Adebola coming on for the hapless and clearly annoyed Chadwick.


The switch saw a change alright, with Watford taking the lead only a minute later. There seemed little danger as Watford cleared their lines as Helguson ran on to a long ball down the left wing, some forty yards from goal.

Branch and Roche were in accompaniment, but neither dealt with the run and by the time Jensen ambled from his line to try and close down the advance on his goal, the ball was pushed past him with Watford celebrating and Clarets looking to the skies in embarrassment.

Briefly Clarets tried to respond, Adebola almost put the ineffective Ian Moore in on goal, but he was
beaten to the loose ball by an alert Chamberlain. Down the other end, an awful lapse in concentration by Camara put Mahon in on goal, but he was put off by the scramble with Jensen and his delayed shot went just over the angle.

Blake was booked for dissent after Clarets at last won a free kick, Mr Boyeson earning a unique standing ovation from a sarcastic home crowd, before Johnrose brought the crowd to life after a trademark sliding tackle showed a nanosecond of passion.

Camara's surprised half volley at Chamberlain, ten minutes from time, was Clarets first attempt at goal since McGregor's opener, but it was as half hearted as his display serving only to see Watford go down the other end and score a decisive third.

Cook's darting run ended with an early shot across a surprised Jensen, the games only moment of quality saw the points heading south, many locals deciding that was their prompt to go home and kick the dog.

Those who did stay saw Adebola score his first goal crashing home a close range header from a short
corner and Little's far post cross, before the two almost combined in injury time to set up what should have been an undeserved equaliser, but with three Clarets queuing up to score the goal, they got in each others way and managed to see the ball wide of the post instead of inside it.

Mr Boyeson decided that was enough, Watford's celebrations looked more like championship winners than three points towards safety.

FT 2-3 and a round of full time scores as depressing as this performance.

Att:- 11,413.

Star Gazer

Perm any one from thirteen. In reverse order, the bronze medal goes to Ian Moore for another ninety minutes of anonymity and services to hopeless causes. The silver medal goes to Glen Little for an ability to be in the wrong place at the wrong time, with gold going to Mo Camara for a
display that contributed greatly to the opening goal and an array of misplaced passes that made Gerry Harrison look accurate.

Beer Money

Losing three midfield players out of four is a blow to any side, but this display was so poor it went beyond missing players. Also missing were commitment, passion and belief and these three had better be available for Cardiff come Saturday.

Star Geezer

Mark McGregor. Scorer of the opening goal and probably the only one whose strip needed to go to laundry post-match, he at least could hold his head up and say he contributed to the game and gave his all.

Pomagne Tastes

There's no bubbly down Harry Potts Way after a display so poor.