Clarets fans made up an impressive proportion of the 6,293 crowd in the homely and welcoming Huish Park. In fact, so many had travelled that when I arrived at 1.30pm, the designated away supporters' car park was already full. It made quite a change to see so many standing fans. Thankfully, the downpours of the last week in the West Country had stopped, and those on the terraces enjoyed unbroken winter sunshine. They also enjoyed some lively " call and response" interaction with the Clarets' fans seated at right angles to them - "Who are ya?"..."Stand up if you love Burnley"...All good fun.
After the bucolic tones of the Wurzels singing Yeovil's theme song had died away on the PA (I'm not making this up, by the way) the home team got off to a fairly lively start. It took 19 minutes for Burnley to look threatening - and they did so with deadly effect. The Yeovil defence were slow to the second ball, and Danny Ings - who else? -volleyed emphatically past Stech from 20 yards. It was a beautifully taken goal, Danny's 21st of the season. No wonder he is attracting interest.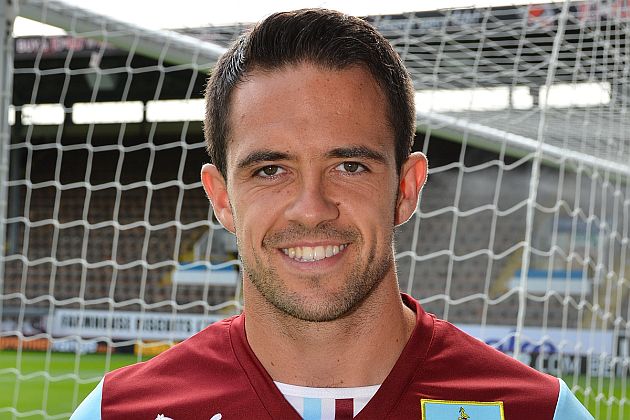 A beatifully taken goal from Danny Ings gave Burnley the lead
Burnley grew in confidence after the goal, and it did seem clear - for a while - why the teams occupied their relative places in the Championship. On 32 minutes Burnley launched a swift and fluent attack, with Ings linking well with Sam Vokes. Danny went for goal from outside the area but, this time, his shot was high. Ten minutes later the Clarets gained a wide free kick. David Jones' excellent delivery was flapped away by Stech and , in desperation, Yeovil hoofed clear.
The Clarets went in at half-time one up. We were deservedly ahead, but looked somehow hesitant and lacking in confidence. Jason Shackell looked edgy. I couldn't agree with the Claret who cheerfully shouted "Shackell - you're a donkey" at him (voices do carry in these small grounds) but he wasn't exactly leading by example, particularly with some wayward passing.
The second half began at a more lively tempo, and Yeovil came more into the game. They had a chance to level on 55 minutes when a Michael Duff slip let in Joel Grant- Yeovil's best player, in my view - but Tom Heaton saved well. On 57 minutes another flowing Clarets' move down the left ended with Sam Vokes striking the post as he connected beautifully with a pin-point Danny Ings cross.
But Yeovil were not out of it yet. On 60 minutes, Ayling sent the ball high into the Burnley area for Grant to climb highest and head against the crossbar. So it came as some relief to the Clarets when, within a minute, Burnley doubled our lead. Slack defending on Yeovil's left by the otherwise steady Everton loanee, Shane Duffy, created the chance for Dean Marney to put in a precision cross and Vokes easily scored .Sam had another chance on 70 minutes with a firm header following good approach work down the left, but this time Stech saved well.
So - 2-nil up against a struggling team with ten minutes to go? Easy... except it wasn't. Yeovil's substitute Moore ( who, according to his manager Gary Johnson in a post match interview "was playing 28 divisions lower last season" was given far too much time and space by a hesitant defence. What looked like a speculative cross was allowed to creep in at the far post.
Yeovil gave it a real go in the last minutes, with goalkeeper Stech joining the attack, but we held on for the win. Overall, we deserved it, but we will meet better teams than Yeovil, and need to play better than this.
I hope I don't sound churlish. It's a long season, a tough division, and an away win is an away win. Burnley are in second place in a tight group of teams at the top - but we're more than holding our own. I believe we will stay in a promotion place, and our attacking prowess will cause problems for better teams than Yeovil. Onwards and - let's hope - upwards.