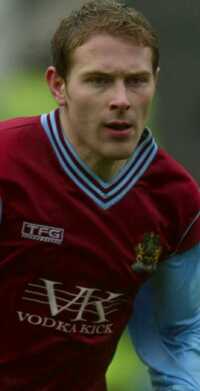 Star Geezer - Ian Moore
With both sides desperately in need of additional revenues, a win was vital to both sides, it was the Clarets who will deservedly go into the bowl for the fifth round draw, after a solid performance that netted three quality goals and saw the home side play much the better of the football.
With only two wins from their last ten visits to Turf Moor, the omens weren't good for an away success, but these are nervy times at cash strapped Turf Moor and the extra pressure on Clarets never really showed, the win never really looking in doubt after two quick goals on the half hour.
The two managers also had vastly differing fortunes when it came to players who were able to take to the field. For Andy Hessenthaler it was a case of who could play. In came fourth choice 'keeper Bossu and in front there were numerous outfield changes for reasons of ineligibility, injury and suspension. By contrast, Stan for once, had the luxury of player choices and even the bench had quality on it in the five track suit wearers.
The defence stated the same as last week. With Chaplow once again available and Weller missing through injury, the midfield picked itself, though Alan Moore made his first start of the season coming in for Branch, whilst up front the livewire pairing of Ian Moore and Robbie Blake would tease the Gills defence, whilst at the same time entertaining the decentish crowd of some 9,700, with a 1,000 or so having made the long trip north.
Prior to kick off there was a worthy mention of the returning Chaplow. PFA player of the month and now an England U19 call up, the first such Clarets for twenty years. Clarets new found star is now receiving deserved attention from further afield and a standing ovation was afforded to the likeable lad.
In a quiet opening to the game where neither side threatened, the game was finally brought to life by the return to form of bendy man Little whose neat footwork and desire were, at times, both productive and mesmerising, it's certainly been a long time since his skills of old were seen in a Lanway/VK shirt.
It was he whose footwork set up Chaplow, but in trying to get his shot in, good defending blocked the effort at the expense of a corner. By the quarter hour mark, Gills style and characteristics were plain for all to see. Here was a big, strong, hard working side whose physical efforts were often borderline, the over physical kicking-in, quite literally at times, as the half progressed.
Clarets tactics were to try and lure the centre backs out of position using the pace and respective skills of MooreI and Blake to beat their opponents on the floor wherever possible. This almost bore fruit half way into the half, but MooreI was just beaten in the area by Ashby allowing Bossu to snuff out the threat.
Clarets rearguard, solid for the most part, was caught out on twenty five minutes, but thankfully Tommy Johnson's first time shot was dragged wide from within the "D". At the other end quick footwork from Blake wove its magic and only by taking on one too many did the move break down.
By now though Little and Blake were becoming a real threat to Gills' patience and it was becoming all too obvious that sooner or later the way to Bossu's goal was going to succeed by Clarets patient tactics of utilising the wing skills of Little and MooreA alongside the rich talents of Blake.
Approaching the half hour mark, the patience of Johnson snapped and he was the first of the many yellows dished out by referee Laws for a rash challenge on Little. On the half hour came the Clarets opening goal and a goal of real quality it was. Camara's superb cross from the touchline found MooreI at the near post and his pin-point header found the top corner of Bossu's goal. Ian Moore clearly likes the FA Cup - this was his tenth goal in only twelve fixtures.
Two minutes on and Little was once again the victim of a crude challenge on the edge of the Gills box. Blake's superbly curled free kick went in off the post and Clarets had day light between themselves and their visitors.
The quick two-goal salvo clearly rattled the Kent side, Smith's wild shot found the upper tier of the stand in a quick attempted reply, but it was the antics of Hills, who with red mist all around him, could consider himself a very lucky man not to be taking an early bath, for a stupid two minutes. First he chased Little off the pitch in an attempted ABH attack.
Warned of his conduct by Laws, he then ran fifty yards only to immediately upend Blake, the yellow card awarded hardly a surprise. That he was around for the half time whistle was perhaps more of a surprise.
With the home crowd in fine voice, the Turf of old briefly returned and the Beast was finally called upon ten minutes from the break, when out smartly to thwart Henderson when saving with his legs. Hills saw an effort well wide before Blake's awareness set up Little after neatly nutmegging Ashby put the bendy man through. Little though, failed to get his shot in and the good chance was somewhat wasted.
Smith wasted another good opening for the visitors, again shooting wildly, before Hessenthaler had Stan out of his technical area, he the next Gills player to hack Little to the floor. Laws needed support of law enforcers at the half time whistle when leaving the field, Stan across to question his leniency big style and as a consequence of his outburst, Stan would see out the second half from the stands after being banished from pitch side. HT 2-0.
Star Gazer - Lee Roche
Into the second and the pattern remained much the same as the first half. Clarets would play the neater football, Gillingham would use physical tactics to get from the game what they could.
Four minutes in and Ian Moore could and should have settled it. After getting past Ashby he was through on Bossu, but allowed the keeper to get an outstretched leg to his diagonal shot, a decent save maybe, but from this position better finishing is expected.
Tommy Johnson's angled volley was not far away as Gills tried to impress and Grantona tarnished yet another fine display with a loose pass to Hessenthaler who failed to capitalise on the good opening from the wayward pass received.
Ten minutes in and ref Laws caused more frustration, when after seeing Little weave his way past both his man markers Hills and Spiller, he then blew for a foul as Little moved dangerously into the area. On the hour, visiting defensive lynch pin Ashby was replaced by James and crucially Clarets further increased their lead two minutes later with the goal of the game.
A quick throw out by Jensen found Little in a central position. He in turn found Alan Moore whose run through the centre midfield allowed a short pass out to the right wing to his namesake Ian. A superb, first time cross was low and across the face of goal and having timed his run to perfection, Blake was on hand to sweep home from eight yards. The goal is probably the finest Clarets have scored at home so far this season.
It was Alan Moore's last action and he was replaced in a one for one substitution by Branch occupying his favoured left wing slot. The third goal allowed Clarets more freedom to express themselves and free flowing football was coming only from one side. Even Camara had a shot at goal after neat approach play from Chaplow set up the wing back in the area.
The Beast will view Gills consolation goal an error of his judgement and well he may after his decision to come for an innocuous cross saw him flap at the ball and enable Henderson to bundle home in a scruffy goalmouth scuffle twenty minutes from time.
With quarter of an hour remaining, Blake and Moore combined well only for Moore to shoot just wide of the far post with Bossu well beaten, the game coming back into life as a Cup tie after Jensen's error gave the visitors some hope. Having slipped the last defender Hessenthaler was a little fortunate with only a yellow card, when dragging down Moore from behind nullifying the threat, Gills style.
Reverting to normal corners from the wasted short versions, Blake's far poster was neatly volleyed by an alert Little and the well struck shot flew just beyond the far post of a startled Bossu. Leon Johnson came on for Spiller with ten to go, then Jarvis replaced t'other Johnson in the final shuffle of the Gills pack.
Yet more fine play from Little should have resulted in a fourth goal, but Chaplow was not expecting the ball to reach him when only three yards from an open goal as the game drew to its close. Jensen somewhat made amends in the final minute when down smartly to his near post, before Mr Laws was futile in his award of a yellow card to Blake for dissent in the final seconds when kicking the ball after the whistle had been blown.
The card was Blake's fifth and he will now miss the League meeting between these sides in a fortnight, something that will no doubt please a strengthened Kent side on their return. FT 3-1.
Att:- 9,735.
Star Gazer
Lee Roche. Once again his positional defensive sense of awareness saw nomadic defending all too often and he lets himself down by his wanderings into the centre of the field vacating his supposed full back berth.
Beer Money
9,735. Not a bad attendance and many had been predicting a crowd much lower than this actual figure. Local apathy to the real plight of the Clarets currently needs to be abandoned and quickly, so that Clarets quickly return to a ground and a team deserving much better attendances than is currently the case.
Star Geezer
A toss up between Ian Moore, Robbie Blake and Mark McGregor, all had fine games. My vote goes to the much maligned Ian Moore, who not only ran his usual miles and miles, but also completed them with a real sense of purpose. His pace was used as a real threat and that he was able to and did run at defenders today enabled him to demonstrate this sense of purpose.
Champagne Tastes
Some of Clarets play is both exquisite and a real joy to watch. The quality of this first choice squad, when available, is without doubt good enough to progress further in this League and just maybe in the FA Cup. Let's hope the run of injuries and suspensions reduces over the coming weeks.