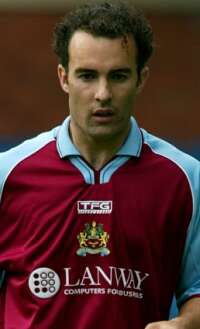 Graham Branch - one of the few Star Geezers
For the the second time this season we conceded six goals in the process, during an abject display that cleared the home stands well before the final whistle.
Lost for wards Stan, in his post match debrief, could not identify why such a sorry performance had been endured, the chin doubtless taking another blow from a full strength squad that had played so poorly, Clarets sliding down to thirteenth spot rather than closing the gap on the play off places with the important Xmas period upon us.
And so in a little over four weeks since the teams last played out a dour nil nil draw in the drizzle at Rotherham this was a dire effort in the dank atmosphere of North East Lancashire, Ronnie Moore's men gleefully taking the three points home and maintaining their play off challenge.
The game began after a minutes silence reflecting on the sad events of the previous Saturday, with fit again (??) Cox replacing the suspended Gnohere and taking his place alongside the Skip in a four four two formation.
Having lost the toss, Clarets played towards the Jimmy Mac end and keeper Pollitt was the first in action, easily taking Taylor's fifth minute header in what was to prove a quiet first period for both he and his defenders. Rotherham deploying their physical and more direct approach to football, were clearly the more eager of the two sides and fifty-fifty balls, challenges, runs and moves were generally more encouraging from the visitors than their lacklustre and lethargic hosts.
It was though still a bit of a surprise when they took the lead on only ten minutes, an unmarked Lee heading home Daws' corner from eight yards; it just looked too easy. On the quarter hour, sloppy marking by Clarets defenders almost conceded a second, but the Millers were too keen to shoot with men better placed to capitalise.
The crowd sensed a problematic day was upon them, but their sense of urgency did not transmit to the players and apart from brief moments of magic from Little and Blake there was precious little to get enthusiastic about, though Taylor's shot on twenty minutes almost spun past Pollitt.
Sloppy defending and poor marking allowed John Mullin time and space to roll the ball across the eighteen yard line before finishing with a low drive to Marlon's right and the five hundred or so travellers were out of their seats once again in celebration.
Four minutes later and it was three nil. Davis' poor header ballooned up into the air, but with four defenders in close attention and the ball twenty five yards from goal, there seemed little danger from the initial error. That was though until the four just stood and watched as Mullin hit the ball on the half volley and Marlon could pick another out of the net as the ball crashed into the bottom corner.
Rotherham could hardly believe it, so too could thirteen thousand homesters many already thinking of better things to do on dark Saturday afternoons, this was very poor stuff indeed. A minute later and as sixes and sevens defended Millers scored again, this time the effort ruled out for offside as home players and management alike struggled to cope with proceedings.
Rotherham were playing well, but not that well, their passage up field was being made easy by an inept Clarets midfield content to vaporise itself when asked to perform anything other than basic tasks and defending was certainly not being considered as a basic task.
Davis was booked for a foul borne out of frustration on Lee, then Clarets got a corner, yes a move had taken them that far up field, truly amazing stuff. Still there was little surprise when the first defender was able to head clear. Cox had a header deflected for another corner ten minutes from the break and inexplicably Taylor then ducked under a good Briscoe cross five minutes from the break.
Normal play soon resumed and great defending from Branch saw him clear the ball from under his own cross bar preventing the half time score line from being any worse than it already was. Half time then and Mr Foy's little whistle enabled the boo boys their first derisory chants for a good number of weeks.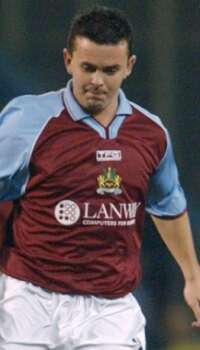 Paul Weller - one of the many Star Gazers
As the decorators moved in for home dressing room repairs, the players took to the field with a new look about them. The managerial finger of blame seemingly went towards Cox and Cook, immediately withdrawn in favour of Papa.. and Alan Moore.
With less than sixty seconds gone Marlon fumbled but recovered in time to prevent a fourth goal, before Moore's one and only contribution saw a cross to Papa who headed poorly and wide of Pollitt's right hand post. Lee was little fortunate to get away with a booking for a clear elbow five minutes in, with Blake the next name taken, his for dissenting remarks after not being given a favourable decision.
Exposing defensive frailties once again, Lee shot into the side netting before goal number four duly arrived on the hour mark. Little's hopeless challenge on the half way line allowed Barker the freedom of the wing and his eventual low cross was turned home at the far post by Alan Lee, clearly delighting in his goal spree in front of his former manager.
Briscoe was immediately replaced by glovvie Grant, but the pattern of the game was well and truly set, though the Skip had now been moved forwards as another centre forward, the Clarets now toying with defending as an optional consideration. Branch still remembered his task in hand and a great last ditch tackle saw him rob Monkhouse before querying the visionary powers of the referees assistant seemingly incapable of understanding, let alone applying the offside rule, as another in a sequence of dubious decisions were made.
Monkhouse was booked for dirtying Grant's gloves, before Clarets pulled a goal back. Blake's good work across the dead ball line saw him pull the ball back for it to be hooked home by the Skip, yet such was the apathy around the ground it did not even merit a quick tune from Tom Hark, Davis hurt in the process and needing treatment shortly afterwards, before resuming the field.
Byfield and Bryan replaced Barker and Monkhouse before Davis pulled another goal back with a quarter of an hour remaining, this time stabbing the ball home after a goalmouth scramble. Within a minute, Blake almost made it three, but Pollitt's great low dive tipped the shot away for a corner, excitement briefly entering the proceedings.
It was though all too brief and with Clarets now playing with only West and Branch as defenders, Rotherham could time their breakaways with good effect to add to their tally when required. Davis left the game and Clarets were down to ten with ten to play, Stan clearly protecting his main man for a day when it matters, many supporters feeling like Davis and not bothering with the need to hear the final whistle.
Branch's slip with five to go, let Byfield in and number five was followed up by number six, when with three to go as Byfield tapped home at the far post with too many Clarets too far up the pitch to have any say in protecting Marlon and his overworked defensive duo.
Thankfully Mr Foy saw no need to bother with much injury time and a near empty stadium saw the players trudge away for an inquest into why there seems a need to throw in the towel once every six games, with inconsistency again a problem in performance levels.
Att:- 14,121
Star Gazers
Beresford, West, Cox, Grant, Briscoe, Cook, Moore, Papa, Little, Weller & Taylor. I seem to recall comments regarding salary payments based on a currency of washers being mentioned by most of those who did hear the final whistle.
Glass Half Empty
An increasing cause for concern, is that on four occasions to date this season against Brighton, Reading Grimsby and now Rotherham, when Clarets are not in the mood to play, the problems remain for the entire ninety minutes and the goals against column takes a pounding.
Star Geezers
Blake, Branch and Davis could at least say they had tried and that theirs were shirts that would need a little more than ironing before being worn again.
Glass Half Full
From such a sorry performance, keeping it to six is almost an achievement.