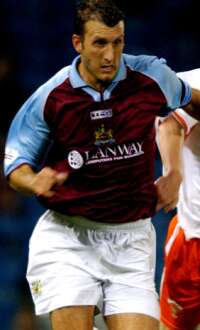 Star Geezer - Glen Little
Using eight outfield players who played against Liverpool at the weekend, this was no United side comprising kids and also rans, this was a quality side and one that on the night deserved it's victory, though being pushed for most of the game by a determined, well organised and focused Burnley side.
With the game delayed due to congestion, Stan stuck largely with the side beaten at Watford, Davis making a welcome return alongside Arthur in his new white boots, the two to have impressive games in keeping a potent United frontline of Forlan and Van Nistelrooy as quiet as you can keep such strikers quiet.
In what was a bright, open and largely entertaining game, Clarets began the brighter of the two sides, Blake catching the eye with neat turns and crosses, the first of which nearly set up Taylor in only the second minute whose toe poke was wide of Carroll's post.
Blake was next in action on ten minutes, when, after taking Briscoe's neat pass, his shot on the turn was wide as the game continued to be played in a surprisingly open and quick paced mode. Davis' interception allowed him a traditional "Skips" burst from deep and his superbly played diagonal cross allowed Taylor a good downward header at goal, but the direction was straight at Carroll, with Wes Brown out jumped for probably the only occasion on the night.
On the quarter hour came the first of many marvellous Marlon moments, saving from point blank range as Van Nistelrooy thought he had scored when pouncing quickly on a loose ball in the six yard box.
With Clarets growing in confidence, Little's wing trickery began to catch the eye and his link play with West was a feature of the game as the two enjoyed good first half performances in particular.
Pugh's powerful blast half way through the half was too hot for Marlon, his parry smartly tidied up by West as United began to look threatening. Forlan shot narrowly wide as the officials entered a period of leniency in their decision making allowing a corner and two free kicks to be controversially awarded, Van Nistelrooy's glanced header the nearest anything came from the brief spell of pressure. Ten minutes from the break and Deregoes Forlan shouted the defence, as to a man, they watched the strikers well timed run take him clear and on for a one on one with Marlon. Sadly Forlan is no longer forlorn and the confidence in the finish more reflected a striker in a rich vein of goal scoring form, the ball coolly slid under the advancing body of Beresford.
0-1 and the 4,000 standing visitors began to breathe more comfortably as the half was played out in a great atmosphere. Blake's attempted and instant replies flew over as two shots in a minute whistled over Carroll's bar. Arthur turned Van Nistelrooy in a moment of astute and confident defending and a scare passed in first half injury time as O'Shea's fee header was poorly directed and wide of the post. And so to half time, with reality setting in for many of the pre-match optimists, Man United would be no "Spurs", anything gained from this game would have to be of the highest quality.
From the restart Van Nistelrooy was saved further embarrassment from Arthur, Solksjaer entering the tie in his place. Stan's run down the touchline saw him leave his technical area berating the linesman furiously after a seemingly dodgy offside decision went in favour of the visitors.
Solskjaer ominously had the first shot of the half, but his aim was straight and Beresford caught the well struck shot. Little's neat touch and control, enabled a first time cross and May was somewhat fortunate when slicing the ball over his bar in his desperation to clear.
Seven minutes in and as against Spurs, Clarets built up a mini-head of steam. Davis was closest to a goal, glancing Briscoe's superb cross just wide of Carroll's left hand post and we could all take our seats once again as the ball bounced wide. With Clarets' pressing forwards, the counter attack was on and it duly arrived only two minutes later. Forlan's neat step over on the edge of the area put Pugh clean through, Marlon's save was in the superb bracket as he denied what appeared to be goal number two.
Two minutes on and Blakey twisted away down Clarets right, Carroll spilled the cross and Briscoe's flick was blocked as 4,000 down t'other end had hearts in mouths, the ball scrambled away, the game reaching it's peak on the hour mark.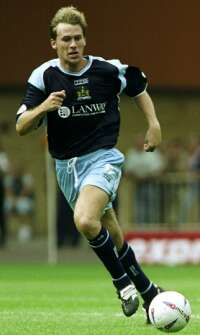 Star Gazer - Gareth Taylor
Grant replaced a tiring Cook and to counter this, Sir Alex sent on Scholes for Stewart, United clearly not taking any chances. In a repeat of their previous attack, Forlan again stepped over, Pugh was again clear, though this time his shot was curled wide of Beresford's right hand post, Clarets living a little more dangerously as their defensive solidity started to creak.
Briscoe's eyes were firmly closed as he went for West's great cross and from the middle of the six yard area he failed to connect with the ball as the game entertainingly swung from end to end. A fortunate ricochet when cutting past Branch saw Chadwick wriggle into the area though there was nothing fortunate in Solskjaer's finish, as he powerfully struck the ball home, the ball crashing into the goal just under the bar for a finish of the highest quality.
Two-nil, you could sense the relief all round in the visiting camp. Papa.. replaced Briscoe, then Alan Moore strangely came on for Arthur, Stan gambling on a Davis versus United contest for the last twenty minutes. Forlan was replaced by Giggs (oh what a makeshift team this was) as United maintained their respect throughout for the home side, before Chadwick pulled his angled shot wide as 4,000 oohs sounded, the shot not seeming that close.
Phil Neville tried his luck with a low drive before United wasted a glorious chance four minutes from time, first Giggs showing his right foot is solely for walking on, being forced wide, his return pass was wasted by Scholes, then Pugh again tried his luck but Marlon's marvellous moments continued and another save came from the top drawer.
Brown was the games sole booking when crudely hacking down Papa, a burst of pace for once being shown by the now predictable Clarets frontline, Blakes' transfer to a wide position removing him from most of the game. Curiously, after six substitutions and a lengthy injury to Alan Moore, the officials saw fit for only two minutes of time added on for consolation goals.
Alas none were forthcoming and the game ended with a standing ovation for both sides, the entertaining and well played game ending with a result that surprises few, but a home performance that will have pleased the vast majority of the home support, the media no doubt preparing for a summary of Nationwide pluckiness and Lancastrian clichés in readiness for breakfast reading.
Att:- 22,044 - capacity attendance.
Star Gazer
Gareth Taylor. Largely ineffective and the more the game progressed the more he seemed to lose the fight and desire to overcome his marker. Had half chances to make a name for himself, but failed to match the commitment of his team mates on the night spending most of his game on the back foot.
Glass Half Empty
It's being very picky when considering the opposition, but the Clarets were single paced, particularly in attack, where trickery was evident, but pace was not and most of Clarets good approach play lacked any kind of final punishment for the visiting defence.
Star Geezer
Glen Little. Once again showed his class and trickery. The better the opposition the better his performances and despite the close attention paid to him by United's defenders he shone brightly as Clarets star on the night, with teasing runs finished off by a succession of first time balls in to the box.
Glass Half Full
Here was a team with the collective value of Van Nistelrooy's right leg, yet here was a team that was far from disgraced, that retained it's shape, focus and self belief right to the end, a thoroughly encouraging performance in front of a full house and the watching audience on the magic lantern. Now that this distraction is out of the way, let's bank the money moving onwards and upwards in the First Division, this performance reflected a team to be proud of.