The headline performance of the night was that of Jay Rodriguez who grabbed two superbly taken headed goals either side of a comically unfortunate penalty miss.
This was a game of two sides on polar opposites of the form spectrum. Eddie Howe's Burnley have now won 8 of the last 11 and right now we are brimming with confidence and consummate professionalism. At the other end sit Steve Cotterill's Nottingham Forest who have failed to score in their last six home games and have lost seven of them.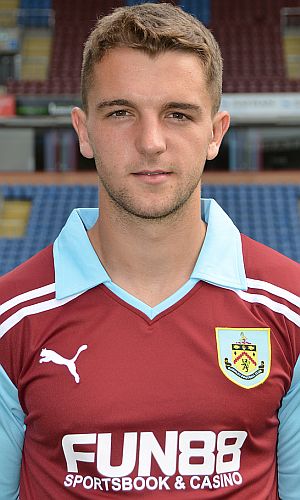 Headline peformance from Jay Rodriguez
Very often as a Burnley fan, stats like these can strike fear into your heart. We all know that nothing lasts forever, we all know that runs have to end at some time and we all know that supporting Burnley is never an easy business.
Except, that is, for the game on Tuesday night. In all honesty, Forest could have played for another week without seriously worrying our goal. At the other end, we scored two without ever breaking sweat. We should have had a third and Jay should have had a hat trick, but more of that later.
The Nottingham Forest badge proudly displays a motif of the legendary 'Major Oak' of Sherwood Forest but on Tuesday night their current football team presented no more resistance than that of a lonesome garden weed.
Continuing the tenuous metaphor a little further, Burnley-born Jay Rodriguez was our gardener-in-chief and he dispatched the weedy Forest defence with two clinically taken headers, plucking the Forest weeds with his masterful display of centre-forward prowess.
It is at this point of my alternative guest report that I must confess to having only limited recall of the match. As a Claret living in Nottingham, I took advantage of my local's knowledge of which pubs to visit and which ales to partake of and, truth be told, partook of possibly a pint too many.
It's not something I do very often these days but as I was putting up some very welcome guests, meeting up with my Dad and celebrating the double over the locals, a little over-indulgence seemed appropriate.
Although of the four our party come from Burnley we were part of the band of travelling fans representing the club and town and together we really showed the Nottingham bunch how a real band of merry men (plus one young lady, in our example).
Now, with my head finally clear from the merry-making, it is possible to take a look back at the night with a different perspective. ClaretTony has already written his usual exemplary match report and if you need to know how the game unfolded then that is still there to be read. However, this "match report" with its rather limited notes from the night itself intends to persuade you to ask yourself what being a Burnley supporter means to you.
Obviously it is about the football. It goes without saying that it is all about the cheering and celebrating when we score. It is about the indignity of seeing us concede - of sharing a forlorn look to the linesman in the hope that he will disallow the goal. It is about the shared outrage when we suffer a bad decision or rotten luck. And above all, it is about the shared mass hysteria of winning, of putting one over the opposition and those rare days of promotions and parties.
But it is also much more than that. For many of you it will be also be of the pride of following your home town team. For me and many others, although I have nurtured a great affection for the town of Burnley, it will never be my home town.
However, there is one thing that I will share with many of you in my love of Burnley Football Club and that is the role that my Dad had in instilling this passion inside me. Maybe for you, it was your uncle, your mum, your brother or just a mate who took you along to your first match but for me it was my Dad and (although following Burnley is a tempestuous affair) I remain eternally grateful that he did.
Because when you become a part of the Claret and Blue Army, it's much more than simply about the football – it's about the shared experience of supporting Burnley Football Club. And the shared experience is only shared because of the people around us.
Maybe the special person who took you along to your first game is no longer with you or maybe they can't be at the game anymore. But whenever you're at the game, the shared experience of following Burnley will mean they're with you in spirit.
Maybe the person stood next to you is simply a stranger who will, for ninety minutes at least, become your best friend.
Whoever they are, whether they can be with you or not, it is their company or the memory of them that helps elevate supporting Burnley from merely cheering on a football to something so much more than that.
Now then, you may think this is a bit sentimental and you may think it's written down in lieu of a 'proper' match report but there is a genuine motivation in writing this now. There are times in football for unreserved celebration. There are times for despair. We've known them both in equal measure over the past few years at Burnley. But now, now is the time to quietly reflect on what is unfolding in front and appreciate what is around us:
Eddie Howe is building a remarkably talented young squad. We are playing with a quiet confidence, quite unlike the hurried bluster of the Coyle years but with a much firmer foundation at the back than we have known since the successful years of Stan Ternent's tenure. We are the form team in the Championship but there is still so much more to do. We are not on top of the league but we are on the way up.
Savour the moment because we look like a team on the move. Appreciate the faces around you and take a moment to reflect on how wonderful it is to be a part of something potentially momentous for the Clarets.
Because, in ten years time, wherever we are in the league – you'll be able to look back and share your memories of these exciting times when Eddie Howe was building his Burnley team and Jay Rodriguez brushed aside Nottingham Forest. For over two thousand of us lucky souls, we'll be able to say 'we were there'.
And what of my "match report"? Well, it was a game so simple that I can keep it short and sweet:
Within a couple of minutes, Jay Rod had put us 1-0 up. It was a powerful, old-fashioned centre-forward's header bludgeoned into the back of the net of the hapless Forest defence foundered around his stature.
Forest were poor. They were beaten as soon as the ball hit the net. Their players knew it, their fans knew. The Burnley players knew it and turned the screw on the lacklustre opposition. The Burnley fans knew it and we sung our hearts out.
When Jay slipped up and skewed his penalty wide, I was under the stand spilling hot Bovril all over my hands in a vain attempt to counter the bitter cold.
The fact that we were able to see the funnier side of the incident spoke volumes of how much better than Forest we were.
Minutes later, Rodriguez made up for his ill-fortune with a headed as good as you will ever see. Whilst his first goal was a blustery old-fashioned affair that Tommy Lawton would have been proud of. His second displayed the kind of dexterity and skill that is the hallmark of the best players of the modern game.
From a standing leap, with no forward momentum Jay leapt above his marker and nodded the ball from a full ten yards out into the top corner. You won't see a better headed goal. It was top drawer.
And that was just about that. Forest huffed and puffed but nothing more. They had a few long distance efforts but their score of nil flattered them. We went close with a Wallace free kick and Bartley snaked through the statuesque Forest defence to come close with a late run.
The Forest fans, who were good value for their money, kept up their spirits with gallows humour. "We want our tenner back" was a humorous highlight from the Trent End's home fans but more telling from them were the desperate pleas of "we want our Billy back". For now, Forest fans must live in the blind hope of what may become of their uncertain future.
But not so for Burnley fans. Burnley fans can happily inhabit the present. Look around you at the faces and friends around you and savour the moment. We've got a young and exciting squad and as Howe has said, this season isn't about targets, it's about taking each game as it comes and enjoying our successes.
So, in honour of a grand day out in Nottingham and a superb Burnley win: I'm glad you could make it Pete, hopefully it won't be so long before your next game. It was as wonderful as ever to see you Anna, enjoy your travels abroad, stay in touch and I'll keep you up to date with our progress under Eddie. And to Dad, thank you for taking me along all those years ago and ever since. It wouldn't be the same without you.
To everyone: Burnley are playing brilliantly. Let's enjoy the moment. Up the Clarets!