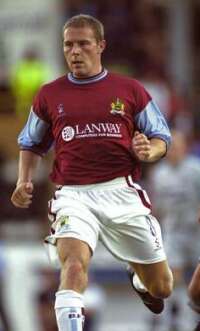 Star Geezer - Ian Moore
This after a heroic second half performance in which they lost Alan Moore, guilty of an alleged clash with Gunner Halle, yet another Wolf who enjoyed lying down for as long as possible. Wolves are Clarets' bogey side, the Clarets having lost to the Black Country side in each of the last ten meetings.
Another bogey was the man in the centre, Barry Knight. Knight had a bad day. Firstly disallowing Gareth Taylor's eighth minute headed goal, to then, within a minute, giving a goal to Wolves, when Sturridge looked yards offside and continuously giving controversial decisions, culminating in the sending off of Alan Moore, his freedom of Burnley is some time away. This though should not detract from a strange Clarets performance.
After an abject first half in which the team lacked cohesion and belief, they then turned in a superb second half performance and nearly, nearly got the point this forty five minutes endeavour deserved, Stan changing the plan and going for outright pace up front in the second half chase of a game lost at half time. This was not the present Stan wanted, this his 200th game in charge of the Clarets.
So to the game itself, played in front of a near sell out crowd, basking in the sunshine on a warm Spring afternoon. Wolves were thankful to their fit again main strike force of Blake and Sturridge, absent in the last five games through injuries. Clarets were not so fortunate. Influential Steve Davis was still missing, replaced by King Arthur and there was no sign either of Robbie Blake, despite playing in midweek for the reserves. Paul Weller got the nod in midfield ahead of sub Glen Little and up front we saw David Johnson partner Gareth Taylor, Ian Moore making do with a place on the bench as Stan went for it with a containment formation.
It was a big game and the opening atmosphere reflected this, an initially tense game beginning with Clarets taking the game to the visitors. Clarets went ahead, or so we all thought on eight minutes, Taylor out jumping keeper Oakes and nodding home Gascoigne's free kick. As we all celebrated, it was not to be, Barry Knight the only person in the ground to see an infringement and it was chalked off.
Within a minute, the officials were caught out again, this time failing to give Sturridge offside before hitting home Blake's squared pass, Gascoigne having given the ball away cheaply in midfield. By now passions were running high in the crowd, as Mr Knight searched in vain for the plot. Another in plot searching mode was Gascoigne, caught in possession, he allowed Blake a run in on goal and we were all very grateful to West's forehead, as it prevented Wolves taking a two goal lead, saving Sturridge's shot on the line, the game still in it's first ten minutes.
Briefly, it quietened down, though not for long, before West became the victim of a crude and unpunished two footed lunge on the quarter hour, one-nil to the referee, chanted those in the Hargreaves stand.
Gascoigne tried his luck on twenty minutes, but Oakes was equal to the long range kick, before Halle joined the game in his debut for Wolves and second appearance at the Turf in two weeks. West was yellow carded for seeking retribution, catching man not ball moments later, the pack of Wolves descending around Mr Knight like tell tale kids in a play ground.
On twenty two minutes and completely out of the blue, Wolves doubled their lead in very fortunate circumstances, Newton's deflected pass allowing Sturridge the easiest of tap-ins at the near post, though quite where his marker was is anybody's guess. To sarcastic applause from Gascoigne, Mr Knight took the name of King Arthur, this after a nothing challenge unconvincingly felled Blake. A half chance on the half hour fell to Taylor but he spooned skywards in meeting Gascoigne's corner, his feet once again proving his downfall. Ball's feet are different, yet he conceded a foul, though completely missing both Newton and the ball which rolled out for a throw in.
The officials were having one of those days! Having recovered some of their composure, Clarets were now back in the game, though the front pair were not troubling Wolves whose central defenders looked more than comfortable with the ineffective aerial threat. Johnson enjoyed a lucky ricochet which put him through on goal, but strangely he elected a diagonal run on goal before falling over, Mr Knight construing a foul from the run in to the area by the little man. The score line became even more bizarre as Wolves in completing their fourth shot at goal, went three nil in front, Cameron's run from midfield going unchecked, before hitting a powerful dipping shot from the corner of the area leaving Nico stranded. Clarets looked decidedly unhappy, unbalanced and forlorn up to the break, which thankfully arrived without further damage, Stan striding with a sense of purpose across the pitch as many went for their Bovril's somewhat bemused by Clarets' flat first forty five.
By contrast, there was a party in the Cricket Field and Mr Knight was the undoubted toast of many a golden shirt wearer, Wolves' fans no doubt wondering just how Clarets could manage to be in fourth spot after the two games in which they have seen Clarets play this season.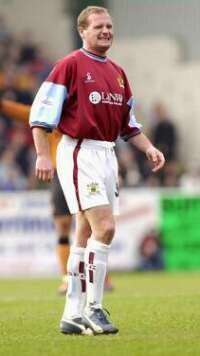 Star Gazer - Paul Gascoigne
The second half started with the decorators submitting a quote for the redecoration of the home dressing room, Stan sending out a much changed team for the half. Taylor was replaced by Ian Moore, Gascoigne by Little, Stan clearly identifying two of his first half culprits. The team were also clearly motivated and after Alan Moore was fouled, Ian Moore stooped to guide Briscoe's low cross into the bottom corner of the goal. A consolation may be, but it set the game up for a stirring second half.
Clarets began to dominate, as Wolves tried to play time out wherever possible. Newton was booked for high-siding Arthur before Ndah replaced an out of sorts Blake, the latter getting his final reminder of his past employers as he ambled off the pitch. Cameron was in on goal in a swift counter attack, but Nico was equal to the rare shot at his goal, before Mr Knight once again took centre stage on the hour mark.
In going for a loose and high bouncing ball, Alan Moore and Halle clashed for the ball, Halle falling to ground like he had been shot, the two colliding on the ground in what seemed a clumsy heap before Rae and team mates protested to an otherwise uninterested Mr Knight. Next thing we know, good old Barry is flashing red and Wolves players are patting themselves on their backs. The psychological impact of all this was more in favour of the Clarets than the visitors and the home side increased the tempo still further from this point in an enthralling final third of the game.
With twenty five minutes remaining, Clarets could and should have pulled a further goal back. Johnson and Oakes clashed on the edge of the area in a 50:50 collision, the loose ball falling to Ian Moore who, with the goal gaping, could only curl his shot high and just over the bar from twenty five yards. Clarets were briefly down to nine men Johnson needing further treatment off field, before Rae was booked after a foul on Weller. It was Weller's last action, being replaced by Tony Grant for the last twenty and he would dominate the game during his time on the field.
Ndah played for time and conned Mr Knight, Briscoe getting a yellow for what seemed a fair challenge and Sturridge was replaced by Miller for the last ten. Clarets were still threatening and Ball was inches away from Grant's cross after young Trotter had superbly beaten two men on the bye line. With five to go, Clarets did pull a goal back, following good link play between Ian Moore and David Johnson. Moore's back heel played in his new team mate and from the edge of the box he shot home, his third in four games.
The atmosphere was tremendous in support of one last attempt to salvage something from the game other than pride. Two minutes from time and with Wolves' fans whistling away, there was chaos in the box, but there was no one on hand to scramble home. Into the four minutes of injury time, cheered by the home stands, though there was the inevitable breakaway from which thankfully Ndah shot wide.
Clarets final moment came and went with Moore's superb control and turn on the edge of the box, though he was felled nothing was given and that was that, Mr Knight did blow, but only for full time, Dave Jones' lads very very grateful in the points haul and that they had the three goal cushion to see them home.
Att:- 21,823.
Star Gazer
Paul Gascoigne. Having now played three games, his contribution becomes less with each game and the anticipated influence he would have on games has yet to materialise. After the half time regroup of the side, the second half formation was much more positive, sadly the team played better without him and he desperately needs to come to terms with the First Division pace and standards.
Glass Half Empty
The first half was a repeat of the sorry showing seen at Molineux earlier in the season, when once again Clarets trailed three nil at half time to a somewhat fortunate Wolves side. The defence is clearly missing the influence of Steve Davis and the midfield cannot comprise of thirty somethings in its engine room. Clarets were clearly undone by Wolves athleticism in the first half where their front men were much better supported than were Taylor and Johnson. If Clarets complete the season playing as they did in the first half, then Birmingham and Preston can take heart, Clarets will end the season in April.
Star Geezer
Ian Moore. Earlier in the season I could never have said this, but with Johnson alongside him, Ian Moore looks a £1m man. His pace and partnership with David Johnson, transformed the game. His early goal, the second that eluded him and his all round performance was much more threatening than his early season games. Surely he will start at Portsmouth?
Glass Half Full
The second half performance was stirring and Clarets deservedly took their standing ovation. If Clarets complete the season playing as they did in the second half, where Little, Ian Moore and Tony Grant were significant in their contributions, then the play offs are where Clarets will end the season.