From the first whistle Burnley fought hard, worked well and pushed the away side back, and with just two minutes on the clock went close. A poor attempt to clear a corner ended with a free kick just outside the area, and David Jones' curled effort left De Gea stranded but bounced harmlessly away off the bar. The shot would be a metaphor for the whole game, in which a hopeless Manchester United side were completely unable to stop the Clarets but that little moment of luck or skill to get the ball in the back of the net just eluded Burnley.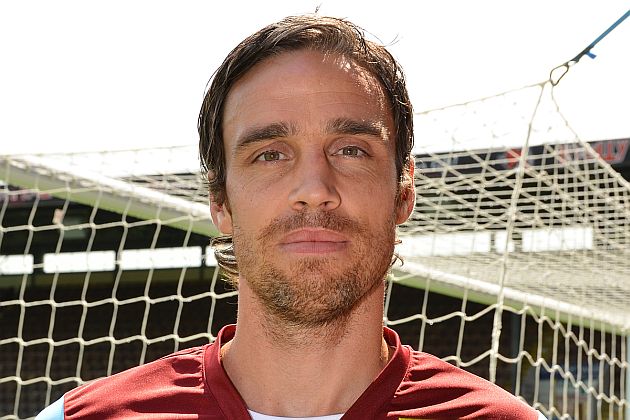 Michael Duff, a member of an immense back five
That's no criticism though, because from that moment on Burnley kept plugging away and time after time created good situations and half-chances which will have been very worrying for Louis Van Gaal, who can't have enjoyed his second visit to Turf Moor. Almost immediately after Jones' effort, a poor back pass saw Jutkiewicz with a difficult chance one-on-one with De Gea, but the Spanish 'keeper was able to claw his shot away. Burnley's persistence allowed them to build on that more, dominating the half and continuing to threaten, David Jones again going close with a volley tipped over the crossbar that was the pick of the efforts. Manchester United were simply blown away in the first 45 minutes, their only real chance falling to Juan Mata in the box after a quick break down the left. Anybody who has been following Manchester United's fortunes this season won't be surprised to know he fell over.
Half time came and went with a visit from an old hero, and the second half began in much the same way the first one had ended; with Burnley as the better team. Although chances were again hard to come by, they were there. Matt Taylor's strike from the edge of the box after neat play from Arfield was unfortunately struck down the middle, Taylor's free kick from the right flank was just over the top and Jutkiewicz just couldn't quite make anything of a decent corner late on. Perhaps the moment to lament was another mistake from the visitors, when a lax pass set Arfield up with a chance on the edge of the area. He just hesitated in his effort to scramble past the defender and onto his left foot though, and the chance was gone. However, while the creativity and the finishing may not have been quite enough to win the game, Burnley's overall performance was more than enough to merit 3 points that would have taken Burnley ahead of the floundering United side. As Burnley flagged in the last ten minutes, United's formation became a 3-2-5 and they dominated in terms of field position, but they still never looked like winning the game.
The headlines will, rightfully, be all about the visitors. This is one of the biggest clubs in the world, sporting a foursome of world class attacking players and yet completely unable to muster chances against little old Burnley. They played a formation which seemed to suit none of their players (Ashley Young looks so out of depth at left wing back that Brian Easton would be ashamed), seemed not to suit a league in which football is played at a high tempo and seemed to play right into Burnley's hand. Without wanting to discourage the level of Burnley's performance today, the Manchester United performance was abysmal, pathetic, not even approaching good enough for this league; never mind a team with their wealth of talent and expectation. There were flashes from Di Maria, Rooney and Van Persie, but never in unison and never enough to trouble the Clarets.
The credit and the intrigue though, rests with Burnley. A back 5 which, Duff aside, has had a shaky start at this level was immense. Heaton was strong and resolute, both full backs dealt well with excellent attacking players and there wasn't a single ball into the box that wasn't met firmly by Shackell or Duff. Jones and Marney dominated midfield like they did 40 times last season, and the inexorable rise of Scotty Arfield and Lukas Jutkiewicz into Premier League stars continued with aplomb. Arfield is playing with such confidence right now and looking completely at home, while Jutkiewicz is winning and using the ball so well that Burnley aren't missing Vokes - although he will have to add goals to the equation at some point. Ings struggled again, but there were more glimpses of the player we know than we've seen up to this point.
All in all, it was a fantastic day for Burnley and a fantastic day on the Turf. The debate about transfers will no doubt come back to the fore as we endure the ludicrous Sky Sports Deadline Day, but we can all come together and reflect on a performance that will live long in the memory, and one that can give us a lot of hope for the rest of the season.