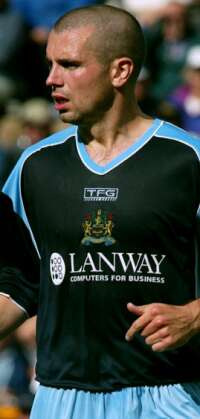 Star Geezer - Mark McGregor
Two goals to the good against a George IV "B" standard of an Albion team, Clarets conceded two late and sloppy goals within a minute, throwing two points into the sea as they left the south coast with their heads bowed, embarrassingly trooping off the field in front of seven hundred disbelieving souls who had made the six hundred mile round trip.
No wonder Clarets have not won away in seven games and why was the strip changed from Claret into Amber for this game? Did Brighton not play in their proper strip back in August? Why then did Clarets change to the hideous amber strip, which has yet to see a League win?
And so to the Without Stadium for the first and hopefully last time. Without a roof, atmosphere and a very poor playing surface, here is Seedhill on the south coast. Plonk four temporary scaffolding structures around the perimeter of an athletics track, drop Portakabins in at random, dress it off with green mesh and hey presto you have a First Division stadium, all for £20 a trip. After a six a.m. start what could be better than a nice seat in the Sally Gunnell end?
With the team unchanged from the one that had beaten Wolves, Clarets were blessed with an opposition of the poorest standard, yet both teams contrived to play out a first half of extremely low quality, aided and abetted by the man in green for the day Trevor Parkes, a man who had it in for Gareth Taylor from the kick off.
Quite how Taylor was supposed to win a header or tackle was difficult to imagine, as our Trev would whistle at Gareth's every attempt to get near to the ball, much to the frustration of the seven hundred or so in the Sally Gunnell stand and not least Taylor who, with arms outstretched to protest his innocence, would repeatedly approach good ol' Trev to clarify his constant penalising of all things Gareth.
After a brief foray up field in which Zamora shot wide of Beresford's right hand post, Clarets dominated the first half and should have taken the lead after only seven minutes, when both Alan Moore and Taylor had shots blocked by Kuipers in the Albion goal, Taylor trying to be too precise with his shot instead of going for power. Kuipers was the only player to make any note of in the home side, such was the sorry state of their performance and he was at full stretch to stop a deflected Little effort on the quarter hour after a quickly taken free kick by the once again impressive Blake had sent the bendy man into space.
Needless to say Taylor was booked for persistently getting involved in the game by Parkesy. By the halfway mark in the half, this was a game clearly not for the purist, lacking in fluency, with neither side bettering the dreadful pitch, the ball bobbling around on the poor surface. Brighton's frustration was beginning to show as Alan Moore was crudely taken out by Carpenter then Little by Zamora and as both lay prostrate on the ground good ol' Parkesy had too much on his hands and so only booked Carpenter.
Cox's retribution on Zamora was a trip and he was booked by Parkesy as the crowd bayed for more before Taylor was once again spoken to by Parkesy after a 50:50 challenge on Sidwell could have gone either way. There was a brief moment of concern as Little lost possession ten minutes from the break, but Albion failed to capitalise.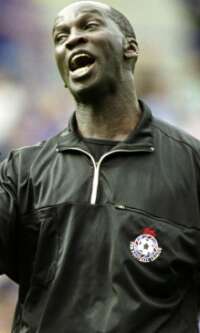 Star Gazer - Trevor Parkes
With half time looming Blake was blatantly pushed from behind in the area and after picking himself up saw that Parksey had seen nowt and disbelievingly play continued, Clarets fans and players stunned by the inept judgement.
The final minute of the half saw Clarets take the lead. From a throw in, Blake's turn allowed him space to cross to the far post where Taylor nodded back across goal and at the second attempt, Little shot home from close range putting the Clarets deservedly in front after they had had the better of the first half, where once again Grant and Weller had worked hard to win the midfield area.
So off to Portakabins R' Us for a half time cuppa down in prefab land as the players made their way to the makeshift dressing rooms, I kid you not!
Into the second and the cycle headlights Brighton use for supposed illumination made it difficult to see matters down in Kuipers goal as the evening gloom set in. Again Albion started the brighter of the two sides, yet only calmness was required from Cox and West to clear their lines in what was a quiet start to the second half proceedings, in which devoid of any crowd noise, you could literally hear the players shouting to one another.
Again Little's loss of possession deep in his defensive lines allowed Zamora a rare sight at goal, but his pulled shot failed to trouble Marlon. On the hour mark Marlon's safe hands calmly collected a cross as Albion struggled to gain decent possession as Clarets looked to make the game safe.
On the hour mark ,Taylor shot narrowly wide after good play between Blake and West, before Papa replaced Blake, a strange move given that Alan Moore was struggling with injury, Little was struggling just to get into the game and Blake was by far the most creative Claret.
Alan Moore became the victim of another crude tackle from behind which saw Watson deservedly booked, before Moore was replaced by his namesake, Ian coming on for Alan and Hart replaced Oatway.
Mooro's first involvement was to put the ball away for number two. Little and West combined well down the right for Little to cross deeply to the far post. Mooro's downward header was well saved by Kuipers before he slammed home the rebound.
Two up with twenty to play against the George IV "B" team, saw the fans and players alike drift into cocksure mode. "Going down with your boyfriend", "shall we build a stand for you" and "jingle bells" were all premature signs of victorious, smug chants as Brooker replaced Jones in a substitution that was to turn the game, in that someone who could actually cross a ball came into the game.
Brooker should have repeated Moore's feat from minutes previously, but instead headed over from Brighton's first decent cross in the game. With ten to go and Clarets sitting back, Barrett's shot on the turn from six yards saw a well positioned Marlon catch the ball with ease, then Sidwell headed over after a rare mistake between Cox and Arthur left the striker free and only six yards out.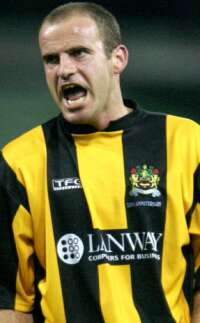 Burnley's Star Gazer - Dean West
The signs were there but nobody heeded them at this stage with only seven minutes remaining and it was noticeable that since Blake's removal, Clarets moves up field were very brief and the inability to retain the ball up field was allowing the George IV more possession in Clarets' territory.
Grant's ambitious, but well struck effort from all of forty yards, was well taken by Kuipers and Little, fouled yet again, saw Hart booked with only five minutes remaining.
The points were in the bag, one or two Clarets' were showboating and Albion's fans were leaving in droves when West casually let Sidwell cut inside him and fire low to Marlon's right hand post from eighteen yards, only for Marlon to have left too big a gap and a consolation goal was bagged.
No sooner had the cheers died down, but Clarets' midfield vaporised and Zamora picked up the ball on the left edge of the area. Quite where Marlon thought he was dashing to is anyone's guess, but Zamora had time to intelligently lift the ball over the forlorn dive and Sidwell was on hand to bundle the ball in from two yards out for the scruffiest goal conceded of the season to date as the charitable Clarets gave Albion and their fans late presents.
Two goals in a minute, it was then like a deck of cards collapsing in the slightest of breezes and Clarets finished the game hanging on to a point, the plum duff players leaving the field in front of angry and disbelieving Clarets in the Sally Gunnell stand, remonstrating with the players as with bowed heads they made their way off the pitch and judging by Stan's face to a well earned bollocking once locked into the dressing down room.
Att: 6,502
Star Gazer
Dean West earned it for the Clarets, but the award goes to Parksey, for an inept, crass display of refereeing, littered with one side decisions. His single handed removal of Gareth Taylor from proceedings by penalising his every move was the peak of his dreadful display.
Glass Half Empty
Hopefully, it will be a long time before a visit to Brighton is necessary and if and when this is the case, then let's all hope that they have moved on from the Without Stadium. It's dreadful view for visitors, the lack of a roof, facilities and parking make for an unrewarding mid-point in a six hundred mile round trip. Come back The Shay, all is forgiven.
Star Geezer
Mark McGregor. Another faultless display of solid marking and clear reading of the ball made for a competent position at left back that looks to have resolved the problem of who should play there. A pity we can't offer any options in the vacant right back berth.
Glass Half Full
For eighty eight minutes, Clarets had this one in the bag without really breaking sweat and six out of six points from Xmas games would have been a nice end to the year. There was not much chuckle in our boots going home from this one, yet Clarets somewhat surprisingly remain only six points from a play off spot.