If ever a game deserved to end 0-0, this was it. In front of a less than passionate crowd there really was nothing to lift the atmosphere in what was, by some distance, the worst game of football I've seen all season.
Burnley were the better side, particularly in the first half, but with no inclination to push men forward and seemingly content to pass the ball across the pitch and slow the whole thing down it had the hallmark of a shocker right from kick off.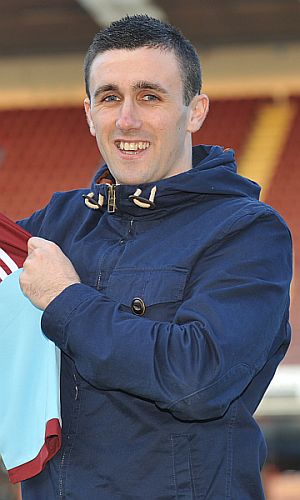 Burnley debut for Danny Lafferty
The day before I sat and watched the Everton v Sunderland FA Cup tie on television. Whilst being anything but a classic, here was a game where both sides did their utmost to win it and in doing so produced some real excitement.
The players of Cardiff and Burnley, and more importantly the two managers, should maybe have taken a lesson from this because what was on display in South Wales yesterday was the sort of football that will drive people away from the game.
Eddie Howe, back in charge following the sad death of his mum Annie, made two changes to the team that had drawn eight days earlier against Crystal Palace. As we probably expected and feared, there was no Jay Rodriguez with his place taken by Junior Stanislas for a first start since he sustained a hamstring injury in January at Middlesbrough.
The other change was perhaps a surprise. I'd predicted that latest signing Danny Lafferty, from Derry City, would be in the squad but he went straight into the team at the expense of Ben Mee who was relegated to the bench and out of the starting line up for the first time since regaining his place at Hull in November.
Ahead of kick off a short message from the directors, staff and players of both Cardiff and Burnley was transmitted to fans regarding Fabrice Muamba. This is my first opportunity to comment and, in truth, there is little to say other than to offer my support as has everyone else within the game.
Just prior to departing for Cardiff yesterday morning I saw Owen Coyle on Sky Sports News and I felt for the Bolton manager and his staff who had dealt with the situation following Muamba's collapse. My thoughts certainly remain with the play and his family. The message was received with spontaneous applause from all parts of the ground.
Cardiff have, apparently, been playing poorly in the league over the last month and that was so evident here in the first half that was just about dominated by Burnley and I felt that had we injected some real tempo and desire into our play then we could have had this game comfortably won by half time.
Instead, we seemed content to retain possession and the number of times we opted to play the ball across our back four without making any real progress up the pitch was concerning.
The result of all that is that we never put Cardiff under any real pressure at all. We did have our opportunities; goalkeeper David Marshall saving from Ross Wallace, Martin Paterson and Stanislas, and David Edgar heading over the bar with our best chance of the game.
It was sporadic though against a Cardiff side that were, frankly, awful and throughout the first half, at the end we were situated, Lee Grant dealt with nothing other than a few scraps.
The booing from the home fans at half time told its story. I think it was the first time we'd heard them all afternoon, other than a few to our right who were more concerned abusing the Burnley fans than watching the game.
The second half was something of a different story. I'm not too sure whether it was Cardiff grasping the initiative or whether it was us dropping deeper to protect the point and ensure there wasn't to be a fourth successive away defeat.
Either way, apart from a couple of free kicks from Wallace and Stanislas, we offered absolutely no threat whatsoever and Marshall was even less employed than Grant had been in the first half.
The home side were seeing a lot more of the ball by now but they never really worried me and I didn't ever see a goal coming against us until the latter stages when they threw a few men forward.
More concerning in those latter stages were the antics of referee Iain Williamson. He'd been ok up to then but suddenly seemed to go all Mr Homer. The yellow card for Lafferty, our third in quick succession, was very harsh, the first one for Marney was just downright ridiculous.
I think we'd all had enough by the end but there were five extra minutes to endure, five minutes that were increased to eight because of a seventy second stoppage to substitute Danny Ings. Most of it was in our defensive area but we got one late chance to potentially win it as Charlie Austin, on as a late substitute for Paterson, broke through.
He was pulled, pushed and had his shirt almost dragged off him by the Cardiff defender. Williamson saw nothing and astonishingly the assistant referee with the perfect view opted to see nothing. For what it's worth I thought it was outside the box but it could well have seen a red card given Austin was clear.
Still, this game didn't deserve a goal and it all ended with the Cardiff fans booing again and the two managers trying to find words to get round the fact that they both knew as well just how tedious the whole thing had been.
We'd come home with some positives. We'd ended that run of away defeats; we'd kept a clean sheet, the first on the road since January, and we'd edged forward by another point. I'm afraid, though, we should be offering much more than we gave.
As for Bob Marley. I'm not sure why the Cardiff fans have adopted this song as their anthem but I'm sure had Bob been with us he'd have been wailing at the poor quality football on offer too.
The teams were;
Cardiff: David Marshall, Kevin McNaughton, Andrew Taylor, Mark Hudson, Ben Turner, Liam Lawrence, Aron Gunnarsson (Stephen McPhail 85), Don Cowie (Craig Conway 63), Pete Whittingham, Joe Mason, Kenny Miller (Robert Earnshaw 78). Subs not used: Tom Heaton, Darcy Blake.
Burnley: Lee Grant, Kieran Trippier, Michael Duff, David Edgar, Danny Lafferty, Ross Wallace, Dean Marney, Chris McCann, Junior Stanislas (Marvin Bartley 73), Danny Ings (Josh McQuoid 90+2), Martin Paterson (Charlie Austin 84). Subs not used: Brian Jensen, Ben Mee.
Yellow Cards: Dean Marney, Kieran Trippier, Danny Lafferty.
Referee: Iain Williamson (Berkshire).
Attendance: 21,276.