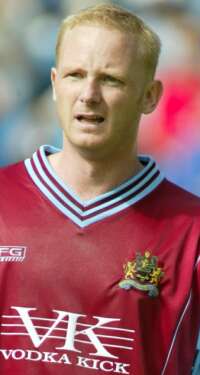 David May - outstanding performance
The point was the first won by the Clarets for five weeks since we beat Sheffield United on the Turf and was enough to at least lift us one place up the table following Nottingham Forest's defeat at Sunderland.
A 0-0 draw is a rare even for the Clarets and the last was as far back as November 2002 when we played Rotherham at Millmoor, and that is 54 league games ago. It wasn't an exciting afternoon then and it was no more so today.
With Jay McEveley back at Blackburn after suffering a dislocated knee cap last week at Mansfield it meant a quick return to the side for Mo Camara and his inclusion at left back was the only change to the side. Glen Little returned to the bench only fifteen days after picking up a hamstring injury at Crewe.
It is difficult to find much to say about the first half so poor was the quality of the football and it was not hard to understand just why it was goalless at half time. It was also made even more difficult to watch because of Burnley's choice of kit and it was somewhat amazing that referee Alan Wiley allowed us to play in all grey.
When play was on the far side the two kits looked far too similar from the back and surely we should have played in our Claret & Blue which would not have clashed at all.
A borrowed goalkeeper's top at Wolves, borrowed socks at Derby and now this – surely we have a kit manager who is supposed to sort this out.
Palace's main threats came from Wayne Routledge on the right and Andy Johnson when he got down the left. Youngster Routledge tries to do too much and is often wasteful but Lee Roche struggled all afternoon when Palace attacked down our right and was far too often caught on the wrong side of his man.
After Tony Grant nearly got on the end of a ball into the box in the opening minute our main efforts fell to Luke Chadwick but again the Manchester United loanee had a disappointing afternoon and really looks ill at ease when asked to play on the left hand side.
At half time our fans were generally happy in that it was a game we couldn't afford to lose although Palace had hardly threatened to take the game away from us.
It was all much the same in the second half and only the rantings of Rocky, by now two seats behind me, was able to stir the fans. But that all changed when we brought on Glen Little for Chadwick and suddenly we started to press Palace.
And we came so close to going in front when Robbie Blake hit in a free kick that David May got on the end of to bring the best out of goalkeeper Thomas Myhre, on loan from Sunderland.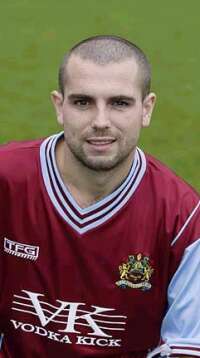 Mark McGregor in top form at the back
It did look for a while that if anyone was going to win it then it would be the Clarets but the game changed again when Palace brought on first Dougie Freedman and even more significantly Tommy Black.
Suddenly it was end to end stuff and a complete contrast to what had gone on in the first half but we were defending resolutely in the centre and for once keeper Brian Jensen was so well protected it was only routine stuff he was having to deal with.
In the last five minutes or so we settled for the point but it could have been fatal as Palace stormed forward. There was a good save low to his right by Jensen and a couple of frightening moments as the ball came across our box before we were able to get it clear.
Eventually though Wiley brought it to and end with the Clarets holding on to a valuable point and the result was the right one with the scoreline also probably right in a game that really did only come to life far too late.
But as we have repeatedly said it is all about points and that's another one towards the safety target, one more we no longer need to get.
There were some players under par but others played well and it was difficult to look too far away from the centre of defence for the best players. Mark McGregor had a good game alongside David May who looked every much a Premiership central defender this afternoon.
The pair of them never looked as though they would give a goal away and that cannot often be said about a Burnley defence.
But there was no real criticism of any of our players, although some of them didn't have good games. They all battled hard for the result and we can ask no more.
And the fans – what can I say – brilliant again, without question. An incredible turn out, boosted I am sure by the London Clarets and the support was again every bit as good as it was at Mansfield last week.
We are fighting two battles at the moment. One is the financial battle but the other is the relegation battle. Getting to home games will help very much in fighting both those battles but the support is still very much needed at away games as we fight for those points.
Tonight though, we can at least look down on one more club and we are now one point further away from the bottom three. It wasn't a perfect day, a Burnley goal in the last minute would have made it so, but we have ended that run of league defeats and we have kept another clean sheet to follow on from the one in the cup last week.
Keep getting behind them as much as you can – the fight goes on – see you all on the Turf for the Baggies next week.
COME ON BURNLEY
The teams today were:
Crystal Palace: Thomas Myhre, Curtis Fleming (Gary Borrowdale 12), Jamie Smith, Tony Popovic (Tommy Black 73), Danny Granville, Wayne Routledge, Danny Butterfield, Ben Watson, Julian Gray, Andy Johnson, Neil Shipperley (Dougie Freedman 61). Subs not used: Cedric Berthelin, Tom Soares.
Burnley: Brian Jensen, Lee Roche, David May, Mark McGregor, Mo Camara, Paul Weller, Richard Chaplow (Graham Branch 79), Tony Grant, Luke Chadwick (Glen Little 52), Robbie Blake, Ian Moore. Subs not used: Dean West, Alan Moore, Joel Pilkington.
Referee: Alan Wiley (Burntwood).