This time though, it's likely to be a while until we have to go back as, after a number of near misses, Barnsley look as doomed as they ever have, whilst Burnley are just waiting on things aligning to confirm our return to the Premier League.
Despite our awful record, I like going to Oakwell. A proper football ground rather than a stadium and a nice journey over the moors from the better side of the Pennines make it the ideal away day, even though we've always known we're less likely to come back with a good result. This year is different though and how many times have we been able to say that, as this exceptional team keeps breaking long-standing records and hoodoos?
I first knew this wouldn't be like the normal visits to Barnsley as we drove over the Woodhead Pass under blue skies and a blazing sun; a welcome replacement for the usual cold, wet greyness that characterises Yorkshire. Crossing the M1, with the queue to leave the motorway stretching way off into the distance, it seemed very few cars were going any further south and those that did were most likely turning round at the next junction and coming back to see what all the fuss was about. The fuss, of course, is over a Burnley team that is all but promoted. Such is the confidence in that happening that close to 4500 of us packed the away end, with crowds still arriving long after the only goal of the game had been scored.
Confidence has been the key for me this season. I've never had so much confidence in a Burnley team. I said at the start of March, after we'd taken apart Forest and Derby in quick succession, that it was a straight shoot-out between us and Leicester for the title. I couldn't see anyone making up the ground on us because, this season, we just don't lose games. So, after parking on the grassy knoll somewhere between the slick black motor of legendary author Dave Thomas and the glacier white Porsche of Junior Stanislas, we confidently strode into Oakwell virtually assured of the win.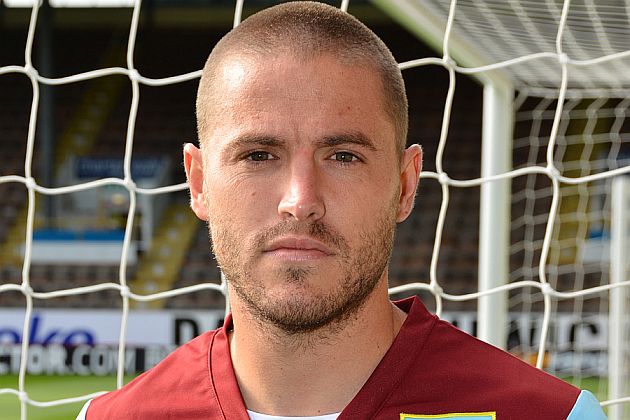 Michael Kightly had his best game for some time
As it was, the game was all but over in 7 minutes, with our first meaningful attack. One of my favourite Burnley goals is a Roger Eli header from a Mike Conroy cross on the run against Scarborough in the 4th Division championship-winning season and our goal reminded me of that. There aren't many better sights in football than a fast, whipped cross being met by a bullet header and this was no exception, Michael Kightly tonking the ball in for Ashley Barnes to boom into the net in front of the away end. That was it. With Barnsley lacking in virtually everything, there was no chance of them getting back into this and their grand total of zero shots on target all night tells its own story, with Tom Heaton only having to get up from his chaise-longue to dive on an overhit through ball and put his cigar out on a couple of crosses. Was it because we're so good or because they're so bad? A bit of both really, but about 70:30 in favour of the former as there wasn't a bad performance throughout the side.
Kightly in particular was having his best game for some time, probably his best for us and was unlucky not to score when drawing a top save from Luke Steele. That, along with a disallowed Ings goal, a virtually inexplicable miss by Barnes and other good chances meant the result flattered Barnsley but the result was all that mattered really and it sent the travelling fans home in buoyant mood. There will be some sore throats amongst those supporters today who were in fine voice throughout the game, especially those who insist on putting such a donk on everything, they end up singing 15 more songs than everyone else.
There was some discussion earlier this week about whether we would enjoy the Premier League. If you set your expectations realistically and take the Premier League for what it is, it's easy to enjoy. The worst case scenario is that you get relegated back to the Championship in a better position than most of your competitors. But I think as good as being in the top flight is, getting there is much more fun. It's easy to make comparisons between our last promotion and this imminent one but they're very different for me. The last was something we almost never thought could happen, a real roller-coaster season with a squad peppered with last-chance-salooners, a nail-biter right up until the final whistle at Wembley.
This is nothing like that. This is a team that is so far ahead in this division, that whilst the table currently says Leicester are better, I'd put us at least on a par. If we can keep it together – and there's no reason why we shouldn't - there's more to come. Five games left to enjoy. The Premier League awaits. Zip up. Wade in.