We've played 12 league fixtures since that game, 5 of which we have won, drawn 6, and only lost the once against Middlesbrough. Going into yesterday's game though we were a record 19 games unbeaten at home sitting in a very respectable 2nd in the league.
Having a cheeky beer, or two, with my mates and other Burnley fans before the game, you hear what is now becoming a familiar statement – "this is a big, big game for the Clarets". I have to say I totally agree, as all our games now regardless who they are against are huge games. So, when you have a team visiting you in the form of Nottingham Forest, who are full of quality players and massive resources, finance and arrogant expectation, who also incidentally were 14 games without loss, have the most odious man in football managing them, add a sprinkling of an incompetent referee (Andy D'Urso) who gave away the soft penalty in his last Burnley game at Leicester a couple of months ago … have I missed anything! And, who knows what can or will happen – Burnley needed to make an impact start, and oh boy did they do that.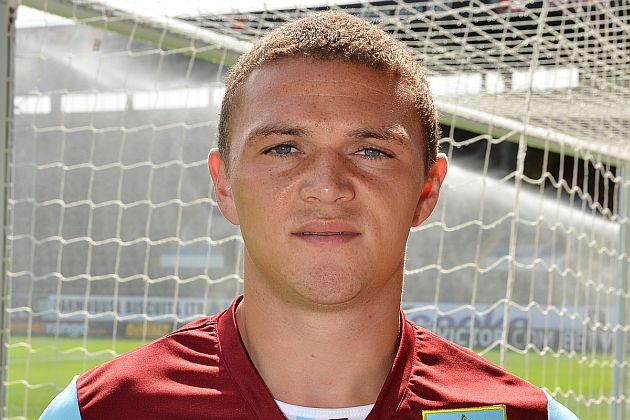 Kieran Trippier could sit proudly in one of the better quality Premiership sides
Before I get onto the game itself though, I'm going to abuse my privilege of being guest reporter and have a rant about this particular referee and officials in general. This is the guy who lost his Premier League slot after yellow carding Barry Ferguson, now temporary Blackpool boss, twice in a game without sending him off. He's made many other big and game changing mistakes in my opinion, and so if this guy is not up to standard for the Premier League, why is he good enough for the Championship? These types of referee stand above the law, spoil games and can have a massive and detrimental effect on a team's season's standings – given the money that is at stake in today's game, our league should have just as good a quality of refereeing as the Prem! It's not going to happen of course, but I feel much better for having my say ….. right, rant over and onto the game.
Burnley kicked off with a familiar team line up and shape, with Scott Arfield opening the first half scoring fest, with big Sam Vokes also netting twice. Right from the kick off, Burnley were at it, and really did look up for this one. The first throw in went to the visitors on the left side and a familiar face collected the ball, cue the loud jeers and boos which rang out from around the stadium for Danny Fox, who is on loan at Forest from Southampton. Agent Fox didn't know it, but he was going to have a torrid afternoon both on and off the pitch.
The Clarets issued an early warning when Jamaal Lascelles cleared off the line from Vokes with goalkeeper Karl Darlow taking the sting out of the Welshman's effort once the ball broke kindly for him deep inside the box from Arfield's driving run. Forest failed to heed that warning and within minutes we had the lead. Scotty Arfield had visiting skipper Danny Collins and Fox to get at, but a delicious and cheeky nutmeg between the legs of the ex-Claret full-back opened up space for him to smash an effort beneath the keeper Darlow, who should have done better – who cares, 12 minutes gone and one nil Burnley.
We continued to play sublime football, much to their manager Billy 'the dwarf' Davies's dismay. Forest just couldn't cope with our energetic pressing, as Vokes and Kightly pressurised Greg Halford before Danny was gifted possession, but the fans favourite sliced wide.
The dwarf's tactics were baffling to say the least, employing a lone striker despite having Simon Cox and Darius Henderson on the bench. It must be nice to have that kind of 'resources' problem, but in the end worked very well for us, as their Algerian forward failed to make any impact was forced in to isolation by our own setup.
Forest lacked fight or aggression, and coupled with our superb passing and movement, we played through their units quickly which saw the game bypass the likes of Djamel Abdoun, Jamie Paterson and Jamie Mackie, though the latter did manage to fizz a centre across the face of the Clarets goal in a rare moment of pressure midway through the half.
That moment of reprieve proved short lived though, as we made it 2 nil on 25 minutes. Tripps, who in my humble opinion is not only the best right back this division has, but could absolutely sit proudly in one of the better quality Premiership sides, once again provided the assist. It was delightful – in his trademark right sided position, he beat Paterson with not only two cheeky little step overs but a quick dink to the right, left, right and then bang, in came the killer cross for the equally as impressive Vokes, who powered the header past Darlow at the far post. The keeper had no chance against such quality.
We were winning every individual battle, and simply wanted it more. Marney and Jones, our midfield dynamic due, once again excelled in the centre of the park, and it was the former who prompted the next attack on 29 minutes when responding to Halford's misplaced pass and finding Vokes who forced a stunning save from Darlow from 20 yards out.
On 30 minutes, little Billy decided he wanted to get his players into a huddle – now I am no expert of the official rules, but where does it say the opposing manager can control a game in full flow and give a team pep talk? Surely the ref D'Urso would have a word with the odious one, but no, he decided to do nothing! Little Billy apparently credited Forest's lack of invention and craft to the absences of Andy Reid, who picked up a calf injury 24 hours before the fixture, and Radoslaw Majewski, who was forced to fly back to Poland for family matters. But their plight owed to more than that.
After Guy Moussi felled Mee, the linesman's flag correctly denied Duff from extending the advantage as the defender nodded Jones's set-piece in to the corner. Not to worry though Clarets fans, as Vokes made it 3 nil in the 35th minute. Kightly found Mee on the overlap and the full-back's cut back was met by Vokes who looped an effort in to the far corner following a wicked deflection off Lascelles to register his 18th league goal of the season.
Dyche said "as a manager you never get that perfect half, but that first 45 minutes is certainly as good as I've seen from our group. Some of the football was absolutely first class. We have a belief in the team and you saw today that at times we were majestic in the first half". He was absolutely spot on, and the half time 'refreshment break' was one of the happiest I've certainly seen as a fan. But, as expected there was a response from Forest after the break.
Little Billy utilised Abdoun and Paterson in more advanced positions, with Fox and Halford pressing higher on the flanks, while Moussi and Mackie tried to take it in turns to push in behind Djebbour. Forest threatened early when Lascelles touched Abdoun's corner on to the bar from Marney's sliced clearance at the front post, and the defender went close again as his towering header, from another set-piece, was thankfully cleared off the line by Tripps.
With the game opening up, and Forest committing more men forward, chances were always going to fall for us and we had to be ready. Ings skimmed an effort wide when Mee's centre was cushioned in to his path by Vokes. Duff then clipped an attempt just wide when pulling away from his marker to meet Marney's flick on from Jones's corner, while the latter fired in to the side-netting after Tripps had dropped a delightful pass over the top and in to the path of Ings. He (Ings) then had another effort, but this time saw his angled volley whistle wide of the far post.
At this point Forest made a change with Greening and Cox introduced at the expense of Moussi and Djebbour respectively, while Dyche opted to swap Vokes for our new boy, Ash Barnes.
We looked on course for the win, and were also desperately looking to keep a clean sheet. Well most fans were, but my mate behind me had it down for 3 – 1 (@18/1) …. And so it was with 10 minutes remaining Forest created a goal scoring opportunity. Paterson's run and pass worked through our defence, and as Cox steadied himself to shoot, Duff made a move and the forward went down easily. I can't say I saw it all that well, but D'Urso pointed to the spot and didn't punish Duff any further.
Abdoun took the spot kick, Heaton saved well but it parried into the air and he followed up to score from the rebound. 3 – 1 and my mate was beaming! Henderson replaced Gonzalo Jara as Forest threw caution to the wind, and they almost set up a nervy final five minutes when Paterson's drilled shot from the angle flew across Heaton and inches wide of the upright.
Treacy, who had replaced Kightly, tested the Forest keeper with a low effort from the angle of the penalty area, while Ings again sliced wide after robbing the almost down and out Agent Fox, though the ball sat up awkwardly for him as he pulled the trigger.
Forest began to pump 'percentage' passes and long throws in to the box, which made the Clarets defend in the air for their lives. Collins should've done better with one of them, but he steered an opportunity wide after Marney stabbed Fox's free-kick in to his path.
We easily saw the game out to be fair, and it was no surprise to see Vokes awarded the Man of the Match. He was brilliant, and that's now 36 goals between him and Ings this season – incredible!!!
I can't finish this report without mentioning Little Billy's post match quote ""They bossed us all over the pitch and we gave away three soft goals with some silly mistakes at the back. We knew what to expect coming to Burnley, but the players did not heed the warnings we gave to them. We didn't play anywhere near well enough to contend with them in the first half and we got what we deserved". He looked mightily upset during this conference, and I have to say, I had a wry smile on my face watching him squirm.
Well done Mr Dyche, well done the players, well done the fans – this sets up an enticing fixture at Turf Moor next weekend as Steve McClaren's umbrella toting side are lined up. Will they be 'Rams to the slaughter'? Come on Burnley, let's see us 'Silence the Rams'.