Forget Hull and QPR earlier in the season, forget that horrible night in Southend last March, we opened the new year with a performance far worse than anything we saw during 2007 and when the final whilst blew I would say we were thankful to have only been beaten by three goals.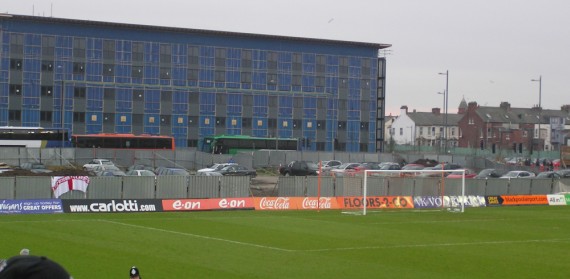 The view Burnley fans had from the Gene Kelly Stand
I've thought long and hard as to what I could write. I've gone through the anger and the bewilderment but on the morning after I'm still not sure how to even consider a report. As I left the ground (I use the word ground very loosely indeed) I heard someone say this was the worst defeat ever because of the fact that it was a big day, a derby, with a big Burnley following. I can only assume this supporter wasn't at Ewood in 2001.
He was right though, it was bad, and the whole day was something of a nonsense given the ridiculous conditions that away fans are subjected to at the Championship's only half a ground.
No report on a game at this place could be complete without a mention of the facilities afforded the away fans. It is something the home fans are embarrassed about. They call it the 'Gene Kelly Stand' and basically it is an uncovered temporary seating area on scaffolding. Oh, and to get to our seats yesterday we had to walk through a combination of clay and mud and I've still not been able to clean my shoes.
I supposed I had as good a view as possible for the New Year spectacular, on the back row and virtually on the half way line. On the down side, two of our party felt insecure in the hardly stable stand and we forced to seek seats lower down.
We are not allowed to have standing areas in the top two divisions of English football any longer. It is deemed unsafe. And yet the same authorities allow this, and I can assure you I've yet to see terracing less safe than this disaster waiting to happen.
We're good away from home and to add to that we had Graham Alexander, Chris McCann and Andy Gray all back in the side at the expense of Clarke Carlisle (injured) and along with Stephen Jordan and Ade Akinbiyi who were both back on the bench. I thought Ade was unfortunate to lose his place after the Bristol City game.
The home fans, housed in the new covered stands which are already suffering from rust and looking in need of some repair, were generating some noise although I'm not sure there's any need for a drum. One particular loud chant had me baffled for a while and reminded me of a political chant from the 1930s. It turned out they were chanting 'Sea Side'. All credit to them though, they give their side some real support.
As it turned out their side gave them something to support, ours give us absolutely nothing and it is difficult to think of anything positive about our performance. We got off to an awful start. There was certainly no pass and move, we just hit it long and with very little movement we just played into their hands.
Blackpool wasted a number of opportunities. More than once they were needlessly caught offside and when they did keep onside they made a mess of a couple of half chances. We weren't at the races and I had to agree when someone said it was just a matter of time before Blackpool scored.
He said it just as they won a corner and needless to say we conceded immediately. Impressive defender Kaspars Gorkss rose virtually unchallenged to plant a header into the corner off the post. It was shoddy defending and the goalkeeper looked as though he might have done better but we could have no complaints.
We did have our chances, half chances to be fair, but Robbie Blake twice failed to get shots in when he should have, Steven Caldwell headed over with as good a chance as we had in the first half and then just before the break goalkeeper Paul Rachubka saved well from a Blake free kick.
It was almost 2-0 within a minute but this time Gabor Kiraly was equal to a deflected shot from Claus Jorgensen, but there was more bad news to come as we lost David Unsworth to injury soon after and he was replaced by Jordan.
There were hints, but I must stress they were only hints, that we might just be getting into the game during the last five to ten minutes of the first half. Blackpool couldn't get forward and we were starting to get forward ourselves. As the half time whistle blew we knew we needed to come out and get at them from the start of the second half.
If the first half was disappointing to put it mildly then I sadly have to report that the second half got worse. It really was a shocking display without passion, without any apparent interest, and you it really did look as though the players had come out of a very unhappy dressing room.
Just before the hour it was game over, and what a shambles of a goal to concede. They got down our left hand side and Jorgensen's cross reached a penalty box occupied by four Burnley defenders and one Blackpool forward. Burgess got the better of Kyle Lafferty far too easily and simply headed the ball into the corner.
Game over I thought, and one or two really did and started to leave. They should have waited because four minutes later they were joined by many more Burnley fans after goal number three went in, this time Jorgensen hammering one in from that area we never bother to protect about 25 yards from goal.
I've never seen as many Burnley fans get up and go and in some ways you could hardly blame them. We'd still half an hour to play and were facing what could be a major hammering. Were we going to concede four or more goals for the first time in nearly four years?
I'm not sure how we didn't, and I'm not sure how we didn't score either. Second half substitutes Akinbiyi and Jones both had chances, Wade Elliott missed when it looked easier to score. But all the time you suspected any more goals would be against us.
It really did all get very fraught and during a stoppage in play there was an altercation between a player and fans. How it started is irrelevant, it shouldn't happen but the arguments on this shocker of a performance will have gone on long into the night.
Finally the referee put us all out of our misery and blew for time. All that was left for us was another walk through the mixture of clay and mud to further damage our footwear, and the quiet journey home. At least it was only about forty minutes.
All teams win and all teams lose but this one was a lot more than a defeat. The real worry here was that on New Year's Day, in an eagerly awaiting derby, our players were simply not up for it. There was only one team out there looking to win the game and that is simply just not good enough.
No, I'm not looking at the bottom of the table, no I don't think we are in danger of being relegated. But I do want to see in the next few weeks a better attitude than the one I saw from our players yesterday. It was simply just not good enough and not acceptable.
The teams were;
Blackpool:
Paul Rachubka, Shaun Barker, Kaspars Gorkss, Michael Jackson, Stephen Crainey, Gary Taylor-Fletcher (David Fox 79), Michael Flynn, Claus Jorgensen, Wes Hoolahan, Scott Vernon (Andy Morrell 75), Ben Burgess (Bartosz Slusarski 86). Subs not used: Ian Evatt, Andy Welsh.
Burnley:
Gabor Kiraly, Graham Alexander, Steven Caldwell, David Unsworth (Stephen Jordan 31), Jon Harley, Wade Elliott, James O'Connor, Chris McCann, Kyle Lafferty (Steve Jones 71), Robbie Blake (Ade Akinbiyi 56), Andy Gray. Subs not used: Brian Jensen, Garreth O'Connor.
Referee:
André Marriner (Birmingham).
Attendance:
9,599.