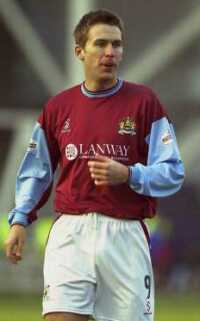 Taylor scores again
It was a tale of two penalties at Millmoor on Tuesday night as a spot kick each inside the first 15 minutes settled the match.
In the very first minute former Claret Alan Lee broke clear but saw his shot saved by Marlon Beresford whilst at the other end Ian Moore had an early chance but pulled his shot wide.
On 9 minutes Burnley took the lead after Ian Moore was tripped in the box and Gareth Taylor blasted home the spot kick but unfortunately the lead did not last long.
Just 3 minutes later John Mullin went sprawling in the penalty area and although Stan later described the decision as 'iffy' a penalty it was. Referee Mr Brandwood couldn't possibly have been trying to even things up but Mark Robins took advantage although Marlon Beresford came within a whisker of saving it.
After that it was been a fairly even game with chances at both ends. For the Clarets Alan Moore curled a shot just wide and Dean West had a goalbound effort blocked whilst at the other end Sedgwick fired over from a good opening.
In the second period there were fewer chances with Rotherham probably having most of the ball.
Burnley did have chances to win the game most notably on 70 minutes when Gareth Taylor shot wide when laying the ball off to the unmarked Robbie Blake looked the better option.
In the final minute though Alan Moore crossed to an unmarked Graham Branch who was on as a sub but he put his header wide of the post.
Kevin Ball, Alan Moore, Glen Little and Paul Weller all picked up bookings for the Clarets.
Playing against a team who have only been beaten twice at home all season the Clarets can be well satisfied with a point which brought up a decent return of 5 points from 3 away games.
The Clarets stay 5th in the league with a game in hand on their rivals in the play off places but having played the same as Man City and Wolves in the automatic spots.
Many will think that the 5 point gap between ourselves and Wolves is too big to make up and we are looking for a place in the play offs at best but think about this.
The Clarets now have 56 points and have 14 games to play. In our promotion season 0f 1999-2000 with 14 games to play we were also in 5th place but were fully 8 points behind the second placed team.
Of the remaining games 8 are at home and 6 away and I haven't given up hope and neither has David Soul: 'The future isn't just one night, it's written in the moonlight, painted on the stars'.
Yes, people looked at me like I was mad when I kept insisting we would go up in one of the automatic places 2 years ago.