We've had difficult games on the road and some not quite so difficult. We've had some fortunate wins and some fully deserved. I think yesterday's was probably the easiest of them, despite the narrow scoreline, even more so than the 2-0 win at Nottingham Forest at the end of January.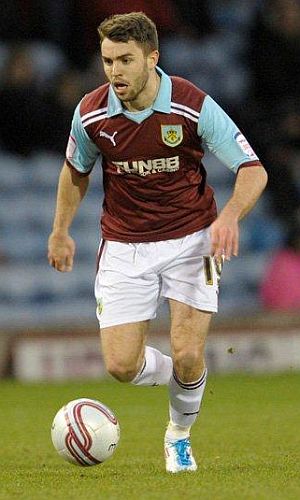 First goal for Josh McQuoid with a stunning strike
Doncaster Dean Saunders moaned after the game about the injuries and his team's lack of recovery time, but his ability to make countless changes to his team must have left Eddie Howe a little jealous as we had to go with virtually the same team such is the current state of our squad in terms of fit numbers.
Saunders made nine changes from the team that was hammered at Leicester two days earlier. Only Adam Lockwood and Simon Gillett retained their places whilst three more - Giles Barnes, James Coppinger and former Claret John Oster were all on the bench.
The Doncaster 'All Stars' were surprisingly absent. We knew there would be no El Hadji Diouf spitting his way around the Keepmoat and there were also doubts about Frederic Piquionne, but also out from Saturday's team were such as Carl Ikeme, Herita Ilunga, Pascal Chimbonda and Habib Beye.
Doncaster have used a grand total of 40 players this season in league football. By the time yesterday's game finished our total had reached 25 and that includes the three young lads who have made debuts as late substitutes in the last three games.
Howe named probably the only team he could have named. Marvin Bartley was ruled out with the hamstring injury that forced him off after half an hour last Friday and we lined up with the same personnel as we'd used for virtually the last hour of that Brighton game three days earlier.
The subs bench was interesting. With Dean Marney now starting, and even Wes Fletcher unavailable, it was like Brian Jensen and the youth club down there. He was joined by Danny Lafferty, deemed fit enough to be named as a substitute alongside Steven Hewitt, Cameron Howieson and Shay McCartan who were excused youth team duty.
How many of our players were nursing knocks; how many of them probably shouldn't have been playing we don't know, but we just got on with it and played the game. That game was won with a first Burnley goal from Josh McQuoid, and he won't get any better, and a first ever penalty kick for Charlie Austin who was not letting anyone else near the ball once referee Nigel Miller had pointed to the spot.
I have to say that Doncaster started much the better side. For at least a minute and a half they pushed us back and we didn't get much of a foot on the ball at all. I'd say those first 90 seconds were their best throughout the game and at no other point were they ever the better side.
It took us until nine minutes before half time to get the lead but it really shouldn't have done and by the time we did we should really have been confirming that the points were already won.
However, we didn't test goalkeeper Gary Woods anything like as much as we should have done and he must have thought he was getting off very lightly until the thunderbolt from McQuoid flew past him.
With Jay Rodriguez out of the side it seems we are having a rotation policy on the corner routine. Kieran Trippier scored at Portsmouth but Danny Ings didn't here, completely missing his kick when the chance came.
Ings, and Junior Stanislas, failed to get shots in when in good positions and the best chance of the lot fell to David Edgar who headed hopelessly wide when it looked difficult not to get it on target.
It was all that was missing as we were dominating the game. Marney and Chris McCann were prompting from the midfield and Stanislas was causing them loads of problems as he continually came inside to push his forward.
We hadn't reached frustration point when the goal came but the score of 0-0 was a bit ridiculous. and it could have been worse but for a very good save by Lee Grant down to his left in a rare sortie forward for Doncaster.
It hardly gave them any encouragement and finally McQuoid finally settled things down with the opener. It was simple in that it came via a long clearance from Grant. Ings went up but was beaten in the air by the home defender who did no more than head it down for McQuoid.
The loanee, who hasn't scored a goal since April last year when he netted in Millwall's 4-0 win against Preston at the Den, took the ball on his thigh before hitting a dipping right footed shot from around 30-yards out that flew into the top right hand corner. The only disappointment was that it came at the far end of the virtually empty Lego Land Arena so the small gathering down there got the best view.
That was it for the first half. It should have been more but once in front I couldn't see anything but a win, and that lead should have been doubled in the first attack after the re-start.
Marney played Austin in and he in turn played the ball across to the unmarked Stanislas. We waited for him to put the ball into the net from close range for his first Burnley goal but instead he dillied and dallied without ever getting in a shot at goal.
By now it was just about one way traffic so when Doncaster equalised eleven minutes in I think it must have stunned everyone. It was such a simple goal too. A ball in from the right to the far post saw former Sunderland film star Chris Brown climb over Trippier to head home.
All square, and that was ridiculous, but we didn't let it affect us and we kept going forward and taking the game to them. Twice we came close to regaining the lead through Austin but twice he was denied by Woods. The first was a good save; the second was an outstanding save to keep out a header that was bound for the bottom corner to his right.
I thought we might have then had a penalty when Chris McCann stormed through only to be brought down. Referee Miller gave it immediately but signalled a free kick outside the box. Maybe that was the correct decision but I was convinced it was inside the penalty box.
Trippier took the kick but it came to nothing. Next time we attacked though the aforementioned Mr Miller was pointing to the spot and he was left with no option.
Stanislas played a delightful ball for Ings to run on to and the striker, again in good form, went down under a challenge from Adam Lockwood. There could be no hesitation as to what the decision was and the only question was who, in the absence of Jay Rod, would take it.
Austin grabbed the ball and gave a very distinct impression that he was not letting go for anyone, not even Trippier who looked to be demanding that he should take it. Austin won the day; Austin took it and Austin scored with ease, stroking the ball into the bottom right hand corner before sliding off in front of the Burnley fans to celebrate.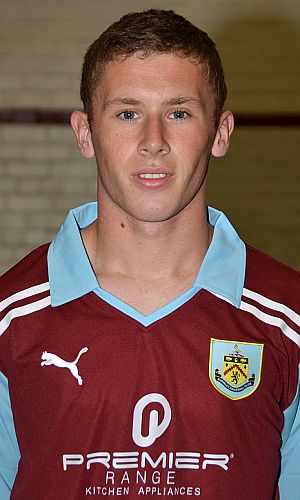 Shay McCartan became the latest to make a debut
There were no more goals, indeed there were just two moments of note. In stoppage time Grant had to make a super save to deny George Friend an equaliser, and a few minutes earlier we saw the introduction of Shay McCartan as a substitute for his debut.
Shay, sponsored by the Clarets Mad Youth Foundation, almost got on the end of a ball into the box too but slipped at the crucial moment. It was a good day for him though, and it's been superb seeing the young lads getting their first taste of first team football in the last week.
In the end, with that late save, the points were ours for win number 10 on the road. It wasn't perfect, and we'd have had to go some not to beat this Doncaster side who I don't expect we'll be seeing at this level of football for quite some time.
But there was plenty to enthuse about and probably no more so than the performances of Austin and Ings up front. I think many of us feared the worst when we knew Jay was going to be out for a few games, and there's no doubt we'd all like him to be fit again and playing in the first team, but again these two showed just how good they can be.
Austin was my man of the match, but there were other candidates as once again we came home from away games with smiles on our faces. If only it had been a bit more like that at home.
Interestingly Howe, after the games, reflected on games when we haven't got the points we probably should have done. Two of those games he referred to were the two against Leeds, who I'm delighted to say are back below us in the table.
Just check the league table. Had we won those two games alone, and we should have done, we'd now be in sixth place.
This was easy, not let's forget that, but there were a lot of positives and the mood was very much that on the return journey home.
The teams were;
Doncaster: Gary Woods, James O'Connor, Adam Lockwood, Sam Hird, George Friend, Fabien Robert (John Oster 87), Brian Stock (Giles Barnes 22), Simon Gillett, Kyle Bennett (James Coppinger 45), James Hayter, Chris Brown. Subs not used: Neil Sullivan, Mamadou Bagayoko.
Yellow Card: Adam Lockwood.
Burnley: Lee Grant, Kieran Trippier, Michael Duff, David Edgar, Ross Wallace, Josh McQuoid, Dean Marney, Chris McCann, Junior Stanislas (Shay McCartan 89), Charlie Austin, Danny Ings. Subs not used: Brian Jensen, Danny Lafferty, Steven Hewitt, Cameron Howieson.
Yellow Cards: Charlie Austin, Chris McCann.
Referee: Nigel Miller (Co. Durham).
Attendance: 8,350 (including 1,063 Clarets).
Footnote
Questions have been asked regarding the points total away from home, currently 31 points with two games still to be played, and whether it is our highest ever return.
The answer is no and below are the seasons, since the introduction of three points for a win in 1981, when we have secured more than 31 points on the road.
37: 1991/92 & 1999/2000 (21 games only in 1991/92)
35: 2001/02
34: 1981/82
32: 2007/08
Two more wins would see us equal that. Two more wins would also see us create a club record of 12 away league wins in a season. We've previously won 11 on four occasions - 1946/47, 1960/61, 1972/73 & 1991/92. In the last of those four seasons, 1991/92, we won 12 but the 2-1 win at Aldershot was expunged from the records when they failed to fulfil their fixtures.