Once again, as at the Turf in November, we had to come back from a rare event known as a Toleko Rantie goal, and this time it was Keith Treacy who I'm sure revelled in scoring in this particular game against Eddie Howe's team.
Treacy had joined the fray six minutes earlier alongside Ross Wallace and it was from Wallace's deflected cross that he netted at the far post to ensure the long journey home wasn't pointless.
The who day out, for me, was around 16 hours, at least two hours longer for one of our party, and we departed Burnley not knowing whether we would have a game to go to. To suggest it was raining on our departure is something of an understatement; it was almost torrential rain as I sort of dashed from the front door to the car.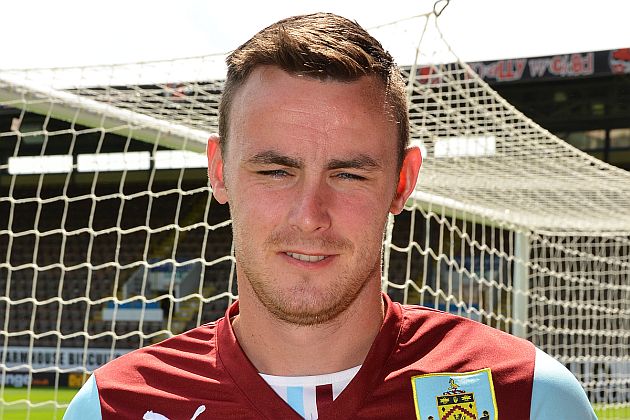 Keith Treacy won us a point with his second goal of the season
We were just about getting into Cheshire when the news came through that the pitch had been passed fit and we did have a game to go to, dependent on some decent weather in the Bournemouth area. A phone call from Bournemouth telling us of blue sky left us more confident.
It was a mix of sun and rain during the journey down and more than once we spotted Judy Garland appearing with her rainbow and the sun was still out as we parked up for the game.
We'd received the team news and the expected unchanged team and noted that Bournemouth had changed to accommodate two strikers.
Eventually we were in the ground, and it was evident immediately that this was not going to be a good surface to play football on. It didn't look very good at all and the 90 minutes of football in front of us went on to prove that it played even worse than it looked despite Burnley Football Club subsequently reporting it as being in perfect condition.
Ahead of the game there was a minute's silence for Sir Tom Finney, the former Preston and England player who had passed away the night before. There are times when we observe a silence or an applause for someone not connected with either club and it leaves me baffled, but for Finney, a great of the 1950s, it seemed fully appropriate.
And I was delighted it was a silence too, impeccably observed, as it was at Everton this afternoon; that I find much better than the applause we had recently for Arthur Bellamy and that observed today for Finney at QPR.
I'm not so sure what Finney would have made of this game, played on the sort of pitch he was probably used to during his career, but the first half was, at times, desperate stuff, with neither side every really threatening to get an advantage.
Bournemouth, I'd suggest, were just about the better of the two but their efforts were mostly from distance and I don't recall Tom Heaton ever having a difficult save to make. At the other end of the pitch our best chance probably came when Michael Kightly broke clear only to see a poor touch on the ball bring it to an end when a ball to Scott Arfield would have seen him clear on goal.
No goals at half time was probably about right although if either side had gone into the interval with a lead it's fair to say that should probably have been Bournemouth.
The opening few minutes of the second half saw us look as though we were going to step things up but then disaster struck with the home side going in front.
This sudden problem of conceding goals at corners reared its ugly head again as Rantie headed home with Danny Ings the defensive culprit. He should have done better but he allowed the £2.5 million striker, who offered absolutely nothing else all afternoon, a free header.
Dyche reacted quickly with a double change as Kightly and Arfield made way for Wallace and Treacy and it worked a treat just six minutes later as the two combined for our equaliser. We won a free kick on the right which was played forward by Kieran Trippier for Dean Marney who combined well with Wallace.
His cross deflected off a Bournemouth defender and Treacy got in really well at the far post to hit home from close range.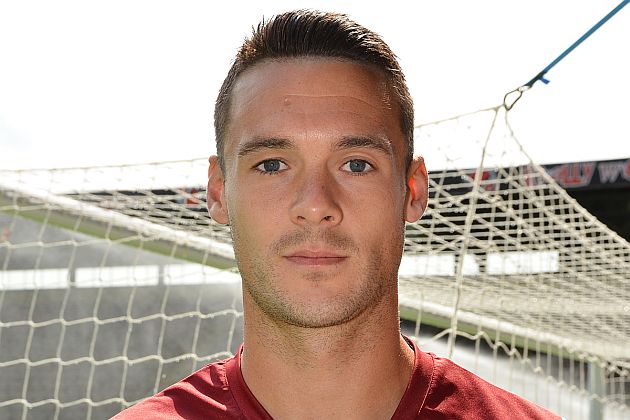 Jason Shackell was in outstanding form in the centre of defence
We'd been behind for just 16 minutes and at this stage, with 23 minutes remaining, I was confident we might go on and win it. Unfortunately it was not to be and the best chances came at the other end leaving Bournemouth believing they should have won it.
Twice Heaton made good saves as Bournemouth pressed and then we had the farce of a ridiculous free kick against us on the edge of our box that took referee Graham Scott an absolute age to sort out.
Scott had a strange game. This card happy referee looked as though he was going to be card free as he'd been at Ipswich back in October. He'd let a couple of bad fouls go unpunished from home players but finally did take some action with the carding of substitutes Brett Pitman and Yann Kermogant. He then, incredibly, allowed Pitman to remain on the pitch following a bad foul that those with a better view have deemed a straight red.
We never really threatened to win it. Sean Dyche has described it as an off day so we should be thankful that, when we are not playing well, we are still capable of getting something out of the game, and the point looked even better this afternoon with Reading's win at QPR.
While some players might have had an off day there is no doubt that others didn't and goalkeeper Heaton was in excellent form as were both central defenders Michael Duff and Jason Shackell, my choice as man of the match.
There's no doubt we will play much better than this in future games and there is no doubt we will play on much better pitches. We really have become spoiled in that respect, four years ago, in these weather conditions, it is very likely a game at Turf Moor would have been called off because of the state of our pitch.
It doesn't seem five minutes since we were celebrating reaching 50 points. It's 60 now and we are still progressing well. Now for some of the big home games.
The teams were;
Bournemouth: Lee Camp, Simon Francis, Steve Cook, Tommy Elphick, Ian Harte, Matt Ritchie, Eunan O'Kane (Shaun MacDonald ht), Harry Arter, Marc Pugh, Toleko Rantie (Yann Kermogant 70), Lewis Grabban (Brett Pitman 86). Subs not used: Ryan Allsop, Adam Smith, Andrew Surman, Ryan Fraser.
Yellow Cards: Brett Pitman, Yann Kermogant.
Burnley: Tom Heaton, Kieran Trippier, Michael Duff, Jason Shackell, Ben Mee, Scott Arfield (Keith Treacy 61), Dean Marney, David Jones, Michael Kightly (Keith Treacy 61), Danny Ings, Sam Vokes (Ashley Barnes 82). Subs not used: Alex Cisak, Kevin Long, David Edgar, Junior Stanislas.
Referee: Graham Scott (Oxfordshire).
Attendance: 10,422 (including 1,406 Clarets).