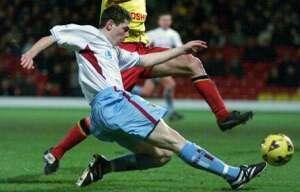 Star Geezer - Brad Maylett
Well make no mistake, after this abject and depressing display against lowly Walsall, this was a performance as flat and unpalatable as any lukewarm, flat shandy you care to think of. Here was ninety minutes of wasted life spent watching two teams muster three shots at goal between them in a Tuesday night of absolutely pathetic football. Champagne, I couldn't even think Pomagne after trudging away from the awful Biscuit tin stadium, an entertainment free zone, where Clarets aspirations of making playoffs are now in serious doubt.
Following this very poor display, Clarets have now taken one point from the last three games, in which they have scored only once and seen a miserable run now of only two wins in the last thirteen games. With this showing, the form shows no signs of abating as the shot shy Clarets lack ideas, inspiration, confidence and a general willingness to press forwards with any self belief, the midfield particularly dire, despite Stan's attempts to try various permutations in this area of drearymen.
On a calm if cold, but dry night, Clarets took to a Matchsaver free pitch, including fit again Armstrong, replacing the concussed Little; Stan also preferred Ian Moore to Blake, a sub once again, in a 4-4-2 formation. The subs bench also gained a new idea, a sub keeper, Nico gingerly taking his seat among the tracksuit wearers.
The first half was as far from entertainment as Brew Ten ever was from winning CAMRA awards, in fact it was twenty seven minutes in before either side tested a goalkeeper, Marlon waking from his coma to smother Marcelo's belated advance on goal. Despite being the better side in the opening to the half, the shot shy Clarets failed to register a serious attempt at goal in the half. The nearest anything came to a shot was Taylor's tame effort three minutes before the welcome relief of half time.
As weak as it was, this constituted Clarets only attempt on target in the game. Other than that it was a combination of high and wide shooting from both sides, diluted stuff all round, a bit like Trent Mild really. And so to half time, the rancid smell of Balti pies and the thrilling prospect of another two thousand seven hundred lengthy seconds like the previous ones.
Starting the second half we had real drama, a new linesman, wahoooo. We also had the creative, glove wearing skills of Paul Cook, replacing Armstrong with the hope of inspiration and craft to come. We had action too, Aranalde booked for a late foul on a disappointing Alan Moore five minutes in.
Seven minutes in came the winning goal. A corner swung in from Saddler's right resulted in an almighty goalmouth scramble under Marlon's bar before some part of Maaaaarcelllllloooo's anatomy saw the ball home for the scrappiest and most disappointing of goals to concede. The frustration was all too much for Weller, booked for a silly foul from the kick off. Walsall buoyed by the fact they had managed an effort on goal gained an extra yard, whilst Clarets managed to drop playing standards losing a further yard of the pace in the process.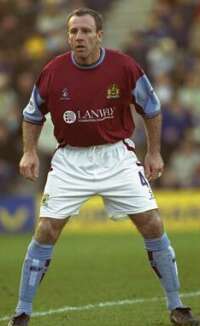 Star Gazer - Kevin Ball
Maylett replaced Weller on the hour mark, immediately setting up West with his first touch, resulting in a deep cross to the far post where Taylor hit the outside of the post with his header, the nearest to excitement it got all evening. Referee Mr Alltocock booked Beresford for dissent, protesting at Carica's late, unpunished challenge on West, as the 1,800 or so champagne samplers tried to rally their cork poppers with a ten minute serenade of Claret and Blue army stuff. It was though to no avail, Clarets were wayward, lacklustre and awful.
Challenges, when made were half hearted, the general distribution was awful, mainly spirals in the sky stuff and it was all to easy for Walsall's defenders to win the ball and set up their team mates. Bearing in mind this is a defence that has conceded 61 goals this season, Clarets failed to find a way through, testimony to the poorness of the current run of games.
With fifteen to go, Cox replaced West, Stan looking to three at the back in a final push. Alan Moore shot over as Clarets briefly pushed forwards before Marcelo took an age to be substituted by ex-Tavares member Don Goodman, complete with a privet bush on his head, Walsall now clearly playing for time whenever and wherever possible.
Holdsworth's short back header was intercepted by Ian Moore, but his back header also lacked pace and direction, Walker easily collecting the bouncing ball. Taylor's head was next in action, but he saw his effort from Briscoe's whipped ball deflected wide, Mr Alltocock giving the goal kick, it was one of those nights.
Weeble like Carica toppled from the briefest of touches from Kevin Ball, passing another sixty seconds or so, as Ball gave his name and the three minutes of injury time were played deep in Claret's defensive areas, Walsall micky taking down by the corner flag, ably assisted by Mr Alltocock who allowed nothing for the blatant time wasting, not that anyone wanted to endure anything longer than was necessary. Moet & Chandon; this was absolute Bollinger!
Att:- 5,611
Star Gazer
Kevin Ball. It is hair splitting to identify one from the eleven pack of party poopers on show at the Bescott, but it is difficult to recollect a positive contribution in this game. The centre midfield lacks drive and creativity and here is a position in serious need of reconsideration.
Pint Glass Half Empty
We now appear to have sorted the away form to match that of the recent home form. Sadly, on this showing, the away form has dropped to the lowliness of recent home performances. This was a Red Barrel of a performance and best wiped from memory as soon as possible. Fifteen points are required to make the playoffs from the remaining nine games, surely the season can't end by missing out?
Star Geezer
Brad Maylett. Although only on the pitch for twenty minutes, Maylett showed a keenness and desire to press on that was sadly lacking from his team mates. As at Barnsley two weeks ago, his pace brought hope and put fizz into an otherwise flat performance.
Champagne Glass Half Full
Hot chocolate is only a £1.00. Stockport managed a win tonight, surely they can't go on a run now?