I didn't think we'd played badly at Ipswich at all and with a bit of good fortune going our way we could have got at least one, if not all three of the points. Even so, it had registered a start to the season we didn't think likely and left us wondering where the next win might come from.
It came in the next game against Brentford and we've now followed that up with wins against Bristol City, Sheffield Wednesday and now last night's win over the club who sold a grand total of 106 tickets to their supporters.
"We're not really playing well," is something I'm constantly hearing but we are clearly getting something right and it's not too difficult to see what. Even with Michael Keane in a barren spell in front of goal we are creating and beginning to take chances whilst at the other end we are restricting the opposition to very few opportunities in front of goal.
It was like that against Sheffield Wednesday last Saturday and it was very much the same again last night. Again I thought we more than deserved the points and, for all their nice passing, I can't see where Karl Robinson is coming from with his belief that they were the better side.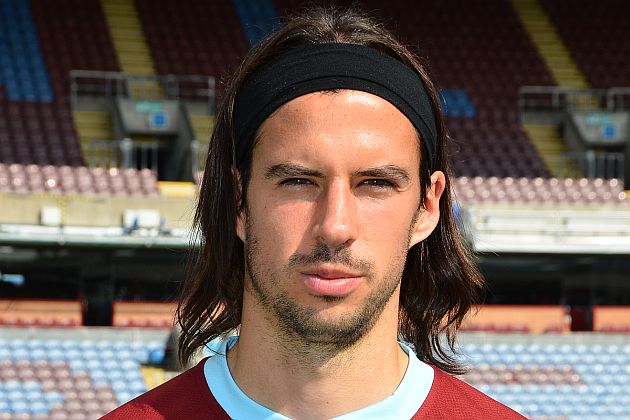 George Boyd won it with a superb left foot volley
They played some pretty football but they must wonder how they didn't fall behind earlier than the 32nd minute when Sam Vokes scored his first home league goal since he struck home a penalty against Doncaster in March last year.
Twice Andre Gray looked a likely scorer but twice he was denied by the visiting goalkeeper David Martin and between those two chances we were close to a fourth goal for Keane this season when he headed over from a corner.
With the Gray chances, both times he was one-on-one. He really should have done better with the first one but I've some sympathy with the second after a defender pulled him back. Had Gray gone down then they'd have gone down to ten men with the extremely erratic referee Kevin Wright having no option to show a red card.
That's assuming he had it with him; he certainly hadn't bothered with the spray to mark the distance at a free kick. He amusingly got caught out with that and ended up yellow carding Samir Carruthers for moving the ball forward.
Just after that second Gray chance came Vokes' goal. It was his 30th goal for Burnley. Some have been penalties, some headers and others from open play with his feet, he's even scored a couple that have rebounded off his arse, but I can't recall him scoring one like this before.
Michael Kightly found him when he played the ball in from the left. Vokes, just a couple of yards outside the penalty box, took a couple of touches before hammering the ball home.
Nothing suggested we might relinquish that lead but we did, and right on half time. They got the ball across from the right too easily and Carl Baker got above Tendayi Darikwa to head home. It flattened the place as the players went in for the break; we could so easily have had a commanding lead.
Against Wednesday we had a difficult spell early in the second half but this time we took command again and just four minutes in we regained the lead with a goal that I would say put Sam's into second place in a goal of the match vote.
It had so many similarities to our second goal on Saturday with Gray crossing from the right. This one dropped nicely for George Boyd and his finish was superb, a brilliant left foot volley into the bottom corner of the net. That was his first goal since he scored at the same end of the ground against Man City last season. He's not been playing well but perhaps this goal will just give him that lift he needs.
I thought this was the point at which we would grab the game by the scruff of its neck and go on to win easily, but it just didn't happen. Yes, we created more chances. Gray might have got himself on the scoresheet a couple of times, they scrambled a couple away and they cleared one from close to the line.
Vokes and Gray gave way with Rouwen Hennings and Chris Long coming on and with five minutes remaining we introduced Matt Taylor. We should have had it won but for some reason I wasn't comfortable and had a nagging thought that they might end the second half as they did the first.
But we got to ninety minutes with them offering very little goal threat before the board went up showing five extra minutes. I'm not sure how we got that many but they passed without any concern at all when, just going into the sixth minute, the game was halted for an injury.
Quite why the referee then had to play on for almost another three minutes I'm not sure but we all but paid for it when Tom Heaton had to tip over a cross at full stretch.
But it was to be Burnley's night and a fourth successive win. Mr Robinson might want to convince those few supporters of theirs that they were the better side but they weren't.
We're still not fluent. The players keep saying there's more to come. Winning games while we wait is not a problem and this is the first time we've won four successive league games since that fantastic run of seven in September and October 2013.
We'll have to sit and watch the others play this weekend before our game at Derby with Sky having moved it to Monday night, that's if they haven't changed it again.
Finally, and definitely worth a mention, is the experiment of opening up part of the cricket field stand for home supporters for the first time in a Football League game for quite some time.
It seems to have been well received, it was a sell out and hopefully the club will now review that positively and allow home supporters back in there in the near future.
The teams were;
Burnley: Tom Heaton, Tendayi Darikwa, Michael Duff, Michael Keane, Ben Mee, George Boyd, Scott Arfield, David Jones, Michael Kightly (Matt Taylor 85), Sam Vokes (Rouwen Hennings 76), Andre Gray (Chris Long 79). Subs not used: Matt Gilks, Matt Lowton, Tom Anderson, Stephen Ward.
MK Franchise: David Martin, Jordan Spence, Anthony Kay, Kyle McFadzean, Dean Lewington, Diego Poyet, Samir Carruthers, Rob Hall (Josh Murphy 69), Dean Bowditch (Daniel Powell 82), Carl Baker, Simon Church (Sam Gallagher 75). Subs not used: Charlie Burns, Lee Hodson, Matthew Upson, Sergio Aguza.
Yellow Cards: Samir Carruthers, Diego Poyet, Anthony Kay.
Referee: Kevin Wright (Merseyside).
Attendance: 15,845 (including 166 in the away end).