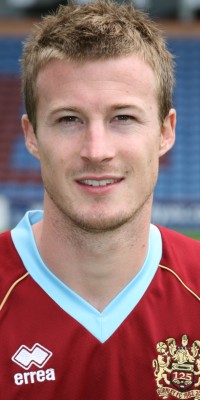 Wade Elliott - Man of the Match
Two days after his appointment he received as warm welcome from the Turf Moor crowd as he made his way to the dug out for this first game, although it was Steve Davis who had prepared the side and it was one with no surprises.
David Unsworth as expected returned to the side and just on cue with Stephen Jordan ruled out with injury, and there was one other change from the side that had won at Leicester with Alan Mahon replacing the injured John Spicer.
The Clarets weren't the Clarets apparently. Not only were we playing in a special one off commemorative kit for last May's 125
th
anniversary but we were also welcomed onto the pitch to the cry of 'Welcome to the blue and whites' over the PA system. We looked very Argentina like although it was difficult to make out the numbers and so I wasn't able to spot either Messi or Riquelme.
Much of the early play was towards the Stoke goal as we attacked the cricket field end but we weren't able to create anything clear cut with most of our efforts coming from distance. Stoke hadn't come to play much football, hardly a surprise there, and as always they were a physical side who also constantly went out of their way to spoil. So often after conceding a free kick they would knock the ball away just a few yards to prevent us taking a quick free kick. Needless to say none of it was spotted by referee Jones.
It got a bit niggly at times and there could be no real complaints at any of the three yellow cards handed out during the first half, one of which went our way to Alan Mahon. It also got a bit scrappy at times with little good football being played.
We were having it easy at the back, they hardly threatened us at all, but too often our attacks broke down with a disappointing final ball. That almost changed when Mahon went within inches of giving us the lead. The ball dropped to him just outside the box and he hit a superb volley that hardly lifted and Stoke were thankful to goalkeeper Simonsen who made an excellent save.
That led to a spell of good play from the Clarets, we upped the tempo and Stoke were struggling but we just couldn't get that breakthrough and Stoke looked a happy team to be going off at half time with the scores level.
If we had most of the play in the first half then we increased it even more after the break and there was only one team in it. We were getting in shots on goal too but the keeper was up to them and made a couple of good saves.
He should have been picking the ball out of the net just after the hour though when Robbie Blake fed Kyle Lafferty on the edge of the box. It was so similar to the chance he fluffed in the win at Leicester. Then he shot tamely at the keeper but this time he didn't hit target as he blazed his shot over the bar from the edge of the box.
Nothing at all was being seen of Stoke now as an attacking force as virtually the whole game was being played in front of the Jimmy McIlroy stand, but that goal we so needed just wouldn't come.
We all thought Chris McCann had got it with a header following a Wade Elliott cross. The right winger was having a stormer down the right hand side and this time his ball in was met by McCann who headed inches wide of the far post.
The new manager had been more than visible in the technical area and he eventually made some changes. Ade Akinbiyi was the first to come up, but eyebrows were raised when he made his second substitution, replacing Mahon with Joey Gudjonsson. It's the first time we've seen him in league action at home since the opening day of the season.
He wasn't on for long but he made an impact and twice came close to winning it for us. In that short space of time he made three excellent passes and also hit two stinging shots that the keeper wouldn't have dared try to hold. Unfortunately they were just too close to the keeper.
So well did Joey do that I decided to comment on it and that, needless to say, was enough to prompt him to give the ball away with an awful pass, his only mistake.
We just couldn't get the goal our play had deserved and had to settle for yet another draw, and this was our fourth at home this season. With tough games coming up, particularly the next four away games, we could really have done with getting that goal and picking up the three points but it wasn't to be.
There was though plenty to be admired. We kept a clean sheet, and it is the first time we've done that at home this season in this our eighth league game. We also played some good and attractive football and did look to get the ball wide as often as possible.
Out on the right in particular Wade was giving Stoke plenty of problems, their one answer being to foul him. In the midfield Mahon was in sparkling form and my choice of man of the match was between these two. In the end I went for Wade but it was a close thing.
They weren't the only two to play well. The back four played well and again David Unsworth was the pick for me and it was just up front where Robbie Blake and more so Andy Gray were not at their best. Stoke may well have come to spoil the game and go for a draw, but that often makes it far more difficult going forward and so it proved.
Overall there were certainly far more positives than negatives and had we just got one goal we would have considered it the perfect day. But it was a good start for the new manager, now all we need to do is get back in Claret & Blue.
The teams were;
Burnley:
Gabor Kiraly, Graham Alexander, Clarke Carlisle, David Unsworth, Jon Harley, Wade Elliott, Alan Mahon (Joey Gudjonsson 80), Chris McCann, Kyle Lafferty (Ade Akinbiyi 77), Robbie Blake (Steve Jones 87), Andy Gray. Subs not used: Brian Jensen, James O'Connor.
Stoke:
Steve Simonsen, Stephen Wright, Leon Cort, Ryan Shawcross, Danny Pugh, Rory Delap, Dominic Matteo, John Eustace, Richard Cresswell, Vincent Pericard (Jon Parkin 51), Mamady Sidibe. Subs not used: Russell Hoult, Andy Wilkinson, Gabriel Zakuani, Carl Dickinson.
Referee:
Michael Jones (Chester).
Attendance:
11,758.