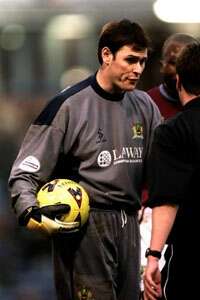 Star Geezer - Marlon Beresford
This preventing PNE of any hope of displacing Clarets from the play off places, nine points now separating the teams with games fast running out.
This was an important win for the Clarets, capitalising on the recent win at Stockport County and the manner by which it was won provided many in the 18,388 crowd to celebrate in some style the first win at home in the League since December 15th. There was entertainment aplenty not least of which from a second half streaker, brought down to earth spectacularly by the multi talented Bertie Bee. When someone said what a tackle, you didn't know where to look.
With the watching pundits basking in their solarium like box in the corner, Clarets have enjoyed the inconvenience Sunday night games, this one including a superb reception to the latest squad member, one Paul Gascoigne. Now call me picky, but the main contributor to the game was one David Johnson, making his debut on loan from Forest and one who was almost overlooked in the pre-match posse of camera flashlights and announcements. David Johnson destroyed PNE's rearguard, with pace and directness that Messrs Gregan and Lucketti were simply frightened to death of. 2-0, at the break, it could and should have been at least four, a combination of last ditch defending and overplaying from both strikers keeping the scoreline down to two.
Clarets took to the field amidst a great atmosphere and four fullish sides to the ground, the watching TV audience no doubt sick of hot pot clichés. Whilst recovered from concussion, Little could only make the bench, accompanied there with Payton, Cook, Nico and Blake. Surprisingly, there was still no Gnohere and with Davis failing in his fitness battle, West and Alan Moore returned, Johnson made his debut (taking Ian Wright's old squad number) with Taylor starting his two match suspension. Mitchell Thomas retained his place shifting in to fill in for Davis.
PNE were also strengthened, Gregan returning along with Rankine, but the Moyseless ones were to have an unhappy first forty five minutes, shambollic up front and disorganised at the back, though they did start the brighter of the two teams and saw the first of the action, Lucketti's header easily taken by Beresford.
Six minutes in came the first goal, courtesy of Beresford's long clearance. Pressured by Johnson, Lucketti failed to deal with the clearance and over hit his pass back to Lucas, who in turn scooped the ball out to Ian Moore some twenty five yards from goal. Taking one touch to control the ball, Moore played a delightful lob over the keeper, sending many a Dingle wild with delight as both keeper and ball ended up in the corner of the net.
Minutes later and Lucas partially made amends, tipping away Grant's curling free kick as Clarets began to dominate. Johnson's pace was a real factor, as were his long throw-ins and you sensed more goals were coming as Clarets tore into a poorly organised Preston city team. On twenty five minutes it should have been two, as from Alan Moore's neat pass, Johnson raced clear, Lucas got a hand to the shot across him, before Lucketti cleared from the line.
It was though a brief respite, moments later Johnson made no mistake, when having taken a quick free kick with Alan Moore, he raced clear of Lucketti finishing neatly in off the post with a good left footed shot.
On the half hour Johnson teamed up with Ian Moore sending his fellow striker clean through, but the finish was poor, Lucas able to smother the shot and with Alan Moore waiting square for a tap in, it was a poor choice, with Clarets so dominant at this stage, PNE's fans now sitting in silent disbelief in their supposedly expensive seats.
Ten minutes from the break Gregan ducked a header, misjudging the pace of Johnson and the diminutive striker was through rounding Lucas in a flash, but in doing so left a very tight angle and could only shoot into the side netting for yet another let off. PNE's best player on the night, Etuhu saw a shot flash over before once again Johnson had a run at Lucas, the keeper again coming to the rescue of his team-mates, before Grant tried his luck with a crisp twenty five yarder that was always rising too high. Mr Durkin brought proceedings to a close and as the teams left the field there was warm applause for the Clarets, both winning and entertaining and at home.
The break saw the introduction of King Dingle I, Zak coming out for the half time draw, before other big noises from the TA's, interrupted the pundits half time review with nicely timed explosions.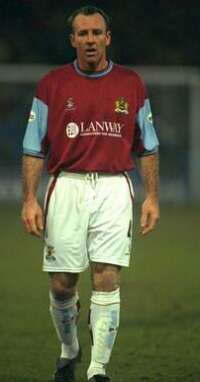 Star Gazer - Kevin Ball
The second half began with no changes, neither form the bench nor the pattern of play, Clarets still much the brighter of the two teams. Five minutes in and Ian Moore was guilty of trying to walk the ball home, before Alexander replied with a free kick that fizzed across the penalty area with no one able to get a touch on the dangerous looking cross.
Alan Moore showed the renewed confidence across the home midfield, with a first time effort that was high and just wide, but as the half progressed, Clarets began their typical defensive shell mode of play. Stan tried to change things on the hour, Little replacing an injured Weller, but it failed to relieve the increasing pressure Clarets now found themselves under.
Showing good ball skills, Etuhu won a corner, from which Beresford made the first of three great saves, turning away Etuhu's low drive on the turn. The game was in the balance switching from end to end, the atmosphere was good, Anderson replaced Cartwright before Lucas struggled to deal with Grant's top corner bound shot from thirty yards. Ball has his customary blaze over after neat interplay between Thomas and Johnson, the latter looking tired as the half progressed.
Cresswell was left with his head in his hands as Beresford turned away his diving header following more good play from Etuhu. Ian Moore showed he still had plenty of energy when running sixty yards with ball only to be crudely fouled, Mr Durkin attempting a card free game.
Suffering from cramp, Johnson left the field to be replaced by Cook with fifteen to go, before we were treated to a streaker who, after eluding a few steward challenges, disappeared over the shoulders of Bertie Bee, who then proceeded to milk the applause form three sides of the ground, happy to show his talents to the watching nation.
Clarets were now being pressed back and Alexander fired straight into Beresford's midriff as the free kick count mounted against the Clarets. With five minutes remaining, Basham replaced Healy and immediately PNE sensed a possible point, Anderson's neatly taken goal giving the visitors hope and home fans much concern, with four minutes left, Claret by now unable to hold the ball, or relieve themselves against the forward pressing PNE.
Blake replaced Ian Moore, before Alan Moore had good claims for a penalty turned down, when after beating three men, he appeared to be tripped from behind when about to shoot. Thankfully, the four minutes of substitute/streaker time were passed mainly in PNE territory and Clarets moved to fourth place as Mr Durkin finally blew, Tom Hark and smiling faces returning to greet the final whistle.
Att:- 18,388.
Star Gazer
Kevin Ball. Went long periods without touching the ball and lost his way in the second half when Clarets really needed to dig in and defend the two goal lead. Somehow the balance between he and Grant was not quite right on the night.
Glass Half Empty
The depth of defending in the second half seemed so pointless. Clarets, having proven that the pace from the front two had caused PNE so many problems, chose not to deploy the same tactics in the second half as had been so successful in the opening period.
Star Geezer
Marlon Beresford. Kept PNE at bay in the second half with three first class saves and set up numerous chances and a goal in the first half, with for once, accurate kicking.
Glass Half Full
Some of Clarets' play in the first half was a joy to watch, with many winning their personal battles and the front two quite devastating in their use of pace. It could and should have been four by the break. This is quite an impressive looking squad, when adding Gascoigne, Davis, Taylor and Gnohere to those on duty tonight. Clarets now look very handily placed moving into the final straight.