Having been in and around this city for the best part of 30 years, I know loads of them so you can imagine what tremendous fun it was for me when we beat them at Turf Moor in 2009. Next on my to do list was to see us beat them at their place and last night we were so close, yet so far from doing just that.
I've been to Old Trafford plenty of times, including one memorable occasion in the away end with Portsmouth, but I've never seen Burnley play there. For the return game in our last Premier league season I was in India, searching for enlightenment and answers as to life's most perplexing questions; Why had we given the manager's job to Brian Laws? I found the path to reconciling myself to this mystifying development involved a hammock, a waiter delivering large bottles of Kingfisher beer and an iPod connected to the beach hut wifi. The Kingfisher is kind of roulette beer; the bottle says it's brewed to anywhere between 2.5 and 4.5% so you never know quite what you're getting. Invariably, it was the 2.5% version which was disappointing – a metaphor, if you will, for Laws.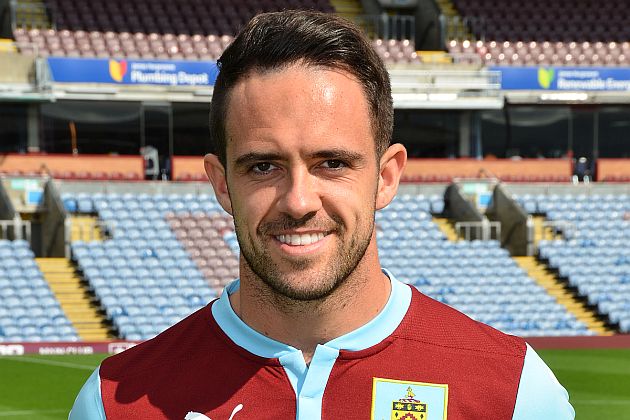 Goalscorer Danny Ings was the best player on the pitch all night
But enough of that. We live in much more positive times and the King of Canal Jumping is a distant memory. This time we went to Old Trafford with the best team and the best manager we've had since I've been a fan and even with the cruel blow of losing Dean Marney for the season, anyone who's taken an interest in Burnley over the last 18 months knew we'd give it good go.
A recent Opta report placing Burnley and United at the top of the long ball league suggested that, to avoid neck injury, the best seats for this game would be in the Goodyear blimp but this was dismissed in slightly different ways by the respective managers. Sean Dyche virtually laughed it off whilst, following Sam Allardyce's claims that they'd out-long-balled even one of his teams, Louis van Gaal produced an in-depth dossier for the press to take home ahead of a test at the next press conference. I like a manager who produces a dossier. Worth keeping your eye on for a meltdown, like Benitez and his Alex Ferguson list; Keegan and his 'I'd love it…' rant; Joe Kinnear and his entire Newcastle career. A lot of United fans I know are still struggling to get LvG. His avant-garde formations and puzzling team selections haven't quite produced the electrifying total football that they were perhaps looking forward to; it's been more banal than van Gaal.
Interestingly, van Gaal had decided to go with the obvious against Burnley and played Wayne Rooney in his favourite position as a defensive midfielder, apparently to balance the team. Not that this worked as United's midfield were bossed for the entire first half by United reject David Jones. Jones has such a calm, assured style, rarely giving the ball away and providing the fulcrum to Burnley's play keeping things moving across the pitch. He wasn't the only one putting in a top performance; it went right through the team as we imposed ourselves on United, pressing them, harrying them and playing some excellent football, zipping the ball about at pace. Much has been made of United's weakness defence but they've only lost once in 18 games now so they must be doing something right. That said, they couldn't handle the muscle and niggling of Ashley Barnes, nor the energy and quick feet of Danny Ings. The goal of the game was scored by Ings, the best player on the pitch all night; a superb diving header from an inch-perfect Trippier cross and it was no more than Burnley deserved.
What we didn't deserve was to go in at the break 2-1 down but we did and we only had ourselves to blame. Not once but twice again we demonstrated a complete inability to defend set-pieces and gifted United two goals – the first, after just six minutes, came from some head tennis in the box and the second, on the stroke of half time, from a short corner where Michael Keane opted to not jump for the header. This Burnley team broke records and made history last season and were about to do it again becoming the only team ever to have afforded Chris Smalling the opportunity of a hat-trick.
Shooting ourselves in the foot has become a theme of late but we were still very much in the game and should have equalised almost immediately in the second half. Smalling and Evans left the ball for each other leaving Ings to control on the six yard line and hit his shot right at David de Gea. The rebound was then blasted at Ings and back over the bar for a goal kick. When your luck's out…
The second half was more even but we still pressed for the equaliser only to shoot ourselves in the other foot at a corner. This time though, it was our own corner. The ball was cleared to Arfield who's attempted pass back to the corner taker, Tripper, was cut out by Angel di Maria, who made his way up the pitch and into the penalty area where Arfield, not content with giving the ball away, needlessly brought him down when there were covering defenders. Robin van Persie, with his only real contribution of the night, buried the penalty and it was game over.
It was so disappointing. We'd played so well, were much the better side and yet had somehow conspired to produce a result that neither team deserved. This defending of set-pieces thing really needs sorting, that's abundantly clear, but there's still plenty to be positive about. If we can keep this standard of performance up, points will come. It will be a close run thing – we always knew it would be – but we've still every chance of staying in this league. And it's still worth reminding ourselves where we've come from and where we are. In a week when the Premier League TV money has gone through another roof and its chief exec has proudly announced that Burnley are now richer than Ajax (irrelevant when everyone else in this league is also far richer that Ajax) our cheapo team has been to one of the biggest clubs in the world, for whom one player's transfer fee dwarfs our club's entire all-time expenditure and bar some bad defending, outplayed them. As I was stood near the ground after the match, an old timer stopped and said to me "You were unlucky tonight, mate, really unlucky. That's one of the best away performances we've seen this season." He was right. No doubt we could be doing so much better but we're still doing pretty well as it is and, as the away end cheerily reminded the United fans last night, we've only spent three quid.