Comfortable Clarets Claim Point
Report of match Colchester United 0 Burnley 0 played 24th February 2007
Reporter Tom Davies
Well, the run without a win continues, and yet another game passes where Burnley have had an extremely strong claim for a penalty turned down.
This was a workmanlike performance by the Clarets, which saw them come away from Layer Road with a point.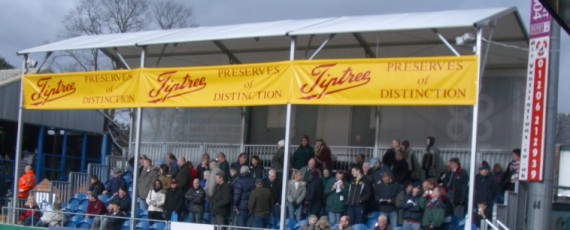 The away stand at Layer Road
Steve Cotterill made some changes for the game, few of which really came as a surprise. Steve Jones was dropped from the 16 altogether, and took up a watching brief with John Spicer, Alan Mahon and Steve Foster. The starting 11 showed one change from the defeat at home to Leicester, with Kyle Lafferty starting on the left hand side of midfield, in place of Jon Harley, who dropped to the bench. Chris McCann moved to take Harley's position at left back. Strangely, Graham Branch was named on the bench, in preference to at least 3 of the aforementioned watchers.
After a long delay whilst the referee waited for exactly 3.00pm, the game kicked off with the Clarets attacking the goal at the far end from where the away fans were housed. The first real chance of the game fell to Burnley. A good move down the right saw Wade Elliott deliver an accurate cross, which Andy Gray got his head to. It seemed like a really good chance, but Gray didn't overextend the keeper.
Burnley then won a free kick in a dangerous position, and Gudjonsson's attempt at doing 'a Ryan Giggs' failed miserably, with the quickly taken free kick hitting the top of the stand. As the half went on, the home team came into it more, with Richard Garcia looking particularly dangerous down their right hand side. It was from here that Colchester were to have their first chance, and what a chance it was. Garcia got free down the right hand side and delivered a fantastic cross into the box. Iwelumo got on the end of it, but side-footed his volley wide, when it seemed easier to score.
This was a real let-off for Burnley, and would have been unfair on a defence which had performed admirably, with Caldwell and Mcgreal keeping Iwelumo completely under control. Then came the first incident in what I would like to refer to as 'penalty watch'. Colchester won a free kick out on the right, and when this was delivered in, Caldwell clearly had a hold of Iwelumo's shirt. My heart was in my mouth, we all know how many penalties Colchester win, but fortunately, this offence went unpunished by a badly placed referee.
The next incident involved Wayne Thomas going down heavily under challenge. He was clearly hurt, but the referee would not allow the physio on to treat him, instead choosing to make him hobble over to the touchline. Thomas came back on for a short period, before going down again, and having to be stretchered off, to be replaced by Michael Duff. It was a real shame, as he was having a good game up until that point. He seemed to help hold the defensive line up, and was communicating excellently with McGreal and Caldwell. I really thought he looked solid for the time he was on.
Then came the second instalment of penalty watch, this one for the Clarets. The ball was played up to Akinbiyi, who held it up and knocked it back to Gudjonsson. He made a break into the box, and was sent tumbling down. For me, it looked a foul, but from our viewpoint at the other end, it was too difficult to say for sure, or if it was even in the penalty box. In this instance, I'm willing to give the ref the benefit of the doubt.
Burnley were rarely troubled at this point, and had the better of the chances. Lafferty fired a shot well wide after some good work cutting in from the left hand side, and then had another good effort from a similar position outside the box, which was deflected narrowly wide.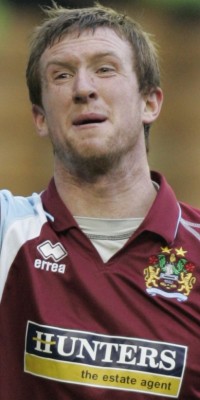 Steven Caldwell - Man of the Match
Half time came with the Clarets looking comfortable, if not dangerous. I had not been impressed with Colchester at all, and whilst Iwelumo had been well marshalled, Cureton had been anonymous. It really was hard to work out how they have scored so many goals between them.
The teams came out for the second half, and Burnley started well, with an increased purpose. Gray and Akinbiyi began to look more dangerous, and there were glimpses of an understanding between the two, with Gray doing some neat link-up play. Sadly, the latter's touch was again less than impressive, often letting us down in promising situations.
Elliott got on to a loose ball in the box, and should have taken an early shot, and the delay allowed the defender to get back and block. Colchester were pinned back in their half for the first 15 minutes of the second half, and this was Burnley's best period of play in the whole game.
Gray won a free kick right on the edge of the Colchester box, infuriating the Colchester defence, who intimated they thought he took a dive. It certainly looked a bit harsh on the home side. Inevitably, Gudjonsson stepped up to take it, and unsurprisingly smashed it straight into the wall, injuring Kem Izzet in the process. This time, the ref did allow the physio on, despite the player having only being hit by the ball, and not even in the head.
Branch was summoned from the bench, and came on to replace Elliott, with Lafferty moving over to the right. It was another decent performance from Wade, he put in some good crosses, but he always seems to be the man to be replaced.
The game seemed destined for a draw at this point, but the next real chance fell to the home side. Ephraim, who had recently come on as sub, got down the left and delivered a good cross to the back post. From my vantage point I couldn't tell who got their head to it, but it was headed over and it was another decent chance wasted.
Moments later, Colchester broke down the left hand side. Branch missed his tackle, but McCann followed the ball, and made a fantastic block out by the touchline. He stayed down, and was obviously in a great deal of pain. He was stretchered off to be replaced by Jon Harley. Again, this was a real shame, as Chris had turned in a very solid performance at left back. He concentrated hard on the defensive side of the game, and whilst he didn't really offer much going forward, or go on any overlapping runs, he did stick to his task well, and marked particularly well at set-pieces, something which Harley has not been doing well of late.
As the board went up for 4 added on minutes, there was still time for two more incidents. Firstly, Gray got on the end of a ball following a fortuitous ricochet from a Michael Duff tackle. He seemed surprised to get it though, and didn't get a shot away. The second incident was the final instalment of penalty watch, Gray held up the ball in the box, before turning, and being unceremoniously tripped. Now, this one was not as bad as at Barnsley or Wolves, but I was stood no more than 15 yards from the incident and it seemed a clear foul. Gray and many of the others were convinced about it, but their appeals fell on deaf ears, as the ref dramatically shook this head and waved his arms. The one in the first half I could accept, but this one was simply an awful decision. It really is getting to be ridiculous now.
The final whistle went, and the team received warm applause from the travelling support. Whilst some will be happy with a point at a ground where the home team have an excellent record, I was a little disappointed. I really thought that we could have got that 'elusive win'. Colchester were there for the taking and I think a little more ambition would have seen us take three points. Colchester were just another average team, and whilst they may have performed better during the rest of the season, based on this showing, it is frustrating that they are so many points ahead of us.
There were a number of positives from the game. The defence was extremely solid today, and were helped out by an improved performance from James O'Connor in midfield. McGreal did better than in recent weeks, although some of his distribution was still somewhat poor. Generally, there were more passages of passing play, rather than the route one style we seem to adopt when things are going badly, and this was pleasing to see.
The negatives are obvious. Another game goes by with no goals from any of our strikers, and whilst Gray showed signs of getting back to his best and looked more dangerous, it was another poor display from his strike partner. Whilst his willingness to chase back cannot be questioned, Ade's touch was bad again, and he wasted a few opportunities by shooting when others were better placed. As for poor Kyle Lafferty, he was again played out of position, and he did not have the best of games. I'm not sure how he's supposed to improve by constantly being pushed out wide, unless they see his long term future there. Both he and Elliott were again deployed far too narrowly for my liking, I tend to prefer my wingers to stay wide and stretch the game.
Man of the match for me goes to Steven Caldwell. He led the team well today, and aided by his fellow defenders turned in a commanding performance. He helped to keep one of the divisions most prolific attack pairings quiet, and his distribution was often sensible.
Hopefully, this can be a performance which helps restore some of the team's belief and we can build on this and push on to a win at home next week. Performance aside though, the winless run continues, and needs to be ended soon, to prevent us from being further drawn into the relegation reckoning.
Competition:

Coca-Cola Championship

Date:

Saturday, 24th February 2007

Kick off:

15:00

Venue:

Layer Road
Colchester U.

0 - 0
Burnley

Match Finished
| | | |
| --- | --- | --- |
| 12 | Goal Attempts | 7 |
| 2 | On Target | 4 |
| 10 | Off Target | 3 |
| 7 | Corners | 4 |
| 4 | Offsides | 4 |
| 10 | Fouls | 18 |
| Referee | Attendance |
| --- | --- |
| Carl Boyeson | 4,934 |
Colchester U. cards shown
none
Burnley cards shown
85 mins
James O'Connor
Unsporting behaviour
90 mins
Kyle Lafferty
Unsporting behaviour
Click here to see a full list of the football results from Saturday, 24th February 2007.