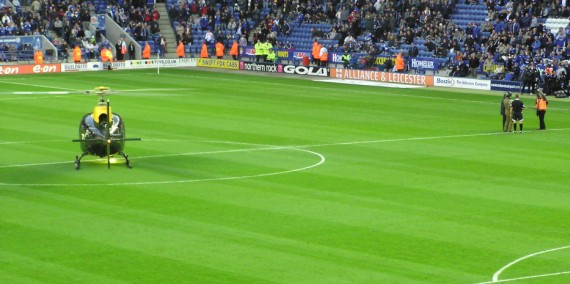 The match ball is presented to referee Clive Penton by Captain M W Westwood of the Royal Navy
We'd had three wins and a draw there previously, and haven't conceded a solitary goal, so it was probably no surprise that we took the opportunity to make it win number four on what turned in to a very proud and emotional day for our club.
Players and management had said they would play this one for departed manager Steve Cotterill and that's what they did in a performance that was much too good for Leicester and a performance that oozed passion, more than ably matched by the wonderful support from the Burnley fans up in the corner.
There were dramatic scenes at the stadium ahead of the game as Leicester City paid their tribute ahead of Remembrance Sunday. The match ball was brought into the stadium and presented to referee Clive Penton by helicopter.
An AS350 single engine Squirrel helicopter, currently in service with the Defence Helicopter Flying School, descending into the stadium around 2:50 p.m. The crew were Captain M W Westwood of the Royal Navy and Flt Lft C M Smith of the Royal Air Force.
It was superbly received by the crowd as it landed in the centre circle, before Captain Westwood made the presentation of the ball. As it then ascended out of the stadium it turned to all parts and even took a bow. To add to the rememberance, the home side had poppies stitched to their shirts.
Caretaker boss Steve Davis had discussed the line up with Steve Cotterill on Thursday and it was as we expected with Jon Harley coming in at left back with Stephen Jordan moving into the middle to replace the suspended David Unsworth.
Fans were in a strange and subdued mood ahead of kick off. Many were mystified at the big decision made on Thursday, and some who had not been supporters of Steve Cotterill admitted to regretting the decision to part company with him. But we had a match to play, and we had to get on with it, and that's exactly what we did and more.
I was hoping for a steady start, but I didn't get one, I got a start that must have frightened Leicester to death. We got on top almost from kick off and a run from Wade Elliott that was turned away for a corner set the tempo.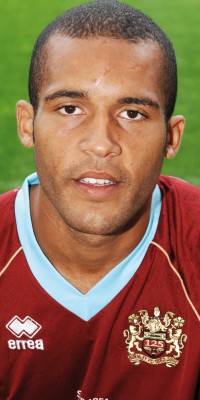 Clarke Carlisle - a man of the match performance
Central defender Clarke Carlisle almost gave us the lead from a later corner but his effort went narrowly wide as the home side struggled to contain our opening burst, something we've become accustomed to away from home this season.
Robbie Blake and Andy Gray linked up brilliantly only for the leading scorer to be thwarted by Marton Fulop and in our next attack Hungary's current number one made a superb save to deny Chris McCann.
We deserved to be in front after this start, we needed that goal, and it came almost immediately. Leicester scrambled the ball clear and it was eventually headed forward for Wade Elliott who played in Gray to notch his eighth league goal of the season with a shot into the bottom corner. A good finish, a good goal, the lead and it could hardly have been a surprise to Leicester, their fans and even the overweight shirtless drummer to our left.
They'd not been in the game and when they did get forward they found Carlisle and Jordan in formidable form in the heart of our defence and apart from one shot straight at Gabor from distance Hungary's real number one could have gone off and had a brew and it would have made no difference.
There's always something to spoil things, and it came when Jordan went down injured with that troublesome ankle. He returned after lengthy treatment off the pitch but it was clear he couldn't continue and with just three minutes to go before the interval he had to be substituted.
We seem to be losing defenders almost as quickly as Leicester lose managers, and with none left it meant Chris McCann moved into the back line to partner Carlisle with Alan Mahon coming on. We got to half time without any problems but the worry was that Leicester might take advantage of the patched up side after the break.
We needn't have worried about Leicester, we were too good for them, but there were real concerns about referee Penton. When he saw Andy Gray pull a shirt he gave a free kick, when he saw Gray have his shirt pulled he waved play on. He'd spent the first half looking as though fairness wasn't a word in his vocabulary but he turned the lack of fairness into a fine art during the second half.
He'd already booked two Burnley players before the break but he added numbers three, four and five in a five minute spell in the second half that simply beggared belief. "You're not fit to referee," was the cry from the away end, and I think even the home fans looked over with a sympathetic gesture.
Leicester made three substitutions but it didn't bother us at all, the only problem we had was another injury. This time it was John Spicer and he was forced off. His replacement James O'Connor came on to great applause and he's even got his own chant now.
A goal up at this ground you should be confident, but I kept looking at that clock at the far end, kept wanting it to move just that but quicker, but you know, I needn't have bothered. We were in total command and at no stage did they ever get close to scoring an equaliser, that is unless you count a couple of shots from thirty yards that cleared Gabor's bar by at least another set of goals.
We could have completely wrapped it up, we had some chances, and one in particular that fell to Kyle Lafferty. He was set up by Robbie but hit an awful shot too early that Fulop virtually had to wait for.
Ade Akinbiyi came on to boos from the home fans, I suppose it gave them a break from booing their own players, and we just very professionally run the clock down. Robbie came into his own taking the ball into the corner down the far end and we were seriously never troubled.
Four minutes of stoppage time made no difference and eventually referee Penton had to concede defeat and bring it all to an end. Not quite. The Burnley fans were making a hell of a racket and eventually the whole team came right over. Players, caretaker boss, any coaches we had down there, medical staff, the lot. And right in front of us they went into a huddle that lifted the away support even more.
We all knew it was for Steve Cotterill - they said they would do it for him and they did. But this performance was typical Cotterill away performance anyway. It has been like this for much of this season. We really need to transfer this sort of atmosphere and this sort of performance to Turf Moor.
Trying to find a man of the match at games this season has been difficult. At home you often struggle to find a candidate, on our travels there are too many. It was the same again today but my vote has to go to Clarke Carlisle. He had two new partners today but returned to form with his commanding performance at the back.
It was a brilliant day though, and a result that was needed so much after the four days before starting with that awful night against Hull. A break now, and surely a new manager in by the time we play again. Cotterill said this week that he'll be a lucky man. Given the squad he'll get, and the attitude we are showing away from home, I think he's just about right.
Come on you Clarets.
The teams were;
Leicester:
Marton Fulop, Richard Stearman, Bruno N'Gotty (Iain Hume 60), Patrick Kisnorbo, Gareth McAuley, Matty Fryatt, Darren Kenton (James Wesolowski 55), Stephen Clemence, Joe Mattock, Carl Cort (Collins John 56), DJ Campbell. Subs not used: Paul Henderson, James Chambers.
Burnley:
Gabor Kiraly, Graham Alexander, Clarke Carlisle, Stephen Jordan (Alan Mahon 42), Jon Harley, Wade Elliott, John Spicer (James O'Connor 70), Chris McCann, Kyle Lafferty (Ade Akinbiyi 76), Robbie Blake, Andy Gray. Subs not used: Brian Jensen, Steve Jones.
Referee:
Clive Penton (Sussex).
Attendance:
21,334.