A first half goal from Paul Taylor looked all set to inflict on Burnley a sixth home defeat of the season in the Championship until Jay Rod collected the ball just inside the Peterborough half via a first time ball from Zavon Hines.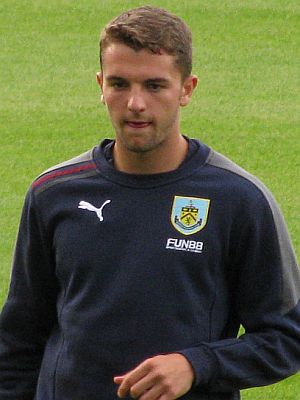 Was this Jay's best goal for the Clarets?
He was in the old fashioned right-half position but burst forward moving onto the left hand side before cutting inside two defenders and placing his shot across goalkeeper Joe Lewis into the far corner.
"That's the goal of the season," I heard shouted as it nestled in the net and rescued the game at the end of a second half, in total contrast to the first half, that we'd dominated.
The play seemed to be in and around the Peterborough penalty box throughout that half but it just seemed, no matter what we did, the goal wasn't going to come until that brilliant, brilliant Jay goal, probably as good a goal as he's scored since making the first team and skipping past Fulham goalkeeper Pascal Zuberbühler over three years ago.
It really was a fantastic goal but I can't say it warmed things up. Clarets Mad reports from the youth games at Gawthorpe often include weather reports, and I'm sure anyone there yesterday will appreciate that there can be no reference to this game without some comment on the weather.
It had started on the Friday with the usual message board panic as to whether the game would be on or not. There seemed no problems and at 12 noon yesterday, just three hours before kick off, Burnley had still seen no snow.
By the time kick off arrived there was some snow around, not really enough to make walking too difficult outside, but inside the ground it really was a wonder there hadn't been some serious questions asked. The Longside Upper was lethal and it might have been better to give the stewards a day off and allow Torvile and Dean to supervise everyone to their seats as the rows turned into skating rinks.
Onto the pitch and the team was as expected, the one that played the bulk of the game at the City Ground against Nottingham Forest with fit again Ross Wallace restored to the starting eleven and Keith Treacy, injured at Forest, fit but on the bench.
Peterborough arrived with no sort of form whatsoever but you wouldn't have thought it given the way they played in the first half. How much of it was Peterborough playing well and how much of it was ourselves being out of touch I'm not sure but we had to be thankful that we went into the half time break just 1-0 down.
That goal came with 12 minutes gone and it came from a rare Burnley effort on goal. Charlie Austin headed straight at Lewis who cleared the ball upfield. Michael Duff was first to it but got a bad header on it although thankfully it dropped kindly enough for Ben Mee.
Mee, though, hesitated and that allowed Paul Taylor in. David Edgar reacted the situation and tried to push Taylor wide but the Posh forward still got in a cracking shot that left Lee Grant helpless.
Burnley seemed to have nothing in the tank to get back at them and were very fortunate not to concede again. George Boyd caused us problems, even more when his ability to go down untouched wasn't questioned.
A second goal couldn't have been closer when Edgar failed to deal with David Ball. This time it was Mee who had to get across to cover for the mistake and he did just enough although Ball still hit his shot against the foot of the post.
Thankfully it came out; Grant almost gathered and in the end it went out for a goal kick.
Kieran Trippier was our main threat during a really disappointing first half and when the whistle went for the break there was a mad rush for the overcrowded concourses to get out of the ever worsening weather.
Half time was a long one so maybe the players weren't too keen to get back out. It was not far short of 20 minutes and when we did get started the conditions were seriously worse. The pitch was starting to go white as snow and ice fell, and despite having the thermals on I can't ever remember being so cold at a first team game at Turf Moor.
We needed a performance and a comeback to help warm us up and in fairness we did come close to that as we totally dominated the second half. The ball seemed to be flying in and out of the Peterborough penalty box on a regular basis but we just couldn't apply a finishing touch.
The best chance fell to captain Chris McCann who headed over from point blank range and the recently under pressure Lewis was dealing with most of what we could offer.
With twenty minutes to go Keith Treacy came on for the disappointing Josh McQuoid and it did give us a lift. More than once he got us into good positions and he got some real testing balls into the box. Still, it wouldn't come.
There was the tried and tested corner routine, but Jay's shot was blocked and then Wallace's shot was blocked by defender Mark Little's hand, yes hand. It was a clear penalty but missed by referee Webster and that looked to be it.
Then came the goal. The master of understatement Jay said of his goal: "I just received it from Zavon and just took the ball towards the box. It opened up nicely and I just put it away."
It was special. It deserved to win the game. It didn't do that but at least it earned us a point and anything less after the second half would have been a travesty.
Apart from Grant's comical conceding of a corner, nothing much happened after the goal and then it was time for us all to make our way home, and that's when further problems started.
With the weather conditions now considerably worse, many of us will have our tales of woe to tell on this one and thankfully I only live around two miles from the ground so mine won't be anything like as bad as others.
It was bad enough though. As I left the ground I said to someone that it was one of those days when you just wanted to be transported back home immediately after the final whistle but in those worsening conditions the journey home was never going to be quite that easy.
I slid and pirouetted back to the bus station, along with all the other home skaters and boarded the bus on time at around 5:10 p.m. The bus had no problems getting onto Manchester Road and even past the Town Hall, but it came to a stop just past Finsley Gate and eventually, after what seemed an age, the driver told us we had two options - sleep on the bus or walk home.
We all queued to get our money back and I made my way home, walking through the front door just past 6:30. By then I don't think I could have been too excited had we won 4-0, I was frozen, wet through and thoroughly miserable.
Soon after, a Burnley fan phoned me. He'd just landed at Heathrow and asked how the game had gone. "It was horrendous," I said, giving him a weather report rather than a match report.
I'm dry now and I've warmed up so I can look back at the game somewhat more objectively than I could have done last night. One thing for certain is that all the players from both sides should be congratulated for putting on any sort of show in those conditions.
It really was bad in the stands but I'm not sure I'd have been any happier in football kit out there trying to play in those conditions. That's the last two home games that have been spoiled by the weather so let's hope it's a decent night when Barnsley arrive a week on Tuesday.
That's four without defeat and eight points from those four games. We've got to be happy with that.
The teams yesterday were;
Burnley: Lee Grant, Kieran Trippier, Michael Duff, David Edgar, Ben Mee (Marvin Bartley 76), Ross Wallace, Dean Marney (Zavon Hines 83), Chris McCann, Josh McQuoid (Keith Treacy 70), Charlie Austin, Jay Rodriguez. Subs not used: Brian Jensen, Brian Easton.
Peterborough United: Joe Lewis, Mark Little, Ryan Bennett, Gabriel Zakuani, George Boyd, Grant McCann, Tommy Rowe, David Ball, Lee Frecklington (Ryan Tunnicliffe 70), Paul Taylor, Craig Alcock. Subs not used: Paul Jones, Daniel Kearns, Emile Sinclair.
Referee: Colin Webster (Tyne & Wear).
Attendance: 13,258.