It doesn't seem too long ago that there were constant threads on the message board bemoaning our inability to score from set pieces; that winning a corner was almost a pointless exercise, but that's certainly not the case right now and it's the defenders who are picking up the points for us while we sort out the best partnership up front.
Keane scored the winner last week against Brentford, heading home a David Jones corner, and it was the same combination for the second goal in this game; that coming just six minutes after Mee was the beneficiary of another Jones corner.
It left the Burnley fans in the Atyeo Stand celebrating but astonished that we were two goals to the good because we'd not really been in the game and the scoreline hardly reflected what had gone on in front of us.
But 2-0 it was and that's how it almost stayed until they pulled one back right at the end of stoppage time with us having to be content with the points but no clean sheet.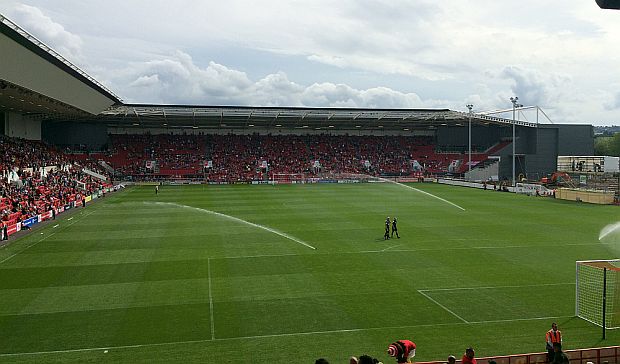 The view from the new away fans section at Ashton Gate
The rest of this report could, in all honesty, be a traffic report as the journey down, and more so that on our return, proved to be not as plain sailing as we might have hoped.
I think some of the problems going were down to choice of route. As we made our way down the M5 we received strong advice from fellow Clarets to take the M4 and M32 route through Bristol. I'm not so sure that proved to be the best idea although we were still there in good time ready to search for a parking place and that, I can assure you, is at times akin to looking for a needle in a haystack in Bristol.
That was not the end of the problems before the game. In their wisdom, the stewards informed the Burnley supporters that there was no need to sit in their designated seats. It was a 'sit where you like' policy which led me to believe we'd a lot of tickets unsold.
Nothing could be further from the truth and as kick off approached so did the pandemonium as Burnley supporters searched hopelessly for seats as the PA kept telling them to sit down and not block the gangways.
I have to say that the home fans gave our goalkeeper Tom Heaton a warm reception, but that was nothing compared to the greeting our supporters reserved firstly for Wade Elliott and then Steve Cotterill. Both got fantastic ovations with both responding; Elliott walking past us to get into the Dolman Stand to our left and Cotterill on his way to the dug out.
This mutual appreciate, I can tell you, did not stretch as far as our debutant Andre Gray. He was booed by the City fans when he came out and when his name was announced. His every touch was greeted with some displeasure and there was more than one chant of: "You're just a greedy bastard," and I thought he'd signed for us, not Blackburn.
As we expected, Sean Dyche named an unchanged goalkeeper, defence and midfield but opted for two changes up front. Sam Vokes and Lukas Jutkiewicz have alternated game by game this season and this time it was Sam Vokes' turn. He partnered new signing Gray who came in for Rouwen Hennings.
The bench was as expected but Bristol City's wasn't. They were only able to name six when Ryan Fredericks was left out. He joined them from Spurs 26 days ago but is now set to move to an unnamed London club due to personal reasons.
Cotterill said of the situation: "He's having a medical and will join the club for the same fee we paid for him. We wish him good luck with that. We fully understand, sometimes things happen."
The game started with us attacking the end right in front of us, or more accurately we were defending the far end where once were the backless seats. We didn't see much of the ball at our end as we were constantly being put under pressure by an energetic home side.
And I'm not quite sure how we survived it to be honest. Tom Heaton made a couple of saves, one an outstanding effort, in truth we did defend well and on a couple of occasions our two full backs, Tendayi Darikwa and Mee, got in tremendous blocks to prevent us going behind.
It seemed just a matter of time before the first goal went in and who knows what might have happened had we gone behind. But when the goal did come it was very much against the run of play and in our favour.
I once saw Kurt Nogan score a winner for us here deep into stoppage time after we'd been battered by them in what was Adrian Heath's first game as manager. It was nothing like that yesterday but they were, without doubt, the better side by some distance in the first half hour.
They say goals change games and this was one outstanding example of that. The first of them came when Michael Kightly, our best player beyond the defence, did what he does best and got us up the pitch, winning a left wing corner off Luke Ayling.
Jones took over and when Mee climbed brilliantly to meet his flag kick there was absolutely no doubt where it was going and we were astonishingly 1-0 up.
City got back at us and had a couple of situations but then the whole thing caved in on them and Kightly was involved again. He came away with the ball and played it out to George Boyd on the right and Boyd then found Gray.
With the home defence all over the place, central defender Aden Flint got across to get in a superb challenge at the expense of a corner before turning to berate any member of his defence he could find.
It's worth mentioning Gray's contribution at this point. He played the first 70 minutes and what he did won't make him either an outstanding or a poor signing or anything in between. But I was impressed with what I saw. He's got some pace, as we know, his movement was terrific and I do think he'll prove to be an astute buy once he's settled in to the way he played.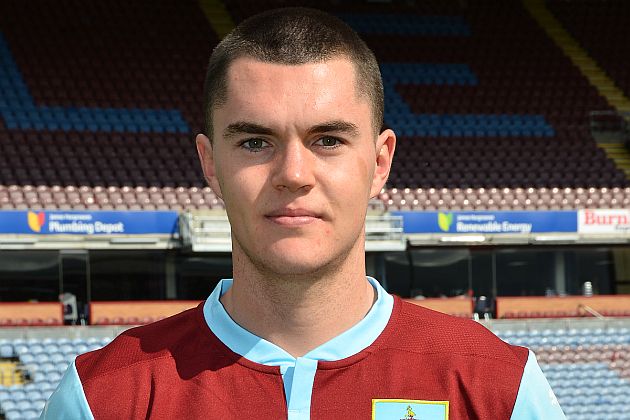 A third goal of the season for Michael Keane
Apparently there's a contest between Keane and Mee as to who will score the most headed goals from set pieces. Mee must have been delighted to reduce the deficit to 2-1 but Jones came across to the right and this time it was Keane who headed home. Burnley were 2-0 up and Keane was leading 3-1.
We could, and probably should, have been going in at half time behind, but here we were with a 2-0 lead and it was all smiles in the away end during the interval.
At no point in the second half did they ever really get the upper hand, certainly not in the way they had in the first half. I thought, for the most part, we looked comfortable and might have even added to the lead.
One of the highlights for us in the second half involved Keane. He seems to be at the centre of most things right now and, forgetting is goal, I thought he was once again the best Burnley player on the pitch.
Cast your mind back to Wembley 1994 when central defender Steve Davis went on an amazing run from defence that took him deep into Stockport territory. We got virtually the same from Keane yesterday. He came out of the defence with the ball on the left and went on a run that was only ended with a superb challenge as he tried to go inside two players.
With the way he's playing right now, I wouldn't have been at all surprised to see him go all the way and smash one past Ben Hamer into the net.
Bristol had their moments and none more so than twenty minutes from the end when an unstoppable shot from Derrick Williams was blasted against Heaton's left hand post. Heaton also made a terrific save to deny a Flint header from a corner.
We struggled to keep eleven men on the pitch towards the end. With all three substitutes used, Juke suffered an injury and, after going off the pitch temporarily, limped for the remainder of the game.
But we got to 90 minutes at 2-0 with four extra minutes added. They had possession of the ball in our box when those four minutes were completed and, rightly, referee Mike Dean allowed them to play the ball out and get it back into our box. We paid for it with a goal and I'm not even sure who got the last touch, although it has been credited to Frenchman Jonathan Kodjia.
That just left us with the journey home. We'd already been treated to the Wurzels at the ground and their Combine Harvester but there was worse to come on the M5 with two lanes closed after a tractor had fallen off a lorry.
Some Burnley fans were ahead of us in the queue, some were behind us by some considerable distance, so, for the second successive away game there have been lengthy delays on the way home. Thankfully, the next two games are at home.
Do Burnley score from corners? Too true they do. That's three more points; suddenly we're moving nicely up the table and all without Joey Barton.
The teams were;
Bristol City: Ben Hamer, Luke Ayling, Aden Flint, Derrick Williams, Mark Little (Wes Burns 58), Korey Smith, Marlon Pack, Bobby Reid, Joe Bryan (Callum Robinson 78), Aaron Wilbraham, Jonathan Kodjia. Subs not used: Max O'Leary, Adam El-Abd, Kieran Agard, Scott Wagstaff.
Burnley: Tom Heaton, Tendayi Darikwa, Michael Duff, Michael Keane, Ben Mee, George Boyd, Scott Arfield, David Jones, Michael Kightly (Matt Taylor 82), Sam Vokes (Lukas Jutkiewicz 56), Andre Gray (Jelle Vossen 70). Subs not used: Matt Gilks, Tom Anderson, Stephen Ward, Rouwen Hennings.
Referee: Mike Dean (Wirral).
Attendance: 15,002 (including 1,242 Clarets).