I chose this particular game as I was hoping a certain ex Burnley and England striker, now with Southampton, and who will become my son-in-law next year, was going to be playing. It wasn't to be as he is still on the road back to recovery, and so I along with all Burnley fans (I am sure) wish you all the best Jay and hope you are back playing the beautiful game soon.
What a season so far! It was never going to be easy, and there are lots of so called supporters quick to snipe and criticise certain players and performances, but for me this is the league where I want to see the mighty Clarets playing our football. We have proved, through our promotion last season, that you do not need a sickening amount of cash or foreign investors to make it to the top flight of British football – so for me, I will keep getting behind my team week in week out regardless of the outcome.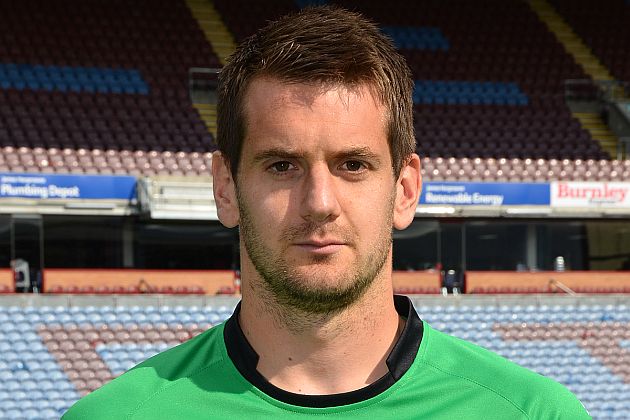 A brilliant penalty save from Tom Heaton
I was feeling quietly confident coming into this game, thinking a draw would be a decent outcome given Southampton's fantastic start to the season. They might have lost their last three games coming into the match against Burnley, but come on, these were games against Man City, Arsenal and Manchester United – and you don't usually get much change out of playing teams with their quality and resources.
Burnley themselves have been on a great little run since losing away at Arsenal at the beginning of November, only being beaten by QPR away last week. So, 8 points out of a possible 15 coming into the game yesterday, and unbeaten in the last 3 home ties – I was confident we could extend that to four. My only real nervousness was in our allocated referee for the day, that being a certain Mark Clattenburg – not to worry, I checked and Ed Sheeran was not playing a gig that same night, so perhaps he could concentrate on the game and give a good solid performance.
If you read no further in my report you just need to know two things; Tom Heaton brilliantly saved Dusan Tadic's penalty and Ashley Barnes netted late for the Clarets to take all three points.
A young Jake Hesketh made his first start for The Saints, replacing Shane Long, while Southampton's only other change following the defeat against Man UTD was Toby Alderweireld in place of Yoshida. Burnley on the other hand, given squad size and current injury list, were unsurprisingly unchanged from last week's defeat against QPR.
The Clarets started brightly and threatened twice in the opening exchanges, with Danny Ings just failing to connect on Boyd's cross and then following a neat little flick by Arfield, he turned on two defenders before creating space and hitting a long range shot narrowly wide of Fraser Forster's right hand stick. We then really had to wait until the 26th minute before the Clarets had another real chance. Keane and Hesketh collided in a heavy challenge with each other, with Hesketh coming off the worst and staying down. Burnley played on, as they were entitled to do, and Forster, who was under pressure from Barnes, reacted well after Clyne deflected Trippier's cross towards the goal. The result was a scramble in the area involving Barnes, Ings and finally Arfield, but the referee's whistle blew for a foul on Southampton's keeper.
That earlier heavy challenge brought Hesketh's first team start to an end on 32 minutes with the 18 year old, yet another good looking product of the Saints academy, being replaced by Ward-Prowse, who himself was making his first appearance since fracturing his foot earlier in the season. Ward-Prowse wasn't on long before testing Heaton with a low shot five(ish) minutes before the half time interval. That was it really for the first half, and time for the customary Bene 'n' Hot !
The second half got off to a quieter start than the first had, before Southampton put together a lovely move. The Senegalese international, Mane, took the ball on the left and brought it back inside for Davies. He fed it to the feet of Pelle, who was just outside the box, took a quick touch and passed it to Tadic, back to Davies who cleverly back heeled to Mane. Luckily Mane didn't have his striking boots on and he blazed it over the bar.
It was now approaching the hour mark and Southampton were keeping up the pressure, and after a good ball from Wanyama out left to Bertrand, he charged at Boyd. Trippier was slightly out of position and this gave Bertrand the run on Boyd. As he charged forward into the area, Bertrand quickly changed direction and Boyd's tackle was a little slow resulting in a clear penalty for The Saints.
This was, certainly for me, to be the most important moment of the game. Southampton have not had a penalty all season, and according to the font of all knowledge Robbie Savage, they have not missed their last 29 spot kicks. Up stepped the impressive Tadic and struck his penalty well, low and to Heaton's left – Tom (who had apparently been a good boy and done his homework on Tadic yesterday) got down brilliantly, and at full stretch he confidently pushed the ball wide and around the post. Game on and Turf Moor erupted.
Burnley responded well. Trippier played a ball to Arfield who dummied it and Ings picked up the ball on the edge of the visitors area. He set himself up on the edge of the 'D' and hit his shot low and hard to Forster's left. The keeper could only parry it into Boyd's way, but he was in an offside position and the move quickly came to nothing.
Then came our winning moment of brilliance, out of nothing really. Playing in our defensive third , Shackell gave the ball back to Heaton, who kicked it immediately up field, however it went harmlessly out of play in-line with the visitor's box. A waste of possession, or so I thought.
Clyne took the responding throw in to Davies who passed the ball immediately back to Clyne. But, Danny, who was having another great game, ran around Davies at pace and charged down Clyne's resulting clearance. The ball ran somewhat kindly to Barnes, who slipped slightly, but stayed on his feet to slot the ball beyond Forster on 73 minutes, albeit with the help of a deflection off Alderweireld – queue the Clarets cringe worthy goal celebration music. You work hard and you get your rewards, and that's exactly what we got.
Southampton kept up the pressure, and following a long corner 3 minutes from time, the visitors kept control with a couple of neat passes, before Clyne hit a long range effort which just fizzed passed the right hand side of Heaton's post.
It was a very nervy ending, as in extra time Southampton threw themselves at us, and after some less than convincing efforts from the Clarets to clear the ball away from our area, Ward-Prowse picked up the ball and sent a pin point cross into the box. The ball was met by an unmarked Victor Wanyama, but he couldn't take his chance, and headed the ball well high and left of our goal.
That was it, and Burnley had achieved another very precious victory. Make no mistakes, as Sean said after the game, we had to dig in yet again. Tom has made a massive save that has inspired us to go on an win. I wasn't totally convinced with Barnes' performance throughout the game, but he's proved me wrong and scored his second goal of the season. We are out of the bottom 3 now – that's 5 clean sheets in 15 matches, and we have extended our unbeaten home run to 4 matches with our 3rd victory of the Premier League campaign.
The way we are organised, keeping our shape and pressure in games is making it really hard work for opposing teams. We might not have the super stars and world celebrities in our team and squad, but our players use every ounce of energy they have and really give it their all every single game – that's why I like who we are and what we do. Long may it continue – come on Clarets, let's have another win against Spurs.