It took Arsenal 70 minutes to break the deadlock; much of that down to how well we played against such a top team, but once the first had gone in I was fearful of more and that's exactly what we got.
I don't think overall, or overwall as the home manager would say, we could in the end argue about the result but not in any way do I believe we deserved to lose this one by as many as three goals.
I'd like to say we had a trouble free journey down to London but having opted to use the A1 we suffered a long delay around Biggleswade in Bedfordshire but we were still pulling in at Cockfosters some three hours or so before kick off, giving us time for lunch before making the journey to the Emirates.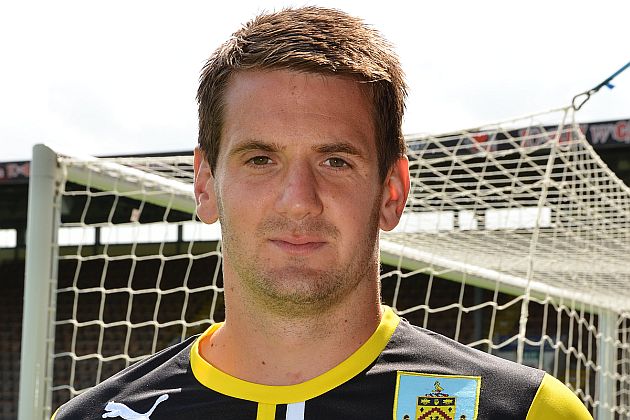 Tom Heaton made outstanding saves to deny Lukas Podolski and Theo Walcott
I referred to it in my preview on Friday; our previous away games had been at such as Swansea, Palace, West Brom and Leicester but here, from the minute you come out of the station, you know you are facing a big club at a big ground.
The cannon outside the Armoury provided a good meeting point to pass over the tickets to our Irish contingent and then, after visiting the Dennis Bergkamp statue, it was time to go in under the 'Welcome to Burnley' signs.
The team news had already come through. Arsenal are a club that offer a QR code on the match programme giving up to date team news and ours saw two changes to the team beaten by Everton. One was expected but the other was possibly a surprise.
Fit again Dean Marney was back. He hasn't played since the home draw against Sunderland and slotted back in alongside David Jones with Scott Arfield moving onto the left hand side to fill the gap left by the displaced Michael Kightly.
The other change saw Lukas Jutkiewicz left out with Marvin Sordell getting just his second league start of the season; he'd previously played against Sunderland.
It was still a 4-4-2 formation but with Danny Ings deeper and quite sensibly we'd set up to try and contain an Arsenal side that included some real talent and none more so than Chilean Alexis Sanchez.
He went on to have a major influence on this game and when, at the season's end, we are looking at some of the best individual performances against us, his will be right up there alongside others we've seen. Right now I'd place only Cesc Fabregas above him.
I'm not going to suggest we had the lion's share of the play in this game. It was far from that, but we did have our moments which, as per usual, the BBC chose to ignore when putting the Match of the Day programme together whilst allowing former Gunner Martin Keown to suggest we are becoming an embarrassment.
We saw most of the first half action at close quarters with our away fans, and more on that later, situated at the end we were defending. It might not have afforded us the best of views when we had a couple of half chances but it certainly did of how well Arsenal attack.
Their passing is good but their movement is terrific. Like most people who watched or dismal efforts in the World Cup, I was quick to criticise Danny Welbeck, but he looks a different player now alongside the likes of Sanchez, Santi Cazorla and Alex Oxlade-Chamberlain.
They are so patient too, never just launching the ball into the box but constantly trying to find a route through. They look capable of threading balls through the eyes of needles but so good was our work off the ball, and not just from the back four, that we were constantly making it difficult for them.
Playing against the top clubs you often have the referee to contend with. From what I can see, Craig Pawson's one big error went in our favour, but throughout the game he favoured Arsenal far too much.
That was so evident on the quarter hour when he yellow carded George Boyd. He had initially looked to make it clear he was giving no more than a free kick but then it appeared, following a conversation with Mikel Arteta, another who likes to think he can referee the game himself, out came the yellow card.
That could have cost us dearly not too long afterwards when the big miss came from Pawson. The home players went up for a handball in the box. I'd certainly seen nothing at the time but television pictures clearly show that Boyd stuck his arm in the air.
It should have been a penalty; it could have been a yellow card and that could have left us playing the rest of the game with ten men, something that Louis van Gaal considers stupid.
Very early in the half, Kieran Trippier had blocked a goal bound effort but as the half went on we were looking stronger although a couple of Sanchez shots flew just wide and Welbeck was close with another. It was still 0-0 at half time but we were still probably relieved to go in level.
The second half comes in two parts. Part one is up to the goal and part two is the remaining twenty minutes when our goal difference could have been taken to a frightening level.
The first part was much the same as the first half but there were long periods when, for all their possession, when I didn't think they were offering too much of a threat and there was always the chance of a break at the other end. That would have shaken things up.
With 22 minutes to go, Sordell was replaced with Jutkiewicz. There will be mixed reports, I'd think, on his performance. Playing up the pitch for Burnley in this game was always going to be a thankless task but I thought he did well.
By that time Arsenal had already brought on Aaron Ramsey; they subsequently introduced both Lukas Podolski and Theo Walcott as substitutes. That says something of the quality of their squad.
Juke had been on the pitch for just a few seconds beyond one minute when Arsenal got the lead, and it was only another two minutes before they scored again. The game was up for us now and I wondered just what the score might be.
Both had come from balls in from wide areas. For the first Sanchez climbed to head home a right wing cross and the second came from a left wing corner. It came in low and David Jones cleared Welbeck's shot off the line only for Calum Chambers to hit home the rebound.
That second goal was the killer and Arsenal started to really flow. Tom Heaton, who to be fair had not had too much to do, saved brilliantly from both Podolski and Walcott, the first of them drawing applause from Arsenal goalkeeper Wojciech Szczesny.
Podolski was on a mission. I thought initially that Heaton had made another wonder save to deny the German only to see from the replay that it had crashed against the woodwork. I know Podolski had come on at 2-0 which made it easier for him but I just wonder how on earth a player of such quality doesn't get more starts in the Premier League.
We got to 90 minutes at 2-0 but then conceded again in stoppage time. It was another low cross from the left turned home from Sanchez, but his footwork is brilliant to ensure the chance.
That, thankfully, was that. It had been a 3-0 defeat and not really what we wanted, but such was the support from the away section that hardly anyone had gone as the team received an ovation. Our fans had even mocked the early departing home supporters with chants of 'Is there a fire drill?'
The level, quality and durability of the Burnley supporters didn't go unnoticed. I spoke with co-chairman John Banaszkiewicz after the game. He told me: "Our support was terrific. They stayed with us right to the end despite the scoreline and I was moved with the continued support and ovation they gave the team."
Who knows whether we'll be back at Arsenal next season. I took a last look around the stadium before leaving. I hadn't gone wanting to see us lose, let alone by three goals, but this is where I want to be watching my football. I know in today's world we'll never be able to compete with clubs like these but it's at this level I want to be watching my team play.
I don't like losing; from the minute the first goal went in my enjoyment in the game dropped significantly, but it is still brilliant to see my team (little old Burnley as some call us) playing in league fixtures like this and it is brilliant getting the opportunity to see some top players, and I most definitely include Sanchez in that group.
As we poured out to head back to the underground station, there was no moaning from the Burnley fans. Disappointment, yes, but real support from great fans who just go to watch and get behind their team no matter what. I do get the impression that most of the negativity is left behind on the internet.
It was late when I got home, via drop offs in some remote parts of West Yorkshire, but I'd had a really enjoyable day out with some fantastic friends, two of whom I would never have known but for Clarets Mad.
The next trip is to Stoke, then QPR and then to those old adversaries at Spurs, a fixture that always remains very special for me having seen our two great teams in the 1960s. I'm looking forward to all of them.
I want points of course, but I can hardly fault our team yesterday. We went out with a plan, we were extremely well organised and gave Arsenal a far more difficult afternoon than the 3-0 scoreline can ever suggest. I'm not sure what else we can ask of them.
It will be another week now of reading about us not having won. A year ago today we were at Millwall and just 15 years ago we were playing league football against Wrexham. You won't find many complaints from me about us having to play Arsenal no matter what the score.
I would love a win though.
The teams were;
Arsenal: Wojciech Szczesny, Calum Chambers, Per Mertersacker, Nacho Monreal, Kieran Gibbs, Mikel Arteta (Aaron Ramsey 63), Mathieu Flamini, Alex Oxlade-Chamberlain (Theo Walcott 80), Alexis Sanchez, Santi Cazorla, Danny Welbeck (Lukas Podolski 80). Subs not used: Damian Martinez, Hector Bellerin, Tomas Rosicky, Yaya Sanogo.
Burnley: Tom Heaton, Kieran Trippier, Michael Duff, Jason Shackell, Stephen Ward, George Boyd, Dean Marney (Nathaniel Chalobah 80), David Jones, Scott Arfield, Danny Ings, Marvin Sordell (Lukas Jutkiewicz 68). Subs not used: Matt Gilks, Michael Keane, Ben Mee, Ross Wallace, Michael Kightly.
Yellow Card: George Boyd.
Referee: Craig Pawson (Sheffield).
Attendance: 60,012.