For a statto like me it also meant adding one more ground to those where we've seen the Clarets win and this one has taken my list to 94 for league wins alone. It also ended that long run, albeit with very few games, without an away win against them, and no longer can Peter Hampton, Neil Grewcock and Peter Devine claim to have scored in our last away win against Bolton.
It was only our fourth visit to Horwich for a league game. We drew there on the opening day of the 2000/01 season but have since lost on two occasions, the first of them on the night when the ground was festooned with "OWEN COYLE'S SUPERWHITE ARMY' banners.
On that occasion, the only time I've seen an evening kick off game at the Reebok, I was sat in the upper tier of the stand. This time I opted for the lower tier. It was hard work having to stand for ninety minutes on my crutches, and I'm paying for it today. The only other downside was the less pleasurable behaviour of some of our younger supporters just behind who had certainly not gone there to watch any football.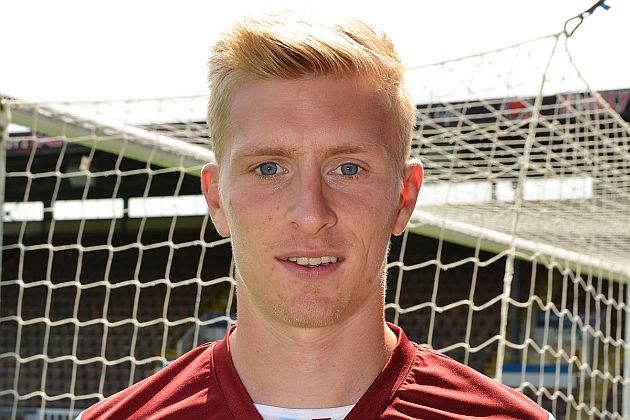 Another good performance from Ben Mee at left back
Four years ago our opponents were supposedly years ahead of us. They had just appointed a manager who was going to improve them year on year. Ahead of kick off last night they stood 27 points behind Burnley in the Championship having secured just a point per game so far this season.
Bolton brought in David Wheater who for a while was credited with our first league goal this season. He replaced captain Zat Knight, a favourite of the Burnley fans, with Medo Kamara, almost a Dane Richards look-a-like, coming in for Mark Davies.
Burnley, as you would expect, named an unchanged side with the only change coming on the bench where Danny Lafferty replaced Keith Treacy who has had further problems with his neck.
I took in the match with a fellow Claret who has Bolton supporting family members. The information he received was that we'd win if we were still level after 20 minutes, that Bolton were a set of individuals who quickly lost their way when things didn't start well.
I think, to a large extent, that's how things did go and Bolton would be hard pushed to suggest that their best play didn't come in the opening exchanges.
We were defending the far end and I found it difficult trying to work out just what was going on at times due to the ridiculous electronic advertising hoardings. It's very much a case of sod the fans and get the money from the advertisers, because these really were a problem and there is no way they should be allowed to interfere in such a way for paying spectators.
I did see Tom Heaton fall on his arse in the opening couple of minutes as he slipped trying to deal with a back pass, but I had no idea until I saw reports that Bolton had, via a deflection, hit the bar.
They were very much in the ascendancy with Chris Eagles, who was to provide us with some real entertainment in the second half, looking prominent as was Chung-Yong Lee who had scored that goal against us in the Premier League clash.
Heaton was forced into action a couple of times to make saves but then, in probably our first positive move forward, we should have taken the lead. Danny Ings, who had been the subject for special plans by Dougie Freedman, set up Scott Arfield but the midfielder screwed his shot wide.
That prompted a spell of better play from us and for a while we seemed to be getting control of the game, but Bolton did come back into it and gave us a few hairy moments before we again settled down to see out the half comfortably.
Probably the most concerning of the lot was when referee Graham Salisbury, who had an excellent game, played an advantage following a foul by Jason Shackell. Thankfully his defensive partner Michael Duff came to his rescue and it was some minutes before play stopped and the referee could yellow card Shackell.
It was a fifth yellow card of the season for the captain. When he picked up his fourth yellow card of the season, for the penalty that never was against West Ham, a one match ban looked inevitable. But this was his first card in 18 games, long past the amnesty for such bans for reaching five yellow cards.
I suspect Bolton might just have thought they deserved a half time lead but we'd defended well. We'd restricted them to few opportunities. Although we hadn't tested the dodgy Adam Bogdan too much I suspected there was more to come from us in the second half.
My suspicions were correct. Within seconds of the restart Bogdan saved well to deny David Jones whose shot looked to be heading for the corner. It prompted a really good start to the half for us.
Even Ben Mee, turning in another top performance at left back, joined in with a shot. We looked in control and just before the hour we grabbed that important first goal.
We'd had a spell of possession that led to us getting the ball out onto the right. Kieran Trippier, Dean Marney and Michael Kightly were all involved and it was Kightly who slipped the ball into Arfield on the right of the box.
Arfield crossed low. It beat the Bolton defence and Vokes came in right on the far post to score with his left foot.
Matt Evans, in the guest report, considered this alongside last season's defeat when we went 1-0 up and prompted Bolton to make a quick double substitution. Last night the goal came three minutes later than Edgar's 367 days earlier and Freedman immediately played his hand again.
One of the two who came on was Andre Moritz. He was one of the architects of our horribly defeat at Palace last season but he wasn't given too long to make a contribution this time. He was on for no more than 12 minutes before being replaced with no obvious injury.
We are a side capable of playing some very entertaining, expansive football, but we are also a side who can close games down and here we saw out the remaining half hour with very little problem.
Bolton huffed and puffed. They got the ball up the pitch quickly and former Claret Eagles was tormented by the visiting fans as he wasted the ball on countless occasions. One Claret leaving at the end said to me that it had been one of his better Burnley performances.
Not once did I fear a Bolton equaliser during that last half an hour; not once did I think we might drop any points and the only real scare came right at the end when they won a free kick. We know Eagles is capable of getting them into the top corner; this time he found the wall with a timid effort.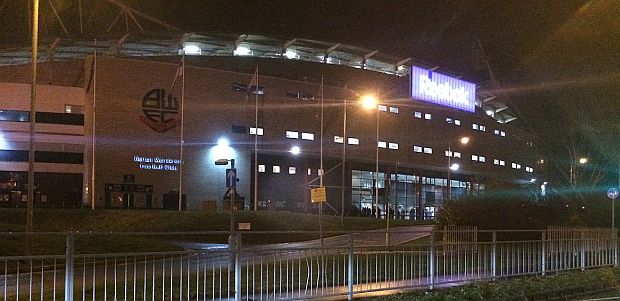 The Reebok looked good as we left
We'd ground this one out at times, but overall we were the better side, and that now takes us 30 points clear of Bolton who were pre-season favourites for promotion.
At the final whistle the reaction from the players and fans alike showed just how important a win this was. Dyche, as always, marched over to applaud the fans.
Freedman's plans, whatever they were, had stopped Ings from scoring but they hadn't stopped Vokes and more importantly they hadn't stopped Burnley. And this from a performance that, according to their local media, was as good as anything all season.
As we drove away I took one more look at the ground from the car. It looked a better place than it has done previously. We'd seen another win and overall we'd seen another very good Burnley performance. As Dyche has often said, you have to find different ways to win.
The teams were;
Bolton: Adam Bogdan, Alex Baptiste, Matt Mills, David Wheater, Tim Ream, Jay Spearing, Medo Kamara (Mark Davies 60), Chris Eagles, Liam Trotter (Andre Moritz 60, Neil Danns 72), Chung-Yong Lee, Lukas Jutkiewicz. Subs not used: Andy Lonergan, Zat Knight, Darren Pratley, White.
Yellow Card: David Wheater.
Burnley: Tom Heaton, Kieran Trippier, Michael Duff, Jason Shackell, Ben Mee, Scott Arfield, Dean Marney, David Jones, Michael Kightly (Ashley Barnes 86), Danny Ings, Sam Vokes. Subs not used: Alex Cisak, Kevin Long, Danny Lafferty, David Edgar, Ross Wallace, Junior Stanislas.
Yellow Card: Jason Shackell.
Referee: Graham Salisbury (Salisbury).
Attendance: 16,439 (including 2,787 Clarets).