After the listless performance at Huddersfield on Saturday, some of the ten players brought in by Eddie Howe must have had half an eye on a first team place against Brighton on Saturday, with Brian Stock restored to the side, Luke O'Neill and Steven Hewitt making their full first-team debuts, and Jensen, Duff, Mee, Lafferty, Bartley, MacDonald and Treacy making their first starts of the season.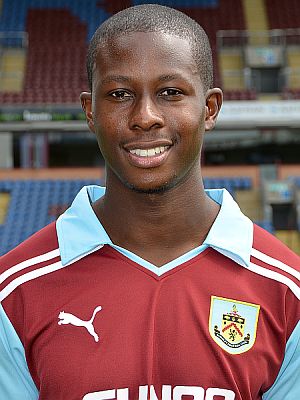 Marvin Bartley nicks the man of the match
Despite all the changes, however, the performance followed a similar pattern to the game at Huddersfield- flowing, Barcelona-like football until required to cross the halfway line, and then a marked inability to cause the opposition backline any problems.
Keith Treacy looked about as lively as we've seen him in a Claret shirt (talk about damning with faint praise) and seemed the one player on the pitch with the inventiveness required to break down a stubborn Plymouth defence, but when the goal came on 37 minutes it was Marvin Bartley who provided the spark, an excellent bursting run from midfield and a terrific cross which Charlie Austin nodded effortlessly past Argyle's keeper. Aside from an Alex MacDonald free-kick straight down the keeper's throat it was the only goal threat we saw from either side in a drab first half.
Unfortunately, despite the lead, proceedings weren't much improved in the second half, Ross Wallace (at times) providing the creative spark after replacing the somewhat unfortunate (although also somewhat unfit) Treacy, and, I have to say, putting a couple of decent balls in with his left foot from the left wing.
Sam Vokes came on to replace Austin and had little impact, alongside the equally ineffective MacDonald, who struggled to show why Howe gave him another year in the summer.
The lopsided 4-1-3-2 we were now employing didn't help matters, particularly with no outlet on the right, and, a couple of half chances aside, both sides plodded along to what appeared to be a tedious conclusion, until in the last minute disaster struck and Plymouth were awarded a penalty after a foul by Sam Vokes (who, like Lee Grant in last year's games against Burton and Barnet, must have had a draw on his coupon). You don't often see penalties given for pushes in the box, but the referee must have been fairly certain to give the away side a last minute penalty, and Robbie Williams rocked BJ by sending the Danish keeper the wrong way from the spot.
This really was somethin' stupid and despite a sudden urgency seizing hold of the Burnley players, Vokes and Hewitt saw goalbound efforts blocked, Ben Mee's header was cleared off the line and suddenly we'd contrived to play extra time.
Bartley was replaced by Stanislas for the extra time period, who unfortunately managed to be even more ineffectual than he was on Saturday as we once again reverted to sleepwalking through the match with a frightening lack of urgency or commitment.
Plymouth's players were defending well when required but it really wasn't anything like often enough and a half decent long range effort could even have pinched it had it been either side of Jensen. Alex MacDonald was forced off injured and I have to say, it took me a couple of minutes to notice he was even gone, so drab was this extra time period. (Special thanks should go at this point to the lovely woman who lent me her pen when I dropped mine and was too embarrassed to ask for it back from the bloke in front before half time in extra time, although there wasn't too much to make notes on anyway).

For the first time since Stamford Bridge, then, albeit slightly less dramatically, we had a penalty shootout, and although there's plenty of debate about their relative merits, there can't have been a Claret in the ground who wasn't happy that Jensen was once again between the sticks, given his excellent penalty saving record in this competition (remember that game against Wolves?).
Williams stepped up to try his luck again, but this time angels had deserted him and the crowd let Beast entertain them with an excellent diving stop to his right. It wasn't a bad penalty either, so hopefully no regrets, Robbie.
Wallace stepped up next looking supremely unconfident and capped a patchy performance with a rubbish penalty which Jake Cole saved comfortably. Not to worry and Jensen was down again to stop Luke Young's spot kick. Sam Vokes picked the same corner and just about drilled it home to give us a slender advantage.
Matt Lecointe finally got the better of Jensen before we saw the worst penalty of the night by a distance from Stanislas, whose bizarre run up involving about 35 feints and hops was followed by a dreadful balloon over the bar.
Neither winger did much to restore confidence after their poor displays on Saturday, and they'll have Porter's lack of experience and Treacy's lack of fitness to thank if they start against Brighton. Back on level terms, but Jensen was once again the hero, another cracking penalty save to deny Hourihane, and Steven Hewitt kept a mature head on young shoulders to slam an excellent penalty home, as he did in the Youth Cup semi-final last year.
Both final penalties were scored, Stock rolling home the winner, and so we got into the hat by the skin of our teeth, certainly no thanks to our attitude and performance for large parts of the game.
Jensen did nothing wrong and excelled in the shootout, although perhaps wasn't tested enough to displace Grant on Saturday. O'Neill and Hewitt didn't look out of place at all and both had solid games they could be pleased with.
I thought Mee gave a good account of himself as he looks to nail down a centre-half place after a period filling in at left back, and Bartley was one of the few bright sparks in midfield, but MacDonald, Treacy, Wallace, Stanislas and Vokes will be disappointed not to have given Howe more to think about in terms of picking Saturday's team. Bartley just nicks man of the match for me given his assist was undoubtedly the match's standout moment of quality.
A word for the travelling Plymouth fans who were in good voice and good humoured, and probably deserved more than seeing their team lose on penalties to a Championship team who couldn't really be bothered. Still, it's us in the hat, and maybe a game to get a few more bums on seats and a bit more tempo on the pitch in the next round.