So dispiriting was the Burnley performance that I couldn't even take any consolation, let alone revel, in the goals being scored at Stamford Bridge and then the Etihad yesterday, nor the drivel that came out of the Horwich manager's mouth later on Match of the Day.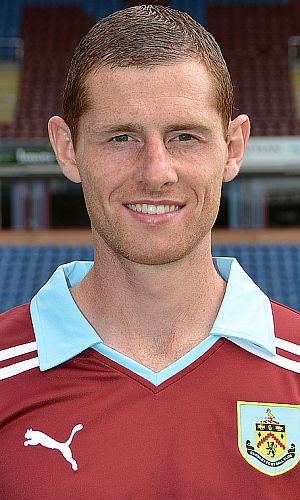 Chris McCann suffered a hamstring injury
Even today, unable to get my head round such a shocking performance, I couldn't even think of anything to write, so down was I feeling. I needed a lift; I needed my faith in football restored so a big thanks to Arsenal and Tottenham Hotspur who, between them, have just given me that inspiration in superb game of football at the Emirates.
It hasn't made yesterday any better to be fair but at least I can now look back at it and wonder just how we were so easily beaten by a team that even their own supporters seem to think are there for the taking most games.
I wasn't so carried away with our performance at Reading as some were. I felt, overall, we deserved to lose that game, but this wasn't Reading, the form team in the division, we were facing.
We knew Eddie Howe was forced into one change with Josh McQuoid unable to play, and as expected it was Keith Treacy who came in on the left hand side. Unfortunately, we were dealt a big blow ahead of the game with Dean Marney also unavailable.
He'd just become a dad for the first time and his wife had lost a lot of blood during the birth. Quite rightly he was with her, and we wish both mum and baby well, but such as been his form recently that his absence was going to be a difficult one to deal with. Marvin Bartley, the only other central midfield player we've got, came in.
The big threats from Millwall was always going to be midfielder Liam Trotter and their over physical, and that's putting it kindly, striker Darius Henderson. The good news was that neither would play. Trotter was out injured and Henderson, somewhat surprisingly, was left on the bench.
So to a Saturday home game in decent enough conditions; no gale force winds and no frozen rain to deal with, just Millwall and that proved to be beyond us.
What a frightening start we made and the only surprise was that we kept the score level at 0-0 for as long as a quarter of an hour. By then the result could and probably should have been a foregone conclusion as we set about making Millwall look a top outfit.
In the very first attack of the afternoon we were fortunate not to be behind as Hamer Bouazza smashed a shot against the bar. Even then, we almost allowed them to get a second bit at the cherry before thankfully seeing it go over the bar.
We tried to get forward but it was virtually all Millwall. Ben Mee gave the ball away badly allowing them to break, but Marvin Bartley got back well to just get a touch at the expense of a corner, which he then cleared off the line.
How on earth we were still level I don't know, but just to put some fair perspective on the game we gifted them a goal. David Edgar got it all wrong and presented them with the ball and, when Mee couldn't intervene, the ball got through to Andy Keogh who made no mistake with a powerful shot into the top corner.
Chris McCann was doing his best for the Clarets. He was the only shining light in an awful start and more than once he got us into good positions with his driving runs forward. He helped set up a couple of chances, the best one falling to Kieran Trippier who made a right mess of things when clear on the right hand side of the box.
Then came the second goal. Mee headed a corner away but it dropped invitingly for Josh Wright some 30-yards or so from goal. The 22-year-old Wright's only previous league goal came for Barnet four seasons ago. I've not seen that one but I bet it wasn't a better strike than this one.
He couldn't have got a better contact on the ball. Lee Grant was helpless. You could have put Brian Jensen and Jon Stewart in goal alongside him, and thrown Marlon Beresford and Nik Michopoulos in for good measure, and it would still have gone in.
It reminded me of the goals from Inigio Idiakez for Derby against us in 2005 and Joey Gudjonsson's strike against Preston in the promotion season. It was every bit as good as they were.
At that point I think I decided the game was over; that the points were lost. I just couldn't see this Burnley team getting back into the game, and when McCann then limped off with a hamstring injury a few minutes before half time there was a real fear of an absolute pasting.
Martin Paterson came on to join a Burnley team now virtually devoid of midfield players. At half time both Keith Treacy and Charlie Austin were hauled off. At times Treacy threatened to offer something and at other times looked disinterested while Austin offered absolutely nothing. Neither could have any complaints but there were others who were probably relieved or maybe disappointed they had to come out for the second half.
That meant we kicked off the second half with all three substitutes used in the strangest of formations. Millwall knew they had the game won and they ensured that but always looking to catch us on the break. They still very much the most likely side to score and they did just that when Edgar played Harry Kane onside and he went through to make it 3-0 with twenty minutes still to play.
That was the signal for a mass exodus of disillusioned Burnley supporters. They didn't miss much to be honest, not until the 89th minute when Ross Wallace forced David Forde into his first save of the afternoon.
I bet Forde thought that would be that, but in the third minute of stoppage time he had a penalty to face after Bartley was fouled in the box. Jay Rod didn't slip this time and hit the spot kick low and right down the middle, thus, somewhat fortunately, preventing Burnley from losing by three goals for the first time this season in the league.
I can only hope there is a big improvement next week at Watford because this performance, against a Millwall side who are down near the bottom on merit, was not within a million miles of being good enough.
Lee Grant has taken some stick, but he gets that these days even when he keeps clean sheets. I can't fault him with anything yesterday, but as far as the outfield players are concerned then I think all but Michael Duff and McCann need to take a serious look at themselves and their performances.
McQuoid will be back next week and thankfully we'll have Marney to call on when hopefully we'll get back to playing some decent football with a decent formation.
Thanks Arsenal and Spurs, but unfortunately you couldn't quite wipe yesterday's shambles from my mind.
The teams were;
Burnley: Lee Grant, Kieran Trippier, Michael Duff, David Edgar, Ben Mee, Ross Wallace, Marvin Bartley, Chris McCann (Martin Paterson 39), Keith Treacy (Brian Easton 45), Charlie Austin (Danny Ings 45), Jay Rodriguez. Subs not used: Brian Jensen, Zavon Hines.
Millwall: David Forde, Alan Dunne, Shane Lowry, Paul Robinson, Tony Craig, James Henry, Jimmy Abdou, Josh Wright (Scott Barron 74), Hamer Bouazza (Liam Feeney 82), Harry Kane (Darius Henderson 88), Andy Keogh. Subs not used: Ryan Allsop, Dany N'Guessan.
Referee: David Phillips (West Sussex).
Attendance: 13,000.