Current Score:

Preston
5-3
Burnley [FT]
(Fuller '18 '75 '82, Lewis '60, Healy '88 - Moore '24, Gnohere '64, Blake '77[pen])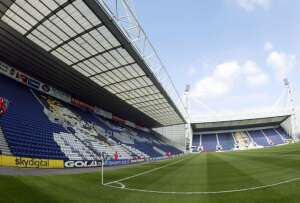 The Clarets are live from Deepdale
Text Commentary:

1' Preston kick-off, long ball collected by Brian Jensen.
1' Clarets win a free-kick 35-yards from goal. Blake will have a shot here I think, hits it against the wall - falls for Grant tries to get a ball in and he does, but it's not a good one and Chaplow can't keep it in.
2' Ball forward from Lewis but Cresswell caught offside. Little on the left today.
3' Preston make an error coming forward, ball out for a throw.
4' Long throw from Broomes, headed away well by West and out for another throw, about 10 yards away from the by-line.
5' Chaplow in and manages to get it back to Jensen who clears the lines.
6' May, knocks square for Camara, tries to knock a long ball but it goes out of play to the ironic cheers of the home crowd.
6' Grant challenges Etuhu, knocks it away from him, but Preston retain possession through Broomes.
7' Weller in well to win the ball, as McKenna looked dangerous.
7' Lovely work from Blake, found Moore who ran around 50 yards, but the cross wasn't good enough and goes harmlessly out for a goal-kick.
8' Burnley have a chance coming forward but it's closed down well.
8' Cross from Alexander, headed away by West - good header.
8' Clarets surging forward now, Blake was clattered by his man, and wins another free-kick about 35 yards out. Shot from BLAAAKE! Oh, inches wide - fantastic strike from Robbie Blake and Gould appeared to look confused and didn't move.
9' Gnohere fouls Fuller as the two tusste on the edge of the area. Taken quickly and cleared by May despite appeals for handball.
11' Lewis down the left gets by West, Cresswell with the SHOT! Around in the area... where is it... I don't know... falls for Fuller, blocked by Chaplow - great work from the lad, getting back and blocked the shot from Fuller from close range.
12' Moore goes down under the challenge of Etuhu, referee wants none of it.
12' Little, great ball for Blake, inside for Moore has a shot, but it's blocked - West tries a shot and the ball EVENTUALLY squirms out for a corner.
13' Blake, both arms aloft, with the corner, headed away by O'Neil - cross from Chaplow collected by Gould.
13' Grant pushed by Cresswell, and a free-kick to the Clarets in the Preston attacking third.
14' Nice ball from May, finds Camara, knocks it wide for Little, gets by Alexander, skinned his man there did Super - ball in from Little, and headed away.
14' Grant fouled again, Blake from about 45 yards. Actually tried a shot from there did Blake, but it went wide. Probably needed to swing in a ball for Gnohere or May then.
16' Blake tries to find Little, but it's cut out by Jackson and out for a Clarets throw.
16' Fuller and Etuhu on the break now, Lewis eventually with a cross - headed away by Camara.
17' Lucketti with a ball inside for Fuller who got inside West, but his shot was poor.
17' Weller, to West, with a cross - Little with a cross in, Chaplow!! Shot saved by Gould... oh dear and here go Preston on the counter-attack.
18' Fuller trickery in the boxxxx and he's scored. The typical counter attack, and Preston have scored. Don't know how. Think I could hear anything?
19' Cresswell snaps West! An ugly challenge says Phil Bird, and he gets a yellow card for an X-rated challange.
20' Burnley attack comes to an end after may can't win the header.
21' McKenna, trying to get a ball in, but he fluffs it - and it goes out for a goal-kick.
22' Gnohere fouls his man, Preston with a chance to apply some more pressure. Chaplow in to clear.
23' Weller on the edge of the box, cut inside well but scuffed his shot on the left foot - his wrong foot, and no problem for Gould!
24' MOOOOOOORE!!! HE'S DONE IT! FANTASTIC SHOT CAME IN FROM CHAPLOW, HALF SAVED - AND MOORE KNOCKED IT HOME FROM 2 YARDS! 1-1!! Fantastic shot from Chaplow a "Blockbuster".
25' Free-kick to Preston, hand-ball against Tony Grant. Lucketti with the ball but it's a terrible one and out for a throw.
26' Chaplow skins his man, Blake can't get past his man, BUT MOORE'S WON IT BACK... Little, skins his man, surging forward a great chance for Burnley and knocked behind by Preston - under pressure at the back are the Nobbenders.
27' Blake, with the corner GNOHERE! Not quite.. in fact he didn't touch it, ball out for a goal-kick. Bird was excited, and immediately recalled the Gnohere brace 2 years ago even though he didn't touch it!
28' Good work from Fuller after May gave it away, layed it off to Cresswell and he hit it wide.
30' Chaplow fouled by Etuhu, and free-kick for the Clarets.
31' Burnley with a corner, comes to nothing.
33' Chaplow with a chance, on the left foot, deflected wide and out for a corner. Corner doesn't really come to anything. But it's all Burnley at the moment!
34' Blake turning everyone inside out, hits a shot, and hits Jackson and out for a corner. Again, doesn't come to anything, but Burnley retain possession.
35' Burnley in a good position again, Moore out wide, but he just ran it out unfortunately. Chaplow, Blake and Little have been sensational so far.
35' West goes in strongly, Preston wins a throw.
36' Grant caught again. But the resulting free-kick comes to nothing.
37' Little into the book for dissent, he'll miss the Stoke game.
38' Camara in space down the left, can he whip in a good cross...no just too close to Gould. If Camara had a decent cross what a player we'd have.
39' Alexander takes a knock to the head, and the referee calls a short break in play.
40' Blake now, trying to turn his man, and he does well giving the ball to West but it was a terrible cross, slicing into the crowd.
40' Weller on the break, gets support from Blake and West, good cross from West this time, but cleared well.
41' Gnohere in very strongly, steaming in and finds himself into the book, another Yellow for Gnohere.
42' Camara challenges Fuller well and won the ball. Picked Fuller up while he was at it.
42' Cresswell has a shot blocked, still around for Preston - eventually cleared.
43' West fouls Lewis and he's going to receive a yellow card for his infringement. Free-kick was made a mess of by Preston and it comes to nothing.
44' Fuller with a shot, blocked, squirming around in the box, McKenna with the overhead kick, goes over the bar.
45' Clarets coming forward now, with West, gives it Weller. And a free-kick to Preston here, Weller pulled Lewis's shirt.
46' Blake, finds Moore now a chance for Moore to knock it into Chaplow, but he can't.
46' West is clattered by O'Neil. Blake with a ball in, May can't win the header but it doesn't matter as he fouled his man anyway.
Half Time: Preston NE 1-1 Burnley
Second Half
46' Blake trying to turn, falls to the floor - nothing given.
47' Grant goes in strongly to win the ball, and he does - might have picked up a knock though.
47' Weller knocks it against the defender - another corner. Keeper punches the ball away, Chaplow chases it and finds Camara, good ball in - Gnohere looked to have been interfered with.
48' West with a ball in, a good cross, but headed behind by Jackson for a corner. Short corner, Little runs into Cresswell. Free-kick.
49' Free-kick punched away but Gould, the Keeper collects the secondary cross.
50' Ball harmlessly out for a goal-kick, Jensen to take the goal-kick.
51' Jensen clears, Weller flicks it on but it comes to nothing.
51' Fuller, skinned Jensen - poor goalkeeping, he came and didn't get anywhere near it, but Fuller couldn't find anyone to cut it back to and Camara is on hand to clear.
52' Cross in, Cresswell heads it over the bar. Clarets need to watch that though.
53' Little, skins one man and gets to the by-line, with his left foot swings in a ball and Gould collects with Weller steaming down.
53' West catches his man, free-kick to Preston.
53' Gnohere heads away the free-kick.
54' Fuller with the ball now, intense pressure this time from Preston - but Little wins the ball back.
54' Camara now, whips in a ball, off Lucketti and out for the Clarets' 8th corner.
54' Little in there, trying to fire off a shot, and he does - deflects off Jackson for another corner.
55' May fouls his man under the corner.
56' Cresswell just caught offside, May played the offside trap well.
56' May with an excellent challenge on Fuller - Gnohere in to clear the lines.
57' Fuller, trying to get away from May - Chaplow goes in strongly but catches his man. Free-kick to Preston. Lewis will take the free-kick - hits the wall, falls for Etuhu though and the Clarets eventually manage to clear the lines.
58' Preston substitute: Etuhu off for Healy.
59' Cross in for Healy, hit against Camara, ball eventually squirms out for a corner.
59' Offside against Preston.
60' Preston now playing a 5-3-2.
61' Lewis has scored - a bit of confusion, the ball seemed to go out, Fuller cut it back, and Lewis from close range knocked it home. 2-1 Preston.
61' Chaplow on the break, good work from him, but Alexander knocks it out. Ball eventually cleared by Preston.
62' Corner for Burnley, Blake takes but it comes to nothing yet again.
63' Clarets making some unforced errors here, West making an error with the throw.
64' Moore scythed down. Nothing given, Alexander lucky to get away with that.
64' Blake, swings in a ball... GNOHERE!!! HE'S SCORED!! AND BURNLEY HAVE GOT THEMSELVES ANOTHER EQUALISER AND IT'S ARTHUR GNOHERE WOULD YOU BELIEVE. ROSE UP HIGH, CRACKING HEADER AND IT'S 2-2!
66' Blake, glorious ball for Camara, whips in a ball and just cut out. Corner. And another.
67' Ball in from Blake - header from May!! OH! He's hit the bar... still in there, GRANT! Hit the bar again! Oh my goodness.
68' Preston on the counter, cut back by Fuller for Lewis, save from Jensen! No time to dwell...
68' Burnley on the break, Chaplow to Moore... FANTASTIC save from Gould, somehow kepy Moore out.
69' Blake with the corner, keeper punches ball away, Preston cleared.
69' Cresswell running into space, a good chance, but he's slipped onto his backside. Comes to nothing.
70' Jensen under pressure on his unfavoured right foot and sent it clear well.
71' Burnley, coming forward now, Blake slipped... Little furious he didn't get the ball.
72' Ohhh no, Healy - coming forward, lovely ball into the box, FULLER! On the left foot, he's scored. Jensen no chance, 3-2 Preston.
72' Abbott on for Cresswell.
73' Little gives away a free-kick, frustrated is Glen Little.
73' Healy tries to cut it back for Fuller, cut out by Camara.
74' Gnohere, under pressure - puts his boot into the ball and sends it clear. And then does it again, well done by Gnohere.
75' Corner for Burnley, not a good one.
75' Jensen manages to clear.
CORRECTION: We didn't hit the bar twice, in the delirium, I mistook a comment from Phil Bird - apologies.
76' Chadwick on for Weller.
77' PENALTY! Blake upended after great work from Ian Moore, and Blake was flattened. Come on Blake...HE'S DONE IT!! Slotted it past the 'keeper and it's 3-3!!!
78' Preston win their third corner, West clears it, Moore nearly got on to the end of that you know.
80' Poor ball from Preston, Healy it was and it goes out for a goal-kick.
81' Fuller ran into May, claims for a penalty turned down - Fuller furious.
81' Chadwick now, 4 on 4, Blake now onto Little - tried to place it and OHH SAVED! GREAT SAVE.
82' Would you believe it - Fuller has scored. On the counter, it's Fuller...who cares how, he's scored. 4-3.
84' Healy, skipped past Jensen, the goal was begging but he couldn't slot it home and a let off for Burnley there.
84' Abbott takes a shot, goes harmlessly wide and out for a goal-kick.
85' West and Camara coming off for Branch and McEveley for Burnley.
86' Grant, from long range with the shot - but it's over the bar yet again.
87' Ball in and around the area after good work from Blake and Branch - JUST didn't fall for Chaplow.
88' McEveley fouled, Blake with the free-kick, punched away from Gould - immediately on the counter-attack, it's Fuller, gives it Healy - will have a shot here and it's in. 5-3. Poor effort from Jensen.
90' Burnley attack comes to nothing - Blake just overrunning the ball there.
90' Substitution for Preston - Fuller coming off for Davis.
91' Chaplow fouled, after some good work. Ball in, and out for another corner. Cleared again.
92' Stupid booking for Blake, need I say no more.
92' And Branch and Little coming to nothing there. Branch hits a poor pass.
Full Time - Preston 5-3 BurnleyPre-Match Notes:

Weller will start, as will Dean West - Roche and Chadwick find themselves on the bench and despite some speculation, McEveley will warm the bench.
For Preston, Healy finds himself on the bench - replaced by Lewis and that's the only change from their side from last week.
Smashing atmosphere at Deepdale, let's hope we're up for this in front of such a magnificent crowd (unfortunate that they're mainly Nobbenders).
Teams: