Clarets LIVE - Burnley V Stoke from Turf Moor
Final Score:

Burnley 0-1 Stoke City [FT]

(Akinbiyi '53)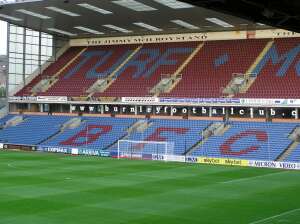 Clarets are LIVE from Turf Moor to you this afternoon
Text Commentary:

Stoke get us underway.
1' Ball down the field immediately, Branch slips while making a header but the ball finds it's way through to Brian Jensen.
1' Clarets in attack with Weller, but the ball is cleared.
2' Ball came back for Burnley, almost immediately, West whips in a ball - MOORE! HIT THE POST WITH THE HEADER. Another shot and another shot into the woodwork for the ever so unlucky Clarets.
3' Stoke coming forward, Jensen out well and immediately turns it into an attack, Moore nearly got there but the defender did well.
4' May intercepts well, the ball for Akinbiyi, Branch with the long ball - comes to nothing as De Goey collects.
4' Pressure on Branch at the back, and softly and dangerously heads it back to Jensen, but no problem - the Dane collects comfortably.
5' Noel-Williams fouled inside Stoke's attacking half. Eustace swings the ball in, and Weller clears twice in the end. Good start from Paul Weller.
6' Noel-Williams working hard, Chaplow half clears, ball back in but Akinbiyi caught offside for Stoke.
6' Moore turns well, gets away from his man, feeds Blake who finds West - ball in from him and a good header from Chadwick, dangerous inside the box, headed away by Thomas and Moore in and fouls his man.
7' Moore taken a bang to the face, is down, but Burnley continue any way, Camara finds Blake, Blake's shot is blocked - Clarets still with the pressure, but May overhits a pass for Camara.
8' Moore just goes to the touchline for some treatment, he'll be ok though.
9' Chadwick cuts inside well, trying to get it to Blake, but he can't - Camara retains possession for Burnley. But they don't make the possession count, and Stoke come away with it. Akinbiyi overhits the pass.
11' May turns the ball over, Akinbiyi onto it and finds some space, tries a shot with the right foot but it isn't good and a goal-kick to Burnley.
12' Blake loses out to Russell, Chaplow wins it back, and then in turn loses it. Chaplow fouls his man and a free-kick to the Potters.
13' Grant with the ball, plays a nice one-two with West, then inside for Weller who goes back towards Branch - eventually a long ball pumped forward and headed away.
14' Clarets attack comes to nothing as Chadwick's ball just eludes Weller. Throw-in for Stoke.
14' Blake, edge of the area feeds Chaplow, but he can't get it under control. Burnley win a throw in though.
15' Blake tried to chip it in for West but it was wasteful and well cleared by Stoke.
15' Branch fouls Noel-Williams in the air. Eustace with it, swung in and won by the Stoke player - eventually cleared out of the area by the Clarets.
16' Lovely ball from Chadwick for Camara, but Mo couldn't control it, out for a throw.
17' Grant with the ball in for Chaplow but he can't win it.
17' Good cross from Camara on the left, Weller with the header... and it was a good one, just over the bar.
19' Blake trying to feed it to Chaplow, De Goey out well, throw-in for Burnley.
19' Camara tries a shot from distance, deflects off Moore though and out for a goal-kick.
20' Thomas heads it down, but right to the feet of Moore, Weller is there too, and he's fouled. 30 yards out directly in front, but Blake doesn't take it, it's David May who spotted De Goey off his line, but the Dutchman easily got back and made the catch.
21' Taggart down for Stoke - appears to have rolled his ankle, or taken a knock. Off the pitch at the moment though.
22' Taggart looks to be coming back on, but he's limping is the central defender.
23' Chadwick, with a great ball for Camara, ball in straight away for CHAPLOW! Just eluded him, but still Burnley - Blake drives in a ball, very close and Chadwick at the back post just squirms it wide.
24' Taggart coming off for Commons. Clarke to move back to central defence, with Commons into the middle of the park.
26' Taggart's injury seems to have meant a more organised structure for Stoke.
27' Akinbiyi just a yard offside there.
28' Cross in from the left from Camara collected by De Goey.
29' Well done by Weller, gets a good ball in and a nice turn from Chaplow. Wins a corner. Blake with the ball in, Branch can't flick it on, corner comes to nothing.
29' West swings in a ball, and a good one, Weller with the header, just over the bar in the end. Getting into good positions is Paul Weller.
30' Communication breakdown by Branch and Jensen, the skipper sending it into the Jimmy Mac.
32' Akinbiyi caught offside again, as Stoke try to push.
33' Clarets attack comes to an end, West's ball out for a goal-kick, which De Goey takes an eternity to take.
34' Crowd getting very agitated at the moment.
34' De Goey makes a mess of his clearance, Chaplow trying to cross on his left, but it doesn't come off.
35' Eustace, got past May a little to easily and tried a shot but thankfully it was nowhere near the target.
36' Clarets with a good chance coming forward, Camara making a surging run but it was a poor ball from Chadwick. Camara out of position now, but Branch covers well and knocks it away.
37' Stoke with a chance coming forward, Branch heads it away.
38' Chaplow, with the ball, trying to find Weller out wide, but a good tackle from Eustace, who looked to handle it - won the free-kick though.
39' Chadwick knocks it behind, and a corner for Stoke. Ball in, headed away by May.
40' Blake, wide for Camara, but it's a terrible cross from Camara. Blake probably should have taken a shot from 30 there.
40' Chadwick, runs at Halls, but loses the ball and Stoke trying to get something going forward now.
41' Grant fouled after going in courageously.
41' Branch for Chadwick, down the left and his cross headed away.
42' Blake with a great turn, tries to find Chaplow but De Goey clears.
43' May heads Russell's cross away, but another ball in and Jensen punches and got some distance too. Ball in a third time and Jensen collects this cross in the air.
44' Blake has a shot, blocked, falls for Chaplow, can't shoot, back to Blake - twisting and turning, great ball in Chaplow! So near, but Stoke come away with it.
45' Good chance for Stoke, ball into the box and a bit of a scramble, but Jensen collected it.
45' Chadwick fouled, yellow card for Halls.
46' Ball in, and Clarets win a corner.
47' Blake swings in a ball, but headed away with ease. Camara has it now, but the referee blows his whistle for half time.
Half TimeSecond Half

Clarets get us underway
45' Jensen loses a ball onto the roof of the Bob Lord stand.
46' Halls with the cross in, dangerous one and Jensen comes and calmly collects.
47' Blake spraying a couple of passes in this early stage in the second half, the last eluding a moving Chadwick.
48' Having said that, a lovely ball from Blake to Chadwick, Clarets win a throw.
48' West goes into the book for a terrible tackle on Commons.
49' Burnley coming forward, but cleared by Clarke.
50' Grant trying to feed West, but it's too high to the groans of the crowd.
51' Grant pinged for a foul Commons.
51' De Goey, the Stoke 'keeper, coming off to be replaced by Cutler.
52' Chance for Stoke, looping ball into the box and well collected by Jensen.
53' GOAL for Stoke, Akinbiyi scores. Ball into the box by Eustace, left May standed and a hint of offside, but a good finish past Jensen. 1-0.

53' Jensen appears to be hobbling badly, after rushing out. A real problem here for Burnley.
55' Blake fouled in a good position, chance for Burnley. Free-kick taken by Blake, hits the wall and out for a corner. Comes to nothing
57' Good work from Burnley, comes from Chadwick to Blake, puts a ball in for Weller but again it comes to nothing. Ian Moore has not been mentioned this half so let's give him a shout... you wouldn't know he's playing.
58' Weller caught by his man, Clarets a chance to relieve some pressure.
59' Free-kick to Stoke, Blake fouled his man. Dubious decision though.
60' Commons turns and hit a good shot, and just went wide for the Potters.
61' Grant gets caught by Eustace. Free-kick taken quickly, but it comes to nothing after Commons appeared to handled it.
62' Grant trying to get on a run, but he can't get past the second man. Branch cops a hiding from the crowd after failing to find Chadwick.
63' West and Chaplow mug Commons for the ball, but the ball given away to Hall... who in turn gives it away to West. Foul by Hall, and a yellow card.
64' Blake with a nice turn, fired a shot - but it went well wide.
64' Akinbiyi, through and surely will score... FANTASTIC save from Jensen and he's kept Burnley in it. Great save to his right.
65' No sign of Jensen's so called injury any more. Jensen fouled coming for the corner.
67' Weller, a great chance! He's in behind the defenders here, heading away from goal... oh he's been pulled back it's Hall! He's off, second yellow.
68' Blake takes the kick, out for a corner. May with the header... flicked over the bar. Second corner punched away.
69' Substitution for Stoke Commons off for Karl Henry.
70' Chadwick coming off for McEveley, Branch going forward.
71' Chaplow catches his man, Stoke not happy, but Chappy escapes without a booking.
71' Blake does really well, won the ball back and got fouled. Camara trying to get a cross in, he can't Clarets still with possession.
72' Corner for Burnley after good work from Chaplow. Ball in, bouncing around, ball out for a Clarets throw.
73' Cross in from Blake, collected by the 'keeper with May challenging.
76' Cross in from Grant, but Cutler came and collected the ball well with Branch lurking.
77' McEveley lost out to Akinbiyi, but did well to get it back.
77' Chaplow! IN SPACE! Shoots, saved well by Cutler. He hit it well, but it's not our day.
78' Shot from Noel-Williams, saved by Jensen bowls it out too quickly... Noel-Williams has it again and another shot... over the bar. Let off there.
81' Akinbiyi caught offside again, Burnley need to create something here this is terrible.
82' O'Neill is set to come on, for the first time since August. Well done to Stan - perhaps he can be the spark. He's coming on for Mo Camara.
83' O'Neill's throw causes havoc... won a corner. Comes to nothing after the keeper failed to punch away well.
84' May concedes a corner, Clarets under pressure.
86' Stoke trying to waste time at every possible opportunity.
86' Eustace gets away from O'Neill, tries to chip Jensen - ball lands on the roof of the net.
87' Akinbiyi looked to be offside, he gets away with it, takes it to the corner flag.
Att: 12,800 approx.
88' O'Neill tries to whip in a ball, but it's a poor one and out for a goal-kick.
89' Corner for Burnley after Noel-Williams headed away May's cross. Blake whips it in, headed it away, West knocks it in - headed away.
90' 2 minutes of time added on.
91' Chance for an O'Neill throw, it's long but the 'keeper collects it with ease.
92' McEveley goes into the book, as the ball was taken to the corner flag.
Full Time: Burnley 0-1 Stoke

Oh dear.Pre-Match Notes:

May comes into the side for the suspended Gnohere, while Branch retains his position in the centre of defence.
West and Camara retain their places despite the speculation Stan might decide otherwise.
Teams (substitutes are colour coded):
24th Min: Stoke: Taggart off for Commons (injury)
45th Min: Stoke: Halls booked (unsporting behaviour)
48th Min: Burnley: West Booked (unsporting behaviour)
51st Min: Stoke: De Goey off for Cutler (injury)
63rd Min: Stoke: Hall booked (unsporting behaviour)66th Min: Marcus Hall sent off (second bookable offense)69th Min: Commons off for Henry (tactical)
70th Min: McEveley on for Chadwick (tactical)91st Min: McEveley booked (unsporting behaviour)
Burnley

Stoke

1

Brian

Jensen

1

Ed

De Goey

15

Dean

West

16

Marcus

Hall

6

Graham

Branch

32

Gerry

Taggart

5

David

May

2

Wayne

Thomas

3

Mo

Camara

3

Clive

Clarke

18

Luke

Chadwick

21

John

Halls

20

Richard

Chaplow

35

Richard

Johnson

12

Tony

Grant

4

John

Eustace

4

Paul

Weller

17

Darel

Russell

8

Robbie

Blake

10

Ade

Akinbiyi

10

Ian

Moore

9

Gifton

Noel-Williams

Subs:
Subs:

16

Jay

McEveley

7

Carl

Asaba

2

Lee

Roche

8

Chris

Greenacre

14

Mark

McGregor

23

Karl

Henry

21

Matty

O'Neill

24

Kristian

Commons

22

Joel

Pilkington

12

Neil

Cutler