Current Score:
Burnley 3-2 Sheffield United [Full Time]
(Blake '16, '45(pen), Moore '35; Montgomery '24, Whitlow '30)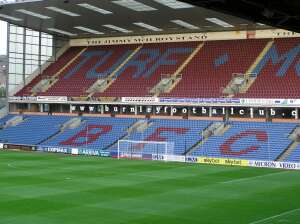 Clarets are LIVE from Turf Moor this afternoon
Results as of late has seen a lift in spirits for many a Claret, after Burnley were able to end a 8 match win-less streak with a 3-0 flattening of Reading Tuesday week and a very respectable 1-1 draw with Sunderland away last Saturday. Burnley struggled in the early stages of the match at a windy Stadium of Light, but soon gained control over the match and it could be argued that they were very unlucky to not come away with more than a single point.
So, there will be many hoping that the Clarets can continue the promising form, and seriously challenge another top-six side when they entertain the travelling Blades of Sheffield this afternoon. The two sides last met less than a month ago at Bramall Lane, where the home side took the three points in a 1-0 win.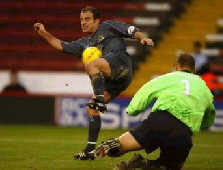 West with the Clanger last time these two sides met
In front of close to 21,000 fans, United got a lucky goal just before half time courtesy of Michael Tonge after Dean West's clearance was cannoned into an unfortunate Arthur Gnohere with Jensen stranded.
This time however, the Blades will look somewhat different, with Toffee's 'keeper Paul Gerrard returning from his loan. At the last minute the Blades have signed two 'keepers as short-term replacements, Alan Fettis on loan from Hull and Lee Baxter from Swedish side Malmo. It will be interesting to see which one of them will start. Also, Right-back Rob Kozluk will be missing, set to be replaced by another Rob, of the Page variety.
For Burnley, there will be the simple equation of one centre-back out and one centre-back in. Gnohere returns from suspension, and May sits one out for his 5th yellow of the season. Otherwise, we are set to line-up in the same way with just 4 on the bench again.
Thank you for joining me this afternoon. The starting line-ups are below, which will be inclusive of cards, and substitutions. Come on Burnley!
Pre-Match notes:

Lee Roche is in for West, Ternent probably wanting avoid any sort of a hoodoo!
Armstrong, Ward and Lester out from the side since we last played the Blades.
Page on the bench, and not starting as first thought.
Ian Moore is captain.
Match LIVE:

I'll do my best.
Clarets get us underway.
1' Ball forward from McGregor immediately, a foul on Allison and a free-kick to Sheffield United.
2' Clarets applying some pressure, Roche with the ball into the box but it goes beyond Chadwick and comes to nothing.
2' Ball through from United rolls through to Brian Jensen.
3' Chadwick on his right, ball might fall for Moore on his left just whizzed by Baxter's post.
4' Camara with the ball in from the left but headed away.
4' Little with the ball in, CHAPLOW...OH SOD OFF... we have again hit the woodwork, the bar in actual fact. And that is the 14th (FOURTEENTH) time we have hit the woodwork this season. We should get points for this.
5' United clearly on the back foot, Burnley look superb.
5' Little into the book for unsporting behaviour?
5' Gnohere pushes Allison and concedes the free-kick.
6' Free-kick to be taken by Tonge, dinked in by him - bouncing around a bit but eventually collected by Brian Jensen.
7' Goal-kick for Burnley, Jensen thumps it long. I can't believe Chaplow hit the bar.
8' Chaplow wins the free-kick.
9' Ball comes off Grant after some pressing by the midfield, Blades throw.
10' Jagielka with a long throw in, United manage to keep posession. Ball into the box is cleared well by Gnohere.
11' Chaplow manages to get the ball away, finds Little who is working exceptionally hard.
11' Ball in by Roche, Chaplow trying to get it to Blake but he can't and the ball comes to the edge of the area, where Grant fouls his man.
12' Camara whips in a ball from the left, eludes Chaplow, falls for LITTLE! With the left foot, hit it straight at Baxter.
12' Camara deals with the counter-attack by heading back to Jensen.
13' McGregor penalised for a foul on Wayne Allison.
14' Allison fouling his man at the back and the Clarets win a free-kick.
15' Tonge coming forward, ball in from him and McGregor at full-stretch manages to cut it out.
15' Allison with the overhead flick, goes harmlessly over the bar. Little on the left and Chadwick on the right interestingly.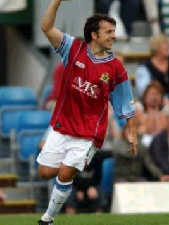 Robbie Blake - first half brace
16' Coming forward now is Burnley, through Chaplow..OH GO ON... gives it BLAAAAKE!! And it's a GOOOOOAL for Burnley! Baxter made an absolute clanger - the ex-Blackburn player might I add.
17' Oh and a good save from Jensen, diving away to save the shot from Alison. Good catch from Jensen from the corner.
Oooh and Leeds have gone one up against Chelsea, through Jermaine Pennant.
19' Roche, swings in a ball, 'keeper doesn't set himself then, falls for LITTLE! Ohh so close! Goal-kick.
20' Blake with a sublime turn, finds Little, finds Chadwick in turn... lovely move and back to CHAPLOW! Ohh, over the bar! Great chance, perhaps the Clarets over-elaborate.
21' Commentary Cut - Back at '23
23' Chadwick with the cross in, headed away well. Burnley playing very very well though. "Ohhh Robbie Blake! Robbie Robbie Robbie Robbie Robbie Blake!"
24' Flicked on by Allison, falls for Ndlovu, squared for Montgomery - he's scored. Sneaked in at the far post. That was their first effort on goal... very soft and we didn't deserve that. Montgomery with the right foot shot.
25' Gnohere heads a ball away, but Sheffield United looking to apply some pressure. It's been all Burnley up until now - we needed to take advantage of the frailties at the back for the Blades and we didn't really.
26' Ball back from Grant to Jensen, and thumped well away.
27' Ball for Chadwick, chance to run at the backmen - tried to be too tricky and he lost out.
28' Tonge and Chadwick collide, Tonge wins the throw.
29' McGregor left one-on-one with Allison, and he did really well, actually coming away with the ball.
29' Jagielka takes the shot from about 35 but it went very wide.
30' Mo Camara fouls his man, Burnley have some defending to do now. Ball in, and Camara heads it away for a corner.
30' Corner to be swung in, Moore heads it away, but it comes back to Tonge whips in another ball... and it's another goal. Whitlow with it at the front post with a flicked header. McCall with the ball in as a matter of fact. Brilliant eh?
32' Ndlovu surging forward, but caught by Grant. Free-kick to the visitors. Tonge with it, Burnley come away with it.
33' Chadwick fouls his man...apparently
34' Tonge with a great run forward, Jensen punched it away well and the Clarets finally win a decision.
35' Blake with the free-kick, MOOOOOOOOOORE GET IN THERE! AND It's 2-2!! MARVELLOUS! Lovely free-kick from Blake as usual, found Moore in space, looped a header into the Auld Onion Bag. 2-2. What a character showing goal.
36' Burnley, through Little a glorious ball found Camara, surging forward, and now it breaks for Blake, he's won a corner.
37' Corner comes to nothing, and Sheffield United come down the pitch - ball collected by Jensen.
38' End to end game here, Burnley coming forward - Blake fouled was he? No, play on. Here's Blake again though, lovely turn just got closed out in the end.
39' Allison wins a soft free-kick. Wright will take it, aims for Allison, and flicked on by that player but Jensen takes an easy catch.
40' Little gives it Blake, dummys the pass to Chadwick and takes the shot, but very optimistic and speculative.
41' Tonge with a blinding run straight down the guts, Allison now takes the shot but Jensen makes an easy catch once more.
42' Ball into the area and Allison! With the header, just nodded it wide, good effort though.
43' Chaplow, finds Little coming forward now and Camara - his ball in, cut out and a corner for Burnley. Blake takes it, Chaplows there, comes outside the area though. Burnley win a throw.
44' Chadwick, on the edge of the area, finds Chaplow tries to turn and wins a corner. Well done Chappy. Blake will take the 4th corner, Moore is at the back post!!! MOOORE! Tonge headed it off the line with the diving header.
45' Corner, PENALTY!!! McGregor was upended! AND IT'S A PENALTY FOR BURNLEY!! Blake will take, come on Robbie Blake. AND HE'S DONE IT! SMASHED IT INTO THE BACK OF THE NET!! WHOOOOOOO!
46' Delightful from Blake, lovely ball, AND AGAIN! Ohh he did ever so well, with the second ball for Chadwick, just closed down by Whitlow. Blake is in irresistable form.
Half Time - Burnley 3-2 Sheffield United

Getting very heated in the middle, whinging Warnock not happy (is he ever). Blake missed 3 penalties in a row, and came up with the goods this time. Brilliant half, absolutely brilliant. Standing ovation from the fans.
Second Half
45' Well a couple of changes, Fettis is coming on for Baxter, a swap of 'keepers, and for Burnley Weller on for Chadwick.
45' Roche just fouls his man. Free-kick to Sheffield United comes to nothing.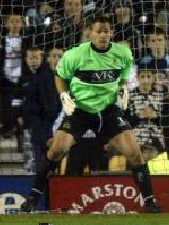 Jensen, 2 ripping saves
46' Brown, hit an absolute pearler, WHAT A SAVE FROM JENSEN! Full length, tipped it away, out for a corner, which comes to nothing. Phil Bird thought it was in.
47' Little gets into the box, looking for Moore but he can't win it - ball eventually goes out for a goal-kick.
49' Blake gives it to Weller, but Weller loses out unfortunately, and Wright comes away with the ball.
50' Blake working hard, looking for Moore, comes to Weller, now for Grant! Good shot but just wide. Positive crack from Granty.
51' McGregor out does Allison and comes away with the ball.
52' Jagielka overruns the ball, with a chance to get a cross in.
53' Montgomery...what a shot...OHHHA WHAT A SAVE FROM JENSEN AGAIN! FULL LENGTH! Tipped over the bar. Corner, caught one-handed by Jensen to the chants of "Beast, Beast".
54' Blake, beats one, beats two, beats the first one again for fun and ohhhhh just curled it wide of the back stick.
55' A problem here for Ian Moore. Clashed heads with someone. Might have come out best from that one, Morgan is still down for the Blades. The two will be alright I think.
56' Drop ball, comes off Camara and out for a Sheffield Utd throw. Don't see drop-balls contested often.. but this one was.
57' Jensen comes out and collects with confidence at the feet of Ndlovu.
58' BROWN IS OFF! Studs up on Robbie Blake and a disgraceful challenge. No hesitation, Brown is walking. Blake down getting some treatment, but it was only in the midriff fortunately.
60' Blake, sublime turn, for Little in the centre, can he score - no he can't it gets stuck under his boot and United clear.
61' Ball back to Fettis for United and he manages to clear on his right boot.
62' Nice turn from Moore - wins a throw for his efforts.
63' Confusion in the box, Gnohere gets it away, ball into the middle again and Jensen collects.
64' Moore surging forward, has Blake in support, challenged cleanly. Burnley eventually win a throw.
65' Free-kick for Sheffield United, eludes everyone does it? Yes, and out for a goal-kick. What an enthralling match this is.
66' Blake tugged down and wins a free-kick in the middle of the park.
67' Wright with a cross in from Ndlovu, he can't win it, Chaplow with a chance to clear and he does - sends it into the stands.
68' Camara, coming down the left, nice run again but he loses out.
68' Moore chipped it into the box, but Jagielka gets it clear. Now a chance for United, McGregor took control though and cleared the danger.
69' Blake turns Morgan inside out, ball in, hits Grant on the chest but it comes to nothing.
70' Long ball forward and McGregor wins the header - Allison was offside anyway, the key to this game is McGregor on Allison now.
70' Sheffield United win a free-kick in the middle of the park.
71' Allison looked to get away but Camara came across and covered well.
71' McCall penalised for handball.
72' Ball goes out for a goal-kick, Little can't get on the end of Blake's pass.
72' Substitutions for United, Peschisolido and Rankine on for Allison and Morgan.
73' Chance here for Ndlovu, but Jensen out superbly at his feet.
75' Clarets give the ball away, United give it away and then the Clarets again give it away - getting a bit scrappy now.
76' Blake looking to get forward again, Roche can't win it - and he's caught his man. A free-kick then to Sheffield United at the back for them.
77' Gnohere fouls his man, perhaps persistant infringement perhaps - hence his yellow card.
78' Weller hooks the ball out of the area, only as far as Jagielka.
79' Ball in for the Clarets, Grant trying to get it out from under his feet he can't and United come away with it.
81' Tonge trying to skip by a challenge but Chaplow in ever so well.
82' Chance for Sheffield United, ball in from Tonge - great challenge from Camara and copped it from Peschisolido. Great work from super Mo. Corner for United - ball in, header to the centre, cleared though. Ball in is collected by Jensen, well done.
83' Blake trying to flick it on, but it doesn't work - however Moore wins it back, but it comes to nothing.
85' Sheffield United trying to mount an attack, but Clarets are closing them out well.
86' Cross into the near post, looked dangerous but headed away by McGregor very well.
86' Well a substitution for Burnley, West on for Weller.
87' Jensen comes and collects a cross, it was high and a tough ball to judge.
87' Gnohere fouled, and wins the free-kick.
88' Sponsor's man of the match is Robbie Blake.
88' West does well by the corner flag and manages to turn his man but just ran out of room.
89' Moore fouling Jagielka in the attacking half, free-kick to the Blades.
90' Grant did really well to clear the lines at the back and thumped away.
90' Ball in for Ndlovu...Jensen out again and does really well.
90' 3 minutes of time added on.
91' Good ball from Chaplow, finds West, ball in for Moore, tracked by Whitlow - ball in for Blake, Rankine fouls Blake on the edge of the area. Tried to take it to the corner, but McCall wins it.
92' Oh dear...Ndlovu gets away, skinned Gnohere...what a challenge from Chaplow! Real danger averted there by Chappy.
92' Grant fouls his man, free-kick to United on the edge of the area.
93' So, United, with the free-kick. Tonge and Ndlovu over it. Come on Beast. Dramatic end. Tonge hit it - ITS GONE THROUGH THE WALL! And just wide. Corner. Everyone back...COME ON BURNLEY!
94' A HUGE roar as Jensen catches the corner. Bowls it out and it's full time!
Full Time - Burnley 3-2 Sheffield United.

Ripping game, and check back soon for a match report of the game. Thank you for your company - see you for Coventry next weekend.
Starting Line-ups:

Burnley
1
Brian
Jensen
2
Lee
Roche
14
Mark
McGregor
17
Arthur
Gnohere YELLOW '77
3
Mo
Camara
7
Glen
Little YELLOW '5
20
Richard
Chaplow
12
Tony
Grant
18
Luke
Chadwick>'45
8
Robbie
Blake ('17th min., '45th min. (pen))
10
Ian
Moore [c] ('35th min.)

Substitutes:
15
Dean
West <'86
4
Paul
Weller <'45 >'86
21
Matty
O'Neill
22
Joel
Pilkington

Sheffield United
20
Lee
Baxter >'45
22
Alan
Wright
24
Mike
Whitlow ('30th min.)
17
Phil
Jagielka [c]
5
Chris
Morgan >'72
8
Stuart
McCall
16
Peter
Ndlovu
7
Michael
Brown OFF '584
Nick
Montgomery ('24th min.)
18
Michael
Tonge14
Wayne
Allison >'72
Substitutes:
25
Alan
Fettis <'45
10
Paul
Peschisolido <'72
6
Robert
Page
30
Dries
Boussatta
21
Mark
Rankine <'72