We never came close to the level of performance we'd shown in the last three league games against Sheffield Wednesday, Crystal Palace and Millwall, all of which had been won, as we went for a win that would have ensured our best ever league January since the 1900/01 season.
Only in two short spells did we really offer much hope against a Birmingham side that, Wade Elliott apart, looked what they are, a struggling side near the bottom of the league.
Sadly, it was an afternoon that was dominated by referee Darren Drysdale. So keen was he to be the star of this particular show that he's probably gone home thrilled with his performance, but he and his team had a simply appalling afternoon with one decision, ultimately, contributing towards the result.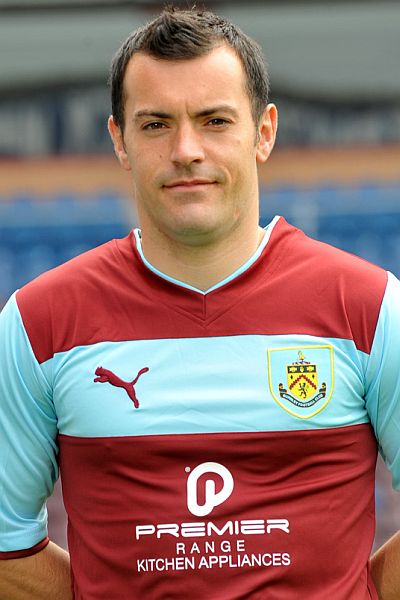 Our goal came from a Ross Wallace penalty
That was 61st first minute sending off of Dean Marney, just the second of his career, the other for Hull in a Premier League home game against Blackburn in March 2009. It left us with ten men, something we are now fast getting used to, for the last half hour with Birmingham's winner coming in the last minute of normal time.
We'd had the morning panic of whether the game would be on or not. There was never any doubt with the pitch and once the surrounds were deemed acceptable it was given the go ahead. Even so, numerous Burnley supporters opted were not prepared to shovel the snow and opted to give it a miss.
Manager Sean Dyche, hardly surprisingly, stuck with the same eleven that had started the game at Millwall. The only changes came on the bench where fit again Kevin Long replaced Tom Anderson and newest signing Dane Richards, who is still to see any league action, was preferred to Marvin Bartley.
The recent fortunes of the two sides seemed to be reflected in the opening exchanges. Burnley started well and caused Birmingham some anxious moments as we got off on the front foot.
We looked good, particularly down the right hand side with Kieran Trippier and Ross Wallace, and had opportunities to go in front. Three times Danny Ings had chances with headers, but three times he failed to find the target. Junior Stanislas joined in with another header wide and you hoped we wouldn't rue those misses. We really should have been in front.
It wasn't long before we were counting the cost as Birmingham went in front. Five weeks ago at St. Andrew's we went behind to a Curtis Davies header on the half hour after being the better side; this time it came after twenty minutes.
It was a poor goal to give away too. From a right wing corner taken by Rob Hall, Davies was able to get up unmarked between Jason Shackell and Sam Vokes to head home unchallenged.
It was a blow and one we definitely felt. It seemed to knock us for six and we never got ourselves going in the remainder of the first half and Birmingham's much wanted goalkeeper Jack Butland was left with precious little to do although it has to be said that Lee Grant was involved even less.
When the half time whistle blew we were still a goal down with the home crowd targeting referee Drysdale as he left the pitch. He'd just given us 45 minutes of how not to referee a football match.
So clearly intent on people noticing him, he was blowing for anything he could and his total inability to see any advantage at any time cost both teams during the half. His assistant in front of the Longside had hardly helped. I've seen them reluctant to flag for fouls but here we had an assistant that wasn't even prepared to give thrown ins for much of the half. And nothing changed in this respect in the second half.
There were no changes for the second half but we shuffled the three players behind Vokes with Wallace now taking the central position, and if we started the first half well then we started this half even better.
Just a few minutes in and Ings was the central character again. He latched on to a ball from Vokes, got past Steven Caldwell but with only Butland to beat he hammered his shot against the underside of the bar.
It should have been the equaliser and soon after we nearly did get it, this time Butland making the save of the match to deny Vokes with no one unfortunately able to get onto the loose ball.
Then, with just under ten minutes of the half gone, we got ourselves back into the game. Stanislas was fouled by Paul Robinson just inside the penalty area.
Drysdale wasn't interested but the assistant in front of the Bob Lord flagged furiously before placing the flag across his chest. Even then there seemed to be some delay before Drysdale pointed to the spot.
When he did, Wallace hammered home and at that point I thought surely we would go on to win this game against a Birmingham side that was offering absolutely nothing.
Last season, in this fixture, we equalised after a spell of pressure only for Birmingham to go straight down and take the lead again. They all but repeated it and again it was Davies totally unmarked getting in a head that this time thankfully went straight into the hands of Grant.
Then came the big incident just seconds after the hour. Marney went into a challenge with Robinson and out came Drysdale's red card. Was the decision correct? I've watched it back several times, and in slow motion, and I really can't see it. Birmingham boss Lee Clark thought it was Robinson being sent off.
Marney smiled in disbelief and left the pitch; we were down to ten men again and at the very least needed to keep the score as it was.
For much of the remaining time we did that with few problems at all but in the last ten minutes we had some defending to do. Dyche sent on first Brian Stock and then Martin Paterson. I don't think the changes helped at all and with not long to go giant striker Nikola Zigic, on as a substitute, should have won it but headed against the post.
He'd scored in the 90th minute down at Birmingham to equaliser and he was to play his part in the last minute of normal time here to secure all three points for Birmingham.
We need to ask ourselves some very serious questions about our defending though. It was no more than a ball chipped in by Elliott. There were five players in the box, three Burnley defenders, namely Trippier, Edgar and Shackell, and two Birmingham forwards in Zigic and King.
Frighteningly Zigic was allowed to flick on a header totally unchallenged to King who was in a position with no Burnley player anywhere near him. Both Trippier and Edgar will be questioning themselves on this after King hammered home a volley across Grant and into the far corner.
Almost immediately the fourth official signalled five extra minutes. Keith Treacy came on and he hit a shot over the bar but the game was lost and the points were heading back to the West Midlands with one of the worst teams we've played at home this season.
Overall it was not a good performance and fell way short of what's needed for a side to retain any interest near the top of the Championship. We did have chances and missed them but there was little sign of the tempo we've been playing at recently and we never looked anything like as secure defensively as we've done recently.
The debate will continue for some time as to whether Marney should have been sent off, certainly, should there be no appeal, for the period of the next three games, all of which could be away from home, which he will have to sit out.
But there is no doubt in my view that the red card decision was a major contributing factor to the result. I do not think for one minute, and Clark has virtually accepted it, that Birmingham would have even gone looking for a winner in the closing stages had we not been a player short.
I rushed out at the final whistle but as I walked across the car park and alongside the cricket ground I could still hear the booing inside the ground and the chants of: "You don't know what you're doing." I don't think anyone who was there will disagree with that.
On Friday I said that I hoped Drysdale, who had been shocking in all his previous three Burnley games in 2006, had improved. Sadly he has not.
The teams were;
Burnley: Lee Grant, Kieran Trippier, David Edgar, Jason Shackell, Danny Lafferty, Dean Marney, Chris McCann, Ross Wallace (Brian Stock 78), Danny Ings (Keith Treacy 90+1), Junior Stanislas (Martin Paterson 82), Sam Vokes. Subs not used: Brian Jensen, Luke O'Neill, Kevin Long, Dane Richards.
Yellow Card: Ross Wallace.
Red Card: Dean Marney.
Birmingham: Jack Butland, Paul Caddis, Curtis Davies, Steven Caldwell, Paul Robinson, Chris Burke, Morgaro Gomis, Callum Reilly (Nikola Zigic 69), Wade Elliott, Rob Hall (Nathan Redmond 54), Marlon King. Subs not used: Colin Doyle, Mitch Hancox, Hayden Mullins, Ravel Morrison, Peter Lovendkrands.
Referee: Darren Drysdale (Lincolnshire).
Attendance: 11,576.