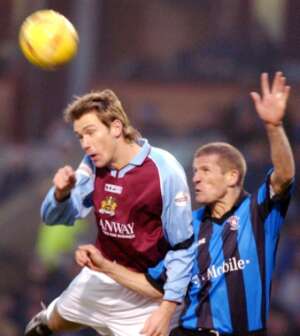 Gareth Taylor wins a header
After playing some excellent football against the likes of Norwich City, Manchester United and Nottingham Forest, the Clarets were perhaps due a dip in form – and what a dip it turned out to be.
The only change to the eleven who started the game against Forest was the return to the side of Ian Cox after his six week injury lay-off. Coxy was drafted into to replace Arthur Gnohere, serving a suspension for accumulating five bookings.
Following an impeccably observed minutes silence as a mark of respect to Nathan Shaw, the game got underway. Rotherham had the game's first attack. A long ball was punted forward in the direction of former Claret, Alan Lee. Marlon Beresford came to meet the ball and succeeded in clattering Lee. For a moment it looked as though he was about to suffer the same fate that befell Gareth Taylor, when he was concussed at Millmoor last month. Yet unfortunately, as it was to turn out, Lee was soon back on his feet.
It took Burnley nine minutes to test the opposition keeper, Mike Pollitt, but Blake's shot was easily dealt with. On eleven minutes, the visitors' two ex-Burnley players combined to give Rotherham the lead. From a John Mullin corner, Alan Lee was allowed to rise unmarked, and plant the ball past Beresford.
As the half wore on, it became increasingly evident that the Millers were winning the physical battle. On seventeen minutes, Alan Lee out-muscled the visibly ring rusty Ian Cox, his lob going inches wide. For the next few minutes, Burnley had their best spell of the half, and could have claimed to be unlucky when on two occasions balls into the box just would not fall for them – particularly Gareth Taylor.
On twenty seven minutes Rotherham doubled their advantage, courtesy of another ex-Claret. More slack marking on the edge of the box allowed John Mullin to drive the ball past Marlon and into the corner of the net. It got even worse on the half hour, after a dreadful clearance by Ian Cox was returned with interest by Mullin. Marlon never saw it. Three-nil to Rotherham, and half-time was still fifteen minutes away.
Shortly before the interval, it could have been even worse, but Graham Branch, easily Burnley's best defender on the day, managed to hook away Alan Lee's low cross for a corner. Half-time saw long faces in the pie queue, the only good news coming from Goodison Park, where Everton were putting our bitter rivals to the sword.
Things didn't look any better from the bench either
With three goals to make up, Burnley had to go for it in the second half, the ineffective Cook and hapless Cox being substituted with Papadopoulos and Alan Moore. The two subs combined on forty eight minutes, as Dimi headed Moore's cross wide of the target.
But despite Burnley's more attacking outlook, it was the visitors who found the net. Andy Monkhouse's low cross was netted by, you guessed it, Alan Lee. This prompted another substitution, Lee Briscoe making way for the begloved Tony Grant. It also prompted a mass exodus from the stands.
At 4-0 down, the Clarets finally started to make a fist of it. Robbie Blake, through whom all of Burnley's good moments came went on a brilliant run. His shot was deflected to Steve Davis who fired home a consolation. Typical of the way things were going for Burnley, The Skip injured himself, but with all three subs used, he soldiered on. It was just as well he did. With twelve minutes remaining, Davis bundled home to make it 4-2.
What was left of the crowd got behind the Clarets. With ten minutes left, Robbie Blake won a corner for the Clarets. From the corner, Davis rose above the pack and headed goalwards. Only a stunning save from Pollitt denied him. With the Clarets throwing more men forward, they were always going to be vulnerable to the counter-attack, and so it proved. On eighty four minutes Byfield punished Burnley with a left-footed shot which evaded Beresford. Well, at least it wasn't an ex-Claret. At 5-2 The Skip decided enough was enough and limped off the field, his knee injury preventing him from taking any further part.
Still Burnley pushed for goals, and Pollitt showed sharp reflexes to deny Alan Moore from a Tony Grant cross. On eighty eight minutes, Burnley's ignominy was complete, Byfield touching in Nicky Daws' centre to make it six.
Stan Ternent professed bewilderment after the game, a sentiment shared by many Burnley fans. How could a side which had given Manchester United a game, and beaten teams as good as Forest and Norwich turn in a display like that? But since when has football been predictable?