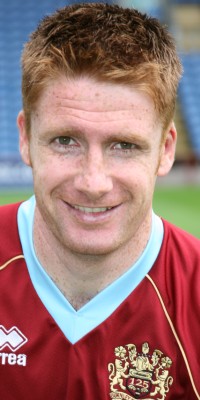 James O'Connor - outstanding performance
This was the performance we hoped for and with any luck at all we might now have been preparing for a trip to the Emirates Stadium for a replay or even better. Unfortunately it wasn't to be but we can go out of the FA Cup with our heads held high and it really is a long, long time since a beaten Burnley side left the Turf Moor pitch to a standing ovation.
It wasn't the perfect day, so let's get the negatives out of the way before we start. The defeat means we have gone out of the FA Cup for the third year in succession at the first hurdle. We ended the game with ten men again after Kyle Lafferty was sent off and we also played the game in front of crowd of under 17,000 after the club had made it as difficult as possible for people to buy tickets with the most ridiculous of rules for buying.
There, I've done it, I've got all the negatives out of the way at the beginning and I can now concentrate on all the positives as the Clarets turned in a top performance that I'm sure the Gunners could hardly have been expecting.
As expected Arsenal fielded a strong side even though the line up didn't include many of their big stars, whilst for Burnley Owen Coyle, as I forecast, made just the one enforced change with new loan signing Stanislav Varga replacing the suspended David Unsworth.
As we approached kick off I was somewhat apprehensive. I'd been looking forward to the game for weeks, ever since the draw, but I was worried that we might just struggle to cope with this Arsenal side. A few days ago I spoke to a former Burnley manager who just told me to go and enjoy the game, so that's what I decided I would do.
We started well, and only the woodwork prevented us from making the perfect start. We built up nicely down the right hand side with Robbie Blake and Wade Elliott before Wade moved the ball inside to James O'Connor who had an inspired afternoon.
He in turn played a superb first time ball for Andy Gray and his cross was met by Kyle Lafferty. His header smashed against the bar with Jens Lehmann beaten and Arsenal had had an escape.
That was in just the sixth minute of the game and only three minutes later we paid the ultimate price as Eduardo put Arsenal in front after he run on to a ball from Kolo Toure that was played between our two central defenders.
If anyone thought we were going to let our heads drop they were very much mistaken. For periods in the first half we were the better side. Robbie fired over, Gray had a shot saved and almost on half time Chris McCann blazed over after Wade had robbed Armand Traore as he struggled with a ball into the box.
Traore - FA Cup third round - struggling with a ball into the box from the left. It certainly brought back some memories of a dramatic win three years ago.
We'd done enough in that first half to earn ourselves a goal, but Arsenal could possibly have had another. O'Connor cleared one off the line whilst Nicklas Bendtner's overhead kick was easily saved by Gabor.
As the half time whistle blew it just felt as if we'd done enough to go in level, but they'd taken their one excellent chance and we'd not been able to.
Eduardo should have doubled Arsenal's lead early in the second half but somehow put a shot just wide of the post. It was a bad miss and had it gone in it would have probably been game over, but Burnley used it to turn in their best spell of the game.
We dominated proceedings and another couple of chances went begging. It was turning into a superb cup tie but just before the hour that all came to an end as referee Alan Wiley pulled his red card out to send off Kyle Lafferty after a foul on Gilberto.
I wasn't so sure at the time, and after seeing it time and again since I'm still not sure. Let's get one thing clear, it was not a two footed challenge. But the one foot was high, the studs were showing and he did, one way or the other, go over the ball.
Some referees would definitely not have sent him off, others would, and unfortunately for us Wiley's from the second group. I'm convinced it was not deliberate, but whether right or wrong Wiley had ended this contest.
It's not on is it. Half an hour to go, a goal down and we have to take on Arsenal with ten men. And what a fist we made of it. Probably the best chance we had to equalise came when Robbie played the ball out wide from the centre circle. Wade got down the right and crossed for Gray but Senderos got there just in time to head clear.
You couldn't believe we were playing with a man short but unfortunately when the second goal came it ensured the Gunners would be in the next round. Eduardo scored the first and created the second with a ball that again went between our two central defenders. This time Bendtner was on the end of it and took it round Gabor before slotting home.
It was over for us, the fight was over after this second goal and I just hoped and prayed we wouldn't concede any more. We hardly deserved this scoreline never mind a more emphatic Arsenal win.
Thankfully that's how it stayed and after three minutes of added time it all came to an end. No boos as we've had in other recent home defeats, but a standing ovation around the ground. And how we deserved it.
We'd heroes all over the pitch and there were some outstanding individual performances. I thought our two full backs Graham Alexander and Jon Harley were terrific and I can't recall either of them having had a better game in Burnley colours.
But yet again my man of the match was James O'Connor. What a superb performance he turned in. He did all the things we expect of him but his forward play, his passing, was sensational. He won the award from the sponsors, a decision that was greeted with applause around the ground.
I was still disappointed at the end, I don't like getting knocked out of the FA Cup. But I've seen Arsenal now and that was a treat, and watching them live is a far greater experience than taking in a game on television.
But more than that I'd seen us match them and give them one tough afternoon. I'm sure they turned up expecting it to be a lot easier than it was.
Now we know just how well we can play and it is time to take that sort of form into the league and start to get some points to start the climb back up the table.
A great cup tie without a doubt and an afternoon of mouth watering football. Defeated yes, but heads held high. Well done Clarets.
The teams were;
Burnley:
Gabor Kiraly, Graham Alexander, Stanislav Varga, Steven Caldwell, Jon Harley, Wade Elliott, James O'Connor (Joey Gudjonsson 76), Chris McCann, Kyle Lafferty, Robbie Blake (Steve Jones 79), Andy Gray (Ade Akinbiyi 79). Subs not used: Brian Jensen, Stephen Jordan.
Arsenal:
Jens Lehmann, Bacary Sagna, Philippe Senderos, Kolo Toure, Armand Traore (Justin Hoyte 71), Emmanuel Eboue, Gilberto, Denilson, Abou Diaby, Eduardo, Nicklas Bendtner. Subs not used: Lukasz Fabianski, Johan Djourou, Mark Randall, Henri Lansbury.
Referee:
Alan Wiley (Staffordshire).
Attendance:
16,709.