Loan signing Michael Kightly it was again. He scored the Good Friday winner at Blackpool, got the nerve calming second in the Wigan win and was on the mark for a third successive game as he turned in the winner after a Danny Ings shot had been blocked by goalkeeper Dean Gerken.
Turf Moor really was a relaxed place to be. The street sellers were out with their Premier League souvenirs, taking advantage of the slow moving BFC club shop buyer, and I even allowed myself to by a Goalden Gamble ticket from Rocky - he bullied me into it if truth be told.
I didn't win, but I did clinch my first £25 prize on the National Lottery later in the day so that's my Reading ticket paid for.
Harry Potts Way got busier and busier so I was surprised at how low the attendance was but those inside, I'm sure, weren't surprised to hear that the team news was expected - unchanged with the same seven players on the bench.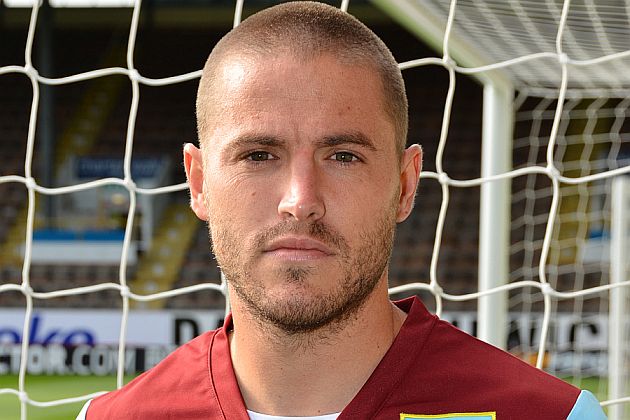 Another winning goal for Kights
The teams came out with Burnley wearing a commemorative shirt in recognition of the centenary of our winning of the FA Cup. The players came out with their children and, given this, I wondered whether we really would be up for it, particularly with Ipswich needing a win to stay in the play-off race.
Those doubts were dispelled just about immediately and we were close to taking a first minute lead with what would have been another good team goal, but Scott Arfield's on target shot was blocked.
I was surprised to some extent by Ipswich. They were more negative than I expected for a team that was in need of points and that allowed Burnley to have much more of the play in the first half.
By half time it was still 0-0; we'd been the better side but in truth there had been little in the way of goalmouth action.
There were no changes for the second half and it was a half that Ipswich started the better. We hadn't seen much of the ball at all in the opening eight minutes of the half but then it all changed with the goal.
Dean Marney it was who won the ball and knocked it on to Ashley Barnes. The striker did really well to turn and play in Danny Ings. The striker, still in search of his first goal since returning from injury, did just about everything right. He took it past a defender but then could only watch as Gerken got out to block his shot.
All Gerken could do, however, was push it into the path of Kightly who made no mistake and rolled the ball into the unguarded net for what proved to be our last home goal of the season.
From that moment on I don't think we ever looking in any danger of not winning it. As someone said to me today, we weren't at full tilt but were still too good for a team not that many places behind us in the division.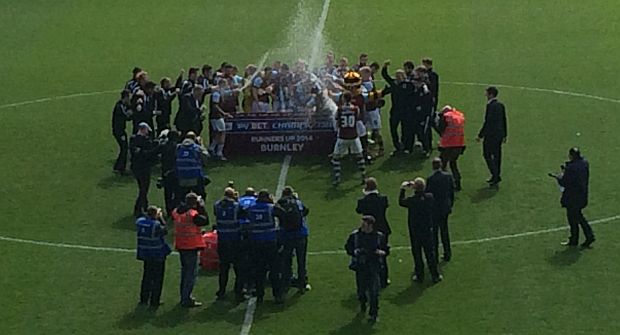 Tom Heaton did make one save from a free kick but other than that we never really looked troubled and could have had more goals ourselves.
Ings hit a shot just wide and then almost broke the bar as he smashed Marney's cross onto the underside of it.
Long before the end it was clear we were going to win it. Ipswich were left with nothing to offer and the crowd were patiently waiting for the presentations.
Referee James Linington finally blew after four minutes of stoppage time to signal this latest win, a 26th of the season, a club record, and a win that took us to 92 points.
It was perhaps appropriate that on this centenary weekend we won by the same score as we'd done in that final at the Crystal Palace Grounds on 25th April 1914. Had Kightly waited just a while longer, five minutes to be precise, he'd have even scored at the same time in the game as Bert Freeman did with that cup winner.
Marney got the man of the match award from Sky; it was always between him and his midfield partner David Jones for me and then we waited for the presentations.
One thing I certainly noticed was Ipswich boss Mick McCarthy. Having shaken hands with Dyche and his backroom team he then came on the pitch and shook hands with every Burnley player.
It says everything about him as a person. Back in October 2012, for a few days, he looked favourite for the Burnley job. The way he conducted himself yesterday shows why so many clubs are keen to have him as their manager.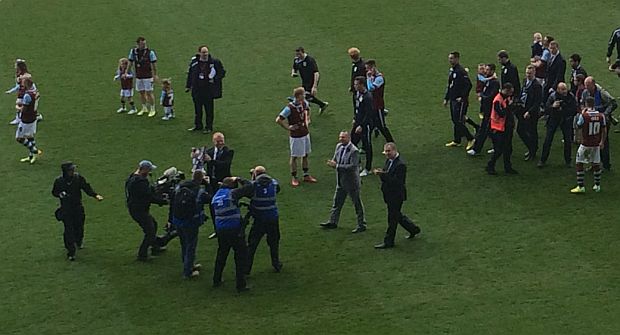 With no pitch invasion this time, the backroom staff were the first to come back out to receive medals from the two co-chairmen. Then it was Dyche, and then the players came out two by two with Danny Ings and finally captain Jason Shackell at the end.
There was just then the obligatory raising of the trophy before most of the champagne managed to find John B's suit.
The players, with their families, gave us one more walk round - with Daisy, of course, and it was time to head home.
It will be 16 weeks at least (if our first game is at home next season) before I will see us play competitively at Turf Moor again.
To be honest I just wanted to sit and wait. I didn't want to go home. As much as I am looking forward to the 2014/15 season I really don't want this one to end.
I'm going to Reading in six days time. I am so looking forward to it.
There's a young boy sits just behind us in the stand. I told him at the end just to savour it. These days, these seasons, don't keep coming round. They have to be savoured, they have to be stored in the memory.
It really has been brilliant being a Burnley fan this season.
The teams for the final home game were;
Burnley: Tom Heaton, Kieran Trippier, Michael Duff, Jason Shackell, Ben Mee, Scott Arfield (Ross Wallace 71), Dean Marney, David Jones, Michael Kightly (Junior Stanislas 63), Danny Ings (Keith Treacy 90+3), Ashley Barnes. Subs not used: Alex Cisak, Chris Baird, Kevin Long, David Edgar.
Ipswich: Dean Gerken, Luke Chambers, Christophe Berra, Tommy Smith, Aaron Cresswell, Frazer Richardson (Paul Taylor 65), Paul Green, Coke Skuse, Stephen Hunt (Frank Noublé 66), Jonathan Williams, Daryl Murphy. Subs not used: Scott Loach, Tyrone Mings, Jay Tabb, Frédéric Veseli, Jack Marriott.
Yellow Cards: Tommy Smith, Jonathan Williams.
Referee: James Linington (Newport, Isle of Wight).
Attendance: 14,574.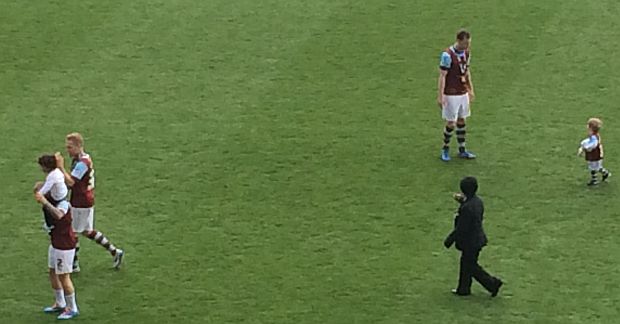 Late Kick Off star Daisy keeping an eye on Barnes & son