Clarets enjoy the plum Diouf
Report of match Burnley 3 Doncaster Rovers 0 played 26th December 2011
Reporter Martin Palk
I went to the Boxing Day game against Willie McKay's Doncaster Experiment as a guest of Puma, so got to experience the working-mens' club chic of the 1882 Lounge.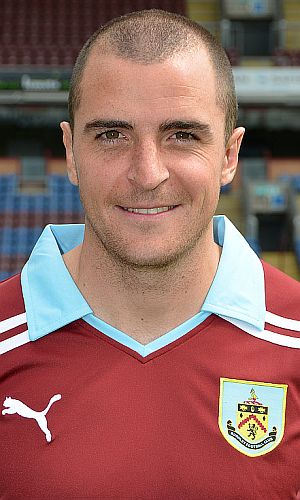 Man of the Match - it was Dean Marney
The Penguin from Batman Returns was the MC for the day, who had seemingly received a Peter Kay DVD for Christmas, such was the groaning familiarity of his quips. Still it's all good fun and we set off on the ground tour with Andy Lochhead in good spirits. About 40 of us. So many, in fact that, the party filled the Directors' Box and by the time we all squeezed into the changing rooms we were all very good friends indeed.

Andy's tour spiel consisted mostly of anecdotes about Sir Alex Ferguson. Not sure why that was. Maybe he didn't think Burnley FC was interesting enough to talk about. A particular highlight of the tour was Jason Tindall's abysmal grey suit. From a distance it looked shiny and slick. Up close it made him look like an employee of the Carphone Warehouse. A lady asked who he was, as he looked familiar. Tindall replied that he was the Assistant Manager. Perhaps more worrying, was that Mr Lochhead didn't know who Tindall was either.

After hanging around in the changing room long enough to hear Eddie Howe absolutely roast someone over the phone, we wandered back round the pitch to get stuck into the pre-match meal that awaited us in the 1882 sauna. The heat in there was incredible, but perhaps not a bad thing as we all needed to shed a few pounds gained over Christmas. Finally, a window was opened using a high-tech wooden pole with a hook on the end. The Penguin read the teams out, purposefully stumbling over the foreign names; Ilunga, Beye, Sharp.... and we toddled off to our seats in the Bob Lord Stand.

We'd dressed appropriately in our smart togs, looking like a set of Premier League scouts. This is a huge departure for me as watching football in smart clobber is as alien as wearing proper shoes on a ride at Alton Towers. It turned out there were a few scouts sat around us. Unless they were just blokes who always take a filofax with a football pitch drawn on the pages. We definitely looked better than them though.

Burnley started very well and spent almost the entire first half putting Doncaster under pressure, with Junior Stanislas in particular, showing that there is a player in there somewhere. Despite the pressure there were only a few shots from distance and a Chris McCann sitter missed from about 2 yards out to show for all the pressure, when the aforementioned McCann touched a sublime pass from Ross Wallace inside the defender, ran into him and fell over. Not really a penalty, but that's what the referee gave and we've had them given against us before. Rodriguez scored.

Billy Sharp then hit the inside of the post with what was Experiment's only clear cut chance of the game. Half time arrived and we went downstairs for some cheese. We returned for the second half in time to see EL Hadji Diouf milking the applause of his adoring public, blowing kisses to the Longside. Looks like he's put on weight to me. Almost nothing exciting happened in the second half, Burnley looked comfortable but needed that second goal to finish the game off. The only downer was the departure of Michael Duff with a hamstring injury. The worry was that Brian Easton was coming on, but he acquitted himself well.

Finally, the second goal did come, a welcome nod in for Martin Paterson after a cracking strike from Rodriguez had bounced down off the bar. That was game over and the cue for the shy and retiring El Hadji Diouf to depart, again enjoying the reception and blowing kisses. I half expected some roses to be flung on to the pitch. Diouf was replaced by former All Black winger Jonah Lomu, now going by the name Herold Goulon. I later learned that Goulon was on loan from Blackburn, but he didn't get any of the stick that former Rover Diouf got. Probably because Goulon looked like he could take on the entire 16,756 in the ground and win.

There was still time for another goal from Sam Hird, having the worst day of his footballing life, putting through his own net after earlier giving away the penalty. A deserved win then, against a club who look like they'll be on their way out at the end of the season.

We left before the Man of the match presentation to Jay Rodriguez; The Penguin being particularly irked by this gross insubordination. Rodriguez wasn't MOM anyway, it was Dean Marney.
Competition:

npower Championship

Date:

Monday, 26th December 2011

Kick off:

15:00

Venue:

Turf Moor
Burnley

Rodriguez 37 (pen)
Paterson 84
Hird 90+5 (og)


3 - 0
Doncaster Rvs.

Match Finished
| 58% | Possession | 42% |
| --- | --- | --- |
| 12 | Goal Attempts | 10 |
| 4 | On Target | 1 |
| 7 | Off Target | 8 |
| 1 | Hit Woodwork | 1 |
| 9 | Corners | 5 |
| 4 | Offsides | 2 |
| 9 | Fouls | 9 |
| Referee | Attendance |
| --- | --- |
| David Webb | 16,756 |
Burnley cards shown
55 mins
Chris McCann
Unsporting behaviour
85 mins
Martin Paterson
Unsporting behaviour
Doncaster Rvs. cards shown
29 mins
Brian Stock
Unsporting behaviour
36 mins
Habib Beye
Dissent
Click here to see a full list of the football results from Monday, 26th December 2011.