That was despite taking a fifth minute lead through Charlie Austin, but in truth that was probably as good as it got on a cold night in South Yorkshire where at least, apart from one spell in the first half, we didn't really look as though we might concede goals either.
I was quietly optimistic yesterday although that was tempered by the fact that with the theory that if it can go wrong it usually does at Oakwell. On the positive side I believe we have a better team than they have and that they haven't won at home since their second home game of the season.
Everything was going well, right from the departure from Burnley. Travelling across the M62 on a coach at that time can be somewhat concerning given the often found problems around Leeds but we sailed through and were at Barnsley a lot earlier than expected.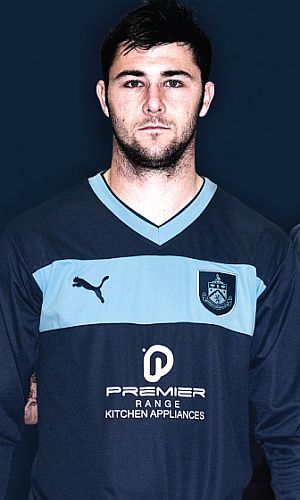 Charlie, back on the scoresheet with our early goal
By then the team news had filtered through, that Kieran Trippier was back after serving his one match ban, with David Edgar returning to the bench, and Marvin Bartley was replacing the suspended Dean Marney in midfield. Otherwise it was same again from Sean Dyche.
There was one other notable change. Referee Phil Gibbs, scheduled to take charge, was nowhere to be seen. In his place was Kevin Wright from Cambridgeshire who was refereeing Burnley for the first time since November 2006.
After a couple of early flurries forward from Barnsley we almost scored from our first attack. Trippier and Ross Wallace worked the ball down the right and when Trippier's cross was dummied by Bartley it was nearly turned into his own goal by a Barnsley defender but the ball went narrowly wide for a corner.
It was a close shave for the home side but they weren't level for much longer. Wallace took the left wing corner and there was Charlie Austin, unmarked at the near post, to head home. Yes, unmarked again, but that's down to his excellent movement in the box and again he outfoxed the defenders with the near post run. It ended what could even be called a goal drough for Austin having failed to score in the last three games.
What a start, just what we wanted, but unfortunately it wasn't a start, that was almost it for much of the game as we totally failed to capitalise on that early lead.
For whatever reason we struggled to put any real pressure on the home side. The passing, which had been so crisp at Hull, particularly in the first half, was anything but. We constantly gave the ball away although the one consolation was that Barnsley weren't threatening either.
Our only other chance of any note in the half came midway through. Again it was good work from Austin, this time down the left wing. He beat Stephen Foster and crossed for Chris McCann who could only head wide, but he could have done little more with what was a disappointing cross.
Despite offering very little we still looked comfortable and our defence, including two former Barnsley players in Trippier and Jason Shackell, were not being put under any pressure. And then it all changed with the softest of goals.
Scott Golbourne hit a long cross into the box that should have offered no threat at all, but Shackell was too easily beaten by Marcus Tudgay who headed home to level the scores. We'd never looked in any danger but that changed things for the rest of the half.
The rest of the half was concerning. Balls were flying across our box. We appeared to have hit the panic button and on a number of occasions we could so easily have conceded another. Having seen how well we defended on Saturday it was hard to believe that for around ten minutes we looked to be all at sea.
Thankfully we didn't concede a second but Dyche was clearly not happy with what he'd seen. He marched down the touchline to get in ahead of the players and, for the first time in three visits, the Burnley manager didn't get any stick from the away support.
You sensed a change coming and when Danny Ings went through a warm up on the pitch during the interval it was clear he was coming on. That prompted the debate as to who might come off and when the players came out for the second half the one missing was Bartley who, frankly, had suffered a woeful 45 minutes.
We probably had the better of the early exchanges after the break. Wallace forced a fairly routine save from Luke Steele from a free kick and then we came as close as we were going to come with Ings hitting the foot of the post.
It didn't last and, one late effort apart, we didn't threaten Barnsley again and the home side dominated the play for much of the remainder of the game. Home boss Keith Hill talked about the Prozone stats after the game and they'd certainly show that we misplace a lot of passes and that Barnsley had a lot more of the possession than we had.
Having said that, despite the ball seemingly coming towards our goal far too often there weren't too many scares. Once a twice the ball fizzed across our box but I can't recall Lee Grant having much to do other than deal with one or two shots straight at him.
Towards the end we changed things. David Edgar came on for Stock, so often our best passer of the ball but on this occasion not at his best. Then Sam Vokes followed at the expense of Wallace, another who didn't do himself justice after playing so well at Hull.
That led to us having a few minutes of play. We came close to a goal from which we won a corner but it was nothing substantial and by the end it was Barnsley, still with little conviction, coming forward.
There was to be one last scare, right at the end. With just 20 seconds of stoppage time remaining Michael Duff conceded a needless free kick right on the edge of or penalty box to the left hand side. It gave Akos Buzsaky, making his first Barnsley start, a chance but he did no more than put a weak free kick straight into Grant's hands.
That was it, a disappointing performance but at least a point. Dyche said the result was better than the performance and I recalled the words of Steve Bruce from last Saturday when he said his team needed to learn how to pick up points from games when not playing well.
Our new boss will know that was the most disappointing performance he's seen from his team since taking over.
Thankfully we all know we can play better than that and hopefully will show it when the next game comes along this weekend. Now who's that against?
The teams were;
Barnsley: Luke Steele, Martin Cranie, Stephen Foster, Jimmy McNulty, Scott Golbourne, Jacob Mellis (Jim O'Brien 81), Jonathan Greening, Akos Buzsaky, Reuben Noble-Lazarus, Marcus Tudgay, Craig Davies (Emile Sinclair 79). Subs not used: Ben Alnwick, John Stones, Scott Wiseman, Tomasz Cywka, Stephen Dawson.
Burnley: Lee Grant, Kieran Trippier, Michael Duff, Jason Shackell, Ben Mee, Brian Stock (David Edgar 81), Marvin Bartley (Danny Ings 45), Chris McCann, Ross Wallace (Sam Vokes 83), Charlie Austin, Martin Paterson. Subs not used: Brian Jensen, Danny Lafferty, Junior Stanislas, Cameron Stewart.
Yellow Card: Michael Duff.
Referee: Kevin Wright (Cambridgeshire).
Attendance: 8,610 (including 1,047 Clarets).