Clarets Conquer Crass County
Report of match Stockport County 0 Burnley 2 played 9th March 2002
Reporter David Clark
After Clarets' recent failings to return three points from supposed easy games, Stan described this one as a "must win" game.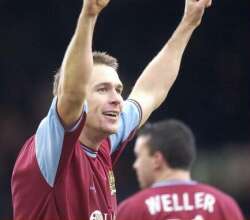 Star Gazer Gareth Taylor celebrates his goal with Paul Weller
That Clarets collected the three points was just reward and fully deserved, condemning a desperately poor County side to home defeat number sixteen and ending their winning run of one in the process. Clarets by contrast moved to joint fifth on yet another day of play-off team splutters, Norwich and Crystal Palace both losing in the chasing pack.
Carlton Palmer's motley team was so poor, that once Clarets had weathered an initial fifteen minutes of huff and puff, all they had to offer, their performance, tactics and ball skills resembled more a "Team of the Week" nomination. If they lose next week at Wimbledon, then Second Division football is a definite. On this showing they will surely struggle in the Second.
And so the game, played under the flight path of Manchester's departures on a bitterly cold, blustery day, with most Clarets fans electing to go under cover of the stand. Pity then the hardy fools watching from the open Railway End, enduring showers, gails and the delights of Edgeley Park for the final time for a good while. On a bare pitch Stan rang the changes, clearly seeing the same things as the mid-week boo boys. Banished from the team bus were Arthur and Alan Moore, whilst Mark McGregor and Mitchell Thomas had to clear the napthalene from their team suits, McGregor making his first team league debut.
The welcome return of Tony Grant completed the surprises and he would disappoint no one on his return with an assured display in the midfield, Weller moving out wide right acting as the link man. The bench also saw a welcome return in the form of Andy Payton now recovered after a nasty leg wound from many weeks ago.
Clarets began brightly and as the 3.10 for Amsterdam flew by Weller's neat nutmeg saw him down to the goal line before his cross was cut out for an early corner, from which Dibble was impeded. The 3.15 for Guernsey were in time to watch McGregor's far post cross headed just wide by Taylor, soundly supported throughout, giving yet another good display, particularly in the first half, where his control and first touch were superb.
Clarets were pressing forwards in the early stages, let down only by the quality of their right wing crossing, whilst County buoyed by their midweek win, tried to up their game, to no avail, they were simply awful, a performance on Soccer Sunday due shortly. Clarets first attempt on goal came with the 3.23 for Milan, but Moore's pea roller was easily collected by Dibble, by far the busier of the two keepers.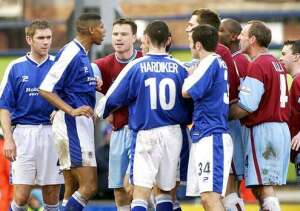 County boss Carlton Palmer losing it
The first half was scrappy, the wind taking hold of the ball and with the 3.30 to Dublin came another Moore shot, this time a curled left footer into Dibble's midriff. The 3.32 to Toronto saw Taylor fouled in the "D", the wasted free kick letting County off, before Thomas was booked for handball, County briefly threatening down t'other end.
Clarets continued to press forwards though with little end product and the 3.40 to Munich brought a free kick to Clarets, from which Davis' header after Briscoe's good cross sailed just wide of the post, Dibble a grateful spectator. Woodthorpe was booked for up-ending Weller as the half drew to a close, many a half time conversation talking in the positive of Clarets second half chances of success and very much in the negative of a Bull and Butcher XI County side.
The second half was five minutes old and with the 4.10 to Paris came the opening goal. McGregor's cross from the right was flicked on by Moore to Taylor who caused confusion between Palmer and Dibble, tapping home with his foot at the second attempt from four yards, goal number fifteen creating delight on two sides of the ground. It could and should have been two five minutes later as the 4.15 to Turin went by. Weller's driven shot was only parried by Dibble and straight to Moore who scuffed his return shot high and wide to the delight of his former entourage.
The game became quite lively as County rallied a little though Ball should have secured the points with the coming of the 4.18 to Frankfurt, his shot from Thomas' cross weak in front of an open goal, Dibble recovering just in time.
The passengers on the 4.20 to Faro saw the move of the game, Moore's eighty yard run ending without a tackle and sadly a shot on target, his twenty yard drive rising too much clearing Dibble's bar as it flew by. In their all too brief a moment, Hardiker side footed tamely over as the 4.22 passengers bound for Palermo sniggered, such was the weakness in the effort, before those who were ringside in the 4.24 for Malaga saw Daly's elbow on Thomas as the two rose for a header, Daly becoming the fourth County player in five games to see red.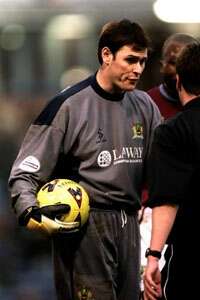 Star Gazer Marlon Beresford - a very quiet afternoon
Shuffling the pack on-field, coach Palmer delayed the game by losing his calm along with the plot (surprise, surprise), clearly frustrated by the goings on on the field. County's little lad, Thomas, wearing his dads shorts on the day, was replaced by Hardy with twenty minutes remaining, before the watching Larnaca bound passengers saw Maylett replace McGregor, Stan now so confident that only three at the back were needed to see out the game.
Cometh the 4.41 to Singapore cometh Ian Cox's moment. Collecting Moore's pass near the touchline he set off and despite token challenges, his run took him to a central field position twenty five yards out, where he unleashed a great low shot that beat Dibble on its way to the corner of the net, allowing many in the home stands to go for their customary early bus. By contrast the party started in the visiting sections, the points now well and truly banked.
Cook replaced a tired Grant before Moore was unnecessarily booked for kicking the ball at a forlorn Palmer. Into injury time and worryingly, a limping Davis was replaced by Blake, Clarets well and truly cruising home at this late stage. There was one final piece of activity, when the 4.50 to Charles-de-Gaulle was just in time to see Beckett's bobbler hit the outside of the post, Marlon finally able to dirty his shorts in covering the shot. Bye bye Stockport.
Att:- 6,410.
Star Gazer
Marlon Beresford. Had so little to do all afternoon, other than collecting crosses, it was an afternoon of plane gazing in gaining his first clean sheet since his arrival and Clarets first shut out in eleven games.
Glass Half Empty
Shot shy Clarets partially overcame their fears of shooting on sight of goal. It was a pity that it took eighty five minutes to make the game safe against by far the poorest team in the Division. Not that County were going to do anything about it once the game was past the twenty minute mark.
Star Geezer
Gareth Taylor. Led the line superbly, his touch and control, particularly in the first half when setting up many of Clarets breaks up field. Noticeably supported by those vocal Clarets, who now seem to be noticing his positives instead of his negatives. Those in the anti- camp will get their chance next week, when he sits out the key game against PNE.
Glass Half Full
This was a result that was never really in doubt. The "must win" game was won and comfortably so with Clarets midfield in the ascendancy throughout via the returning quality of Grant. It was worth the cold just to see Cox's splendid drive nestle in the corner.
Competition:

Nationwide League Division One

Date:

Saturday, 9th March 2002

Kick off:

15:00

Venue:

Edgeley Park
Stockport Co.

0 - 2
Burnley

Taylor 51
Cox 83


Match Finished
| | | |
| --- | --- | --- |
| 4 | Goal Attempts | 11 |
| 2 | On Target | 6 |
| 1 | Off Target | 5 |
| 1 | Hit Woodwork | 0 |
| 3 | Corners | 7 |
| 1 | Offsides | 3 |
| 13 | Fouls | 19 |
Stockport Co. cards shown
45 mins
Colin Woodthorpe
Professional foul
64 mins
Jon Daly
Violent conduct
Burnley cards shown
33 mins
Mitchell Thomas
Unsporting behaviour
88 mins
Gareth Taylor
Dissent
Click here to see a full list of the football results from Saturday, 9th March 2002.