Let's have none of that today I thought as I made my way to the game for a rare Saturday 3.00 kick off.
Our visitors, the 'Mackems' are apparently so called as a reference to the history of ship building on the River Wear, where the local inhabitants used to make'em. They are also known as the 'Black Cats', animals which are traditionally regarded as lucky! I can't say I've ever been convinced that anything about being a Sunderland fan could be considered lucky!
Arriving at the ground just in time for the teams coming out a quick look confirmed that the Clarets would make the one forced change, Sordell for Ings up front. That meant a home debut for George Boyd, a lookalike Chris Eagles with attitude!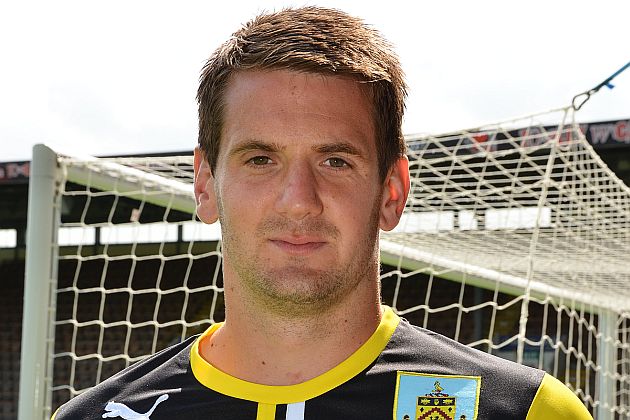 Another clean sheet for Tom Heaton and a good return of fantasy points
A fairly lively opening saw us in the ascendancy with a few half chances but nothing to get over excited about. As the half progressed it developed into a fairly even contest with little goalmouth action. Sunderland probably having the bulk of possession but much of it consisting of a negative triangular passing movement between the keeper and their centre backs. Jutkiewicz continued in his impressive early season form winning his fair share of aerial tussles, and his ability to turn a man causing problems. Boyd and Arfield were working hard on the flanks but Scotty was missing the magic touch of recent weeks. A half of few chances, and mostly long range shots ended goalless.
The second half started in similar vein and it had the feel that both sides were treating it like a game of cat and mouse. The teams were pawing at each other but not really going for the jugular. Around the hour mark Dyche replaced the largely ineffective Sordell with Ashley Barnes. Shortly after the visitors abandoned any suggestion of creative subtlety replacing wingers Johnson and Larsson, with the muscular Altidore who joined the equally beefy Wickham up front. This probably did us a favour as their play became more and more predictable. With the Clarets building momentum, the removal of Johnson allowing Trippier to get further forward, we started to get on top. On 68 minutes a strong penalty shout as the 'Juke' went down after breaking clearing clear in the box, but nothing given. With the game rumbling to a conclusion a looping shot from Barnes rebounded off the Sunderland crossbar. At the other end we were mightily relieved to see a thundering long range shot hit the post rebounding onto Keeper Heaton's back and out. Could have gone anywhere that one. Wallace came on for the injured Dave Jones and Reid replaced the tiring Boyd, but despite five minutes added time we couldn't conjure a winner.
Another good performance but with only the one point to show for it. Defensively this is as solid a unit as we have managed to turn out for many years. The worrying statistic is the goals for column where we are now by my calculations 436 minutes without scoring. It's clear that chances in the Premier league come at a premium, but we have to find a striking combination that will break the goalless streak, and quickly. Once again a great atmosphere in the ground created by two vocal and enthusiastic sets of fans. On a personal note, a big thank you to Tom Heaton and Kieran Trippier for the clean sheet and valuable Fantasy football league points to my tally. Onwards and upwards!