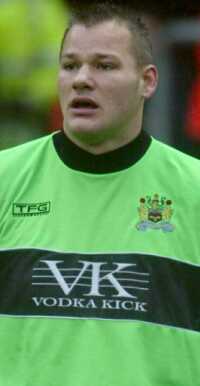 Star Geezer - Brian Jensen
The ten-man phobia though kicked in once again and with too many a Claret having either an off day, or just not prepared to put the effort in, it proved a point gained rather than two lost.
West Brom arrived with two main statistics. No other 1st Division side has won more than their seven on the travels to date, yet this is the same Albion currently suffering a dip in form so that only two wins from their last seven had been gained.
Clearly, manager Megson had them fired up at lowly Turf Moor and the first half, though desperately poor, was livened up by some uncompromising challenges, some seen by the inept officials, some were not, and their interpretation had both managers and sets of fans out of their respective seats on many occasions.
For the home side, Stan had to rethink midfield. Chaplow was sitting out a one match ban and Weller was added to the increasing list of of the hamstrung. Alongside the once again impressive Grantona and into centre midfield went Little, with Chadwick and Branch getting the winger roles, though both were dreadfully ineffective on the day.
Roche kept his spot at right back and for the first time, not only were there five subs, but there was also a second keeper, with Nathan Abbey amongst the track suit wearers.
Into the game and a quiet opening from both sides was first brought into life by Horsfield and Clarets were indebted to Albion's ex-keeper Jensen for an outstretched leg that prevented an opening goal.
Having seemingly devoured red meat for the week, West Brom were certainly up for it and Stan was out of his technical area on more than one occasion as referee Miller, Windy's brother, failed to spot Andy Johnson's two footed lunge on Grantona.
Mr Miller's debut at 1st Division level was not going to be a good one. The challenge breathed life into the game which was furthered by Gregan's unpunished elbow, again on Grantona, which saw the midfielder flattened as a consequence, Windy needing a trip to Specsavers to preserve our only midfielder.
Against such tactics Clarets were finding it hard going and there was only a Blake free kick in the first twenty minutes to test 'keeper Hoult. Ian Moore was proving no match for his namesake Darren and the little striker looked increasingly defeated the more the game progressed, once again failing to get in a shot at or on goal in a game.
Half way through the half and Roche was badly at fault with a poorly guided back header. Instead of finding Jensen, he instead set up Horsfield, who was thwarted by an alert Jensen, once again on the button, intercepting smartly to claim the loose ball.
On twenty five minutes, even Windy got it right when interpreting Hulse's airborne challenge on McGregor as a straight red card offence. Hulse had clearly led with an elbow and in the ensuing melee there was little doubt it was early bath time for Albion's leading scorer, though 2,500 boingers differed in their view of the incident.
The reduction to ten men inspired more the visitors than the home side and Clement fired a good low shot at the Beast who responded with a two fisted save as Roche left the defensive door open.
Clarets rallied and Moore's back pass to Hoult was handled in the area and whilst Clarets failed to capitalise on the error, the free kick did give the home fans something to cheer.
Roche fired in a deep cross that Grant headed just wide, but pressure on the visiting goal was a rare commodity. With Blake shackled by man marker and Little constrained by his central role, penetration was difficult and made even more so by the poor showings of captain Branch and Chadwick, who all too often failed to get past their opponent.
To ironic cheers from boing land, Mr Miller awarded Albion a free kick, but in truth the half was poor and deservedly ended goalless despite Camara's best efforts of going AWOL leaving the way clear for Johnson to have a clear run and shot at goal at the whistle drew close.
Clarets finished the half with their two best chances. First Branch headed wide when well placed, then Blake hit a shot that was comfortable for Hoult. Not much then to discuss over the Bovril after Clement's free kick whistled just past the angle bringing the half to a close. HT 0-0.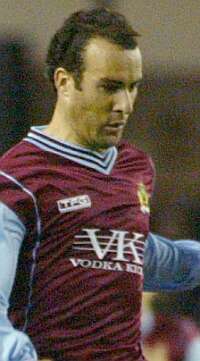 Star Gazer - Graham Branch
In a strange reshuffle of the pack, Stan withdrew the disappointing Chadwick, moved Little to his normal berth on the right hand side, but elected to send Fred West on to partner Grantona. It was a move that failed to work and unsurprisingly, a right back in central midfield is like a duck out of water and it was hardly the answer to Clarets struggle against the combative Baggies midfield trio.
Grantona's high and wide collection was furthered by a volley into the back row of the lower tier. The route to goal was demonstrated by Horsfield who, despite minor attempts to tackle from McGregor and May, cracked in a shot that smacked the post.
Clarets were lost for a while, the half time reshuffle taking its time to settle the team. Once again there was a lack of a leader and the slow, predictable build up play played straight into the hands of the well organised lines making up Albion's defences.
Chances were at a premium, yet when one did arrive ten minutes in after a mix up between Moore and Hoult, hesitancy between Roche and Little saw the chance cleared then Branch wildly slice the reply high and wide, Hoult going untested once again.
Horsfield was booked for reasons known only to the officials on the hour mark, as Clarets began to mount a little sustained period of pressure on the visiting goal, a flurry of corners coming to nothing. The better organised and more hard working ten men were always the more dangerous on the attack and Clarets were thankful to Jensen in snuffing out Horsfield's shot after calamitous defending almost cost dearly.
Half way through the half and the breakthrough arrived for the Clarets. Good approach play by Little fed the ball into Blake whose neat turn away from goal created a yard of space in the area, enabling a curled left footed shot to deceive Hoult and find the far corner of his goal, it was Blake's fifteenth of the season and should have been a real boost to the Clarets.
Haas was withdrawn in favour of Dyer before Albion gained their equaliser. Roche was guilty of day dreaming and was caught well out of position as a simple ball was played to Horsfield. Given the freedom of the left wing Horsfield advanced and hit a well placed shot beyond Jensen.
The lead had lasted just six minutes and the speed of the reply sent Clarets back into lethargic mode. For the officials, the quirkiness of their decision making continued. Windy, continued his one man persecution of Grantona, penalising the bemused midfielder for quite clearly winning the ball.
Then they peaked. Stopping play for no apparent reason, Windy allowed Clarets to bring on Alan Moore in favour of Branch then asked Hoult to take a goal kick, though the play, when stopped, was no where near the keeper.
The final ten were something of an anti climax. Darren Moore limped off to give Kinsella his debut as Clarets had one final fling at Hoult's goal, the last of the action being Blake's piledriver of a shot beaten away by Hoult in injury time. FT 1-1.
Att:- 13,106.
Star Gazer
Graham Branch, for a performance of little contribution and effort. If Clarets are to avoid a nervous last three months to the season, then effort levels have to be increased beyond the one shown by our captain. An end of term report would surely include the words, better could do, in one form or another.
Beer Money
Twenty one points to safety. The one gained here could well prove vital come the end of the season. At least Clarets were not intimidated by the early tactics of the visitors and the reshuffled pack just about coped with a promotion hunting side, which is a good thing given four of the current top six still have to visit Turf Moor.
Star Geezer
Could well have been Grantona who gave another solid ninety minutes of graft and craft. But the award goes to Jensen who made important saves to foil his former team mates. He could do little with the goal, the first conceded this year, but overall, his decision making so often criticised, worked in his favour and his handling was safe and reassured.
Champagne Tastes
Quite where Clarets would be without Robbie Blake is anyone's guess, but if his skills and creativity were missing then Clarets would be doomed as there is currently no one else who can create half a chance and make visiting keepers earn their living.