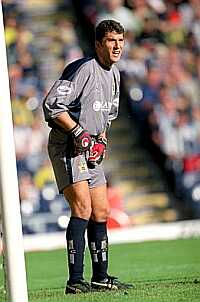 How crucial was the injury to Nik?

If you also consider that Rushden and Diamonds ended our interest in the Worthington Cup you really start to wonder what on earth we are doing against these teams from two divisions below us.


It is not like Stan Ternent to tolerate complacency amongst his players but what other explanation is there? If you count both games against Scunthorpe in last years FA Cup, have we really had 4 off days against supposedly inferior opposition or are the players, maybe subconsciously, relaxing?


At Whaddon Road on Sunday the game was effectively decided in 10 first half minutes.


The first action of significance saw Nik Michopoulos go down to gather a routine shot from outside the box but it was immediately apparent that he had a problem as he hurled the ball out of play so he could receive treatment.


Unable to continue, and with less than 20 minutes played, he was replaced by Luigi Cennamo making his first team debut. Before Lui had a chance to touch the ball let alone get warmed up the Clarets gave away a free kick on the left hand corner of the box. Whether it was a problem with the lining up of the wall I don't know but Milton curled it around the left hand side of the wall and inside the foot of the post as Lui desperately tried to get there.


Two minutes later Burnley fell victim to an old failing. Dean West simply gave Milton too much space to cross the ball and the Cheltenham giant Alsop was unmarked in the middle to nod the ball home giving Cennamo no chance.


Almost immediately the Clarets were back in it as Gareth Taylor flicked the ball on to Alan Moore who ran at the Cheltenham defence. Ian Moore dragged the defenders to the left allowing a space for Alan to run into and he flicked home a shot from the edge of the box with his left foot.


Back in the game with an hour left one wonders how we only managed to create one chance of note for the rest of the game. Unfortunately that chance fell to the feet of Gareth Taylor who hit his left foot shot well enough but Book in the Cheltenham goal was able to make a save.


For the rest of the game we resorted to hitting long hopeful balls forward rather than trying to play a bit and it was just what Cheltenham wanted.


Despite 5 minutes of injury time the Clarets never looked like scoring and once again we made a premature exit from the Cup.


Concentrate on the league? Whether you subscribe to this view or not going out of the Cup is always deeply disappointing. It is a question of whether we can put the disappointment behind us quickly enough and get back to performing like the way we know we can in the league.


Certainly the signing of Robbie Blake will help and it was interesting to note that whilst the Clarets were going down at Whaddon Road our supposed next transfer target Bob Peeters was scoring for Vitesse Arnhem in their 2-1 win over NEC Nijmegen.


Whatever happens with Peeters one thing for sure is that the Clarets need everyone's support between now and the end of the season.


Here is how the action unfolded at Whaddon Road though there will be other reports to follow later.


First Half

2 Dean West is forced to concede an early corner to Cheltenham but it comes to nothing.

5 Alsop heads narrowly over from a Jamie Victory cross as the Clarets struggle to settle.

6 This time Victory is played through by a Naylor back heel but fires narrowly wide.

7 Alan Moore breaks from half way in to the Robins box but his cross is cut out with Little waiting to pounce.


10 The Clarets look to have taken the early sting out of the game as Burnley start to see more of the ball.

15 Milton strikes from long distance which Nik smothers but injures himself in the process. After lengthy treatment he is forced to go off injured to be replaced by Luigi Cennamo making his first team debut.

20 Kevin Ball heads just wide from a Glen Little corner.


22 GOAL Kevin Ball gives away a free kick on the edge of the box which Milton curls around the wall and in. Cheltenham 1 Burnley 0.

26 GOAL Disaster for the Clarets as Alsop heads a Milton cross beyond Cennamo for the second goal. Cheltenham 2 Burnley 0.

28 GOAL Gareth Taylor plays a great ball to Alan Moore who advances into the box and cracks home a shot. Cheltenham 2 Burnley 1.

34 Cennamo makes a decent save from a long shot.


39 Glen Little tricks his way into the box and chips for Taylor at the far post but Book in the Cheltenham goal snatches it off his head.

42 Jamie Victory heads just wide as once again the Clarets allow Cheltenham to cross the ball too easily.

45 Alan Moore crosses for Kevin Ball who launches himself at the ball but earns only a booking as he collides with a defender.

Second Half

50 Arthur Gnohere picks up a booking for a foul on the edge of the box but this time Naylor fires the kick well over.

55 Playing with a strong wind now the Clarets are starting to push forward without creating any clear cut chances.


60 Corners come and go for Burnley with Little getting more into the game and also putting over some dangerous crosses.

65 Burnley on top but still not creating much.

70 After another piece of good work from Alan Moore he crosses but Kevin Ball scuffs his shot in front of goal.

73 Gareth Taylor is clear in the box but his shot is well saved by Book.

75 Lee Briscoe volleys a Dean West cross on target but again Book makes a save.

77 Graham Branch replaces Glen Little as the Clarets go 3 up front to try and grab the equaliser.


82 Brad Maylett replaces Ian Moore as things start to look desperate.

90 5 minutes of added time.

FULL TIME and the Clarets are out of the Cup.