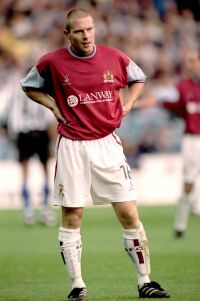 Star Geezer - Hat-trick star Ian Moore
After all, Clarets last two Cup exploits against Scunthorpe and Rushden had finished in embarrassing fashion. Not so this time around. Though Clarets denied the visitors a name on the advertising fixture board on Harry Potts Way, Clarets paid Canvey a compliment fielding their strongest side possible and were made to use all of their skill, superiority and fitness to finally see off the Ryman League Leaders, desperate to make it twenty seven wins from twenty eight, Clarets finishing the game comfortable winners and who never really got beyond second gear in seeing off a well organised and extremely fit Canvey Island side, cheered on and off the field at the end by their Island hopping band of 500 optimists.
With Dicks out, Canvey fielded a team of proverbial butchers, bakers and candlestick makers, whilst Clarets replied with the same team as beaten at Man City, though the bench resembled one of strength, the returning Cook and Payton joined by Weller, Cennamo and Papa........., the overnight thaw seeing the pitch in good condition, another bad omen for Canvey.
The first ten minutes of the game told us a lot about our visitors; that they were well organised and the plan in their 4-5-1 formation was to defend in numbers, often catching Taylor and Moore offside, sometimes genuinely, sometimes not, judging by the repeated disputes about the legitimacy of the linesman's flag.
It was the visitors though who served first warning that they were not making up numbers, Millers crisp low drive from twenty five yards on the quarter hour just the wrong side of Relievedos' right hand post. Grant was booked on twenty minutes after a late trip, Mr Pugh becoming petty in a game constantly broken up by infringements and one where anything in favour of Canvey would see a delay before any restart. They knew how to frustrate.
Initially, it was to be a day of patience watching a game played at a slower pace than normal. Half way through the half and Clarets took the lead in their first real attack. Grant released the ball early to Mooro to chase, forcing the ball past his man and finally finding some space behind the Canvey defence. Wriggling round a defender he released a low hard cross that was only half cleared and Little rammed the ball home left footed from eight yards to much relief all round, taking his personal tally for the season into double figures.
There was to be no avalanche and West was the victim of a wild tackle, which from the resulting scuffle, Parmenter received his deserved yellow card. Taylor's feet sought to remind us of how bad they can be when sending a free kick up the tunnel, much to the delight of the travelling Islanders, before Knight replied with one of their own, sending an optimistic thirty yarder well wide in between dubious offside giving, the officials enjoying a phase of somewhat sympathetic decision giving in favour of the visitors.
Five minutes from the break and Stan was visibly fuming at complacent defending, Clarets failing to clear their lines on numerous occasions and Canvey penning Clarets back in one attack, Cox coming to the rescue with a good block.
With the Bovril approaching, Mooro won a free kick on the edge of the Canvey box and Little's neatly floated ball was glanced backwards by Mooro, past a stranded defence, creating a pleasing two goal cushion as the teams left the field with Taylor limping badly up the tunnel. BBC's Match of the Day could now concentrate on their lead match elsewhere, with the plentiful watching cameramen and journalists now sensing a wasted journey.
There was no Taylor as the teams returned, Stan surprisingly replacing a striker with midfielder Weller, electing to play one up against a team from the Ryman League. The Clarets began the half as though a stern talking to had been given out, their effort visibly greater and the visitors visibly being shut down and forced back with numerous chances created as a result in the opening spell.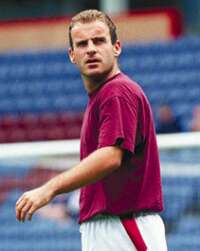 Star Gazer - Dean West
It was though the visitors who crafted the first chance, though after a Premiership build-up, the Ryman finish saw the ball miscued and the chance was gone. At the other end, Mooro headed over West's neat cross, after good work from Weller. Goalkeeper Harrison's hands were clearly better than his dodgy feet, saving easily from Mooro, before Little let him off the hook attempting a poorly executed left footed lob after Bennett had been caught in possession.
Ten minutes into the half and after Moora had released Little for a run onto goal, Blakey pulled up quickly clutching his right hamstring again before leaving the field clearly in some discomfort. The returning gloved one Paul Cook took warm applause as he entered the game and from that point on we had some vision back in the midfield.
Parmenter was replaced by Cobb as Nicos saved from a weak header, before Canvey enjoyed their moment of glory, pulling goal back with twenty five minutes remaining. A quick break down their left saw Fred West embarrassingly commit himself, allowing time and space for a low pull back to leading scorer Boylan finishing smartly from twelve yards out, Nicos Noweherenearos easily beaten as Canvey went wild in celebration.
A few minutes of nervousness passed without real concern, before the two goal cushion was restored with fifteen remaining. Arthur the bulldozer went on a mission, robbing a defender in his up field support to the attack. His neat short pass inside to Mooro resulted in a neatly curled shot to the far top corner for the goal of the game and one that was now effectively over.
A disappointing Moora was replaced by Papaglovedos, who was immediately given as offside picking up a Canvey header to the accompaniment of "You don't know what you're doing" from a vexed Longside! Into the last ten and an energetic Ball chased a long ball over the defence before crossing superbly to the far post, where Papaknockedbackos found Mooro six yards out to ram the ball into the roof of the net for his hat trick and twelfth goal of the season, our new leading scorer.
The game became one way from this point, the obvious gaps now apparent from Clarets superiorities. Papaohdearos finished poorly, when one on one in the most notable of the misses that followed, but in the end Clarets ran out comfortably and thankfully in the bag for the fourth round, something that has not been managed on too many occasions of late.
Att:- 11,496
Star Gazer
Dean West. Caught out far too many times and clearly seen as the weakest link by Canvey as they attacked. Clearly at fault for the Canvey goal. On this form goodbye.
Glass Half Empty
Yes they were from the Ryman League and yes Clarets made hard work of beating a lower league side and at a price. Only time will now tell how bad the injuries are that caused both Taylor then Little to leave the field.
Star Geezer
Ian Moore. For once his tireless running and pace were to pay big dividends. Can't see that he will have too many match balls in his trophy cabinet, but his finish for his second and Clarets third goal was top class.
Glass Half Full
Ten minutes apart, Clarets controlled the game and never looked in any real danger of becoming headline material. Ball and Grant worked hard to quell Canvey in the middle with Arthur and Cox remaining solid for 99% of the game. Nicos must have been coldos.