Can We Play On Sky Every Week Please?
Report of match Burnley 3 West Bromwich Albion 2 played 23rd April 2007
Reporter Andrew Fell
Maybe it is time for the powers-that-be at Sky to increase the amount they pay the Clarets when we grace their schedule.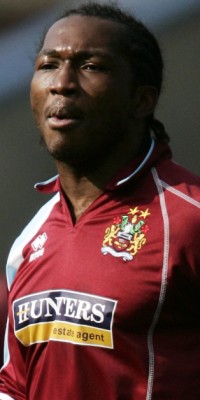 Eric Djemba-Djemba - man of the match
Three times this season, thus far, we have been involved in live matches worthy of the cliché 'a good advert for Championship football'. Each match has returned five goals, its fair share of chances and been easy on the eye. Admittedly, fans of our opponents on these occasions may disagree but I've thoroughly enjoyed them, especially the final few minutes of the two home games in this sequence.
After eight minutes of last night's game against play-off chasing West Brom, the best squad in the division and a team who stuffed us at the Hawthorns, pre-match optimism had turned to a rather pale, resigned shade of déjà vu. Could it really be happening again? Our solid defence, like at the reverse fixture earlier in the season, had gifted quality players, Koumas and Ellington a goal each.


The first was a mistake from Jensen; he seemed to misread the path of the ball and the swerve took it past him into the net. A poor start was compounded only a few minutes later as a high ball from the right hand side was bundled into the net. The advantage of television replays showed that Ellington headed the ball downwards only for it to strike his hand and loop over the helpless Jensen. It was not going to be the last time that a 'headed' slice of luck was to impact on the game.


Immediate feelings mirrored those from earlier in the season; which pub shall we escape to? On reflection, I realised that most pubs would still be showing the massacre that may ensue and also I had this report to write; can't let Clarets Mad down can I!


My general depression was, thankfully, in contrast to the players. They moved the ball around with confidence, clearly signalling an intent to attack. Whilst we looked decidedly shaky every time Koumas or Kamara had the ball in our half, our forward play was reaping its own rewards. The West Brom defence looked under pressure. Wade Elliott and Michael Duff are forming an effective partnership on the right of our midfield. Some of their link up play and overlapping is reminiscent of Glen Little and a confident Paul Weller at the beginning or our first season back at this level.


Elliott looks increasingly assured and Duff has the capability, if not always the consistency, to supply dangerous crosses. During this period of play, Jon Harley surged into the penalty area with the ball, was brought down following a collision. Was it a penalty? I don't know and, quite frankly, I'm beyond caring all that much; Mr Mourinho forgot to add a clause to his new 'rule'; Burnley Football Club have no right to be awarded a penalty under any circumstances, however blatant or otherwise the infringement may be.


The goal which brought us back into the game was fortuitous in the sense that Duff's challenge fell neatly into the path of Andy Gray and that he could easily have been given offside. I have not seen the replay but from the JHU, pretty much in line with the incident, I think he deserved the benefit of the doubt. What cannot be argued is the fact that he very calmly and coolly lifted the ball over Kiely and into the net.


He has looked much sharper during our recent revival and has also rediscovered the ability to be in the right place at the right time. He now has a tally of thirteen goals for this campaign; if only he had not been injured… a theme I will return to later.


Despite the odd example of over fussy refereeing the game flowed during the remainder of the first half. Koumas looked dangerous every time he had the ball and he found too much space for comfort. An almost disastrous yet comical mix up between Duff and Thomas, both of whom had otherwise good games almost led to one of those self-destructive moments which plagued our barren run earlier in the season but the bounce of the ball seemed to be going our way.


Jensen atoned for his earlier error with a fine save low to his right; he managed to parry the ball for a throw-in: Edwin Van der Saar take note! Djemba-Djemba's influence on the game was steadily growing. An incisive pass gave Harley the chance to run into the area but a weak shot ruined what was an excellent move.


Kamara showed us all how to dive theatrically and Ade demonstrated how to trap the ball to about ten feet away from your body. His work rate is undeniably high but he is hardly the most clinical of technicians. He was later replaced by McVeigh whose incisive passing made an immediate impact on the game and emphasised the shortcomings of the aforementioned Akinbiyi.


The major talking point of the first half and the game as a whole came on the stroke of half time. The ball looped into the air with a stationary James O'Connor underneath. As he leapt in an attempt to head the ball, McShane thundered into his back; O'Connor lay flat out on the ground, unconscious.


I am aware that television replays show a clash of heads and that McShane was trying to win the ball but the view from JHU made the incident look awful. It was seemingly a combination of head and shoulder that connected so decisively with O'Connor and he was out cold before he hit the floor. Did it deserve a straight red? From where I was sat, yes. There was no need for him to execute the challenge. He did not have much chance of winning the ball. It was at best reckless, at worst extremely dangerous.


Thankfully, early in the second half, word spread that O'Connor had regained consciousness and was being moved to Burnley General, purely as a precaution. McShane took an age to leave the field, he was clearly upset, clearly had no intention other than to win the ball. In that sense it is easy to have sympathy with him but the sight of a player lying motionless on the ground alongside the anxious body language of staff and players reflected the severity of this challenge.


The half finished 2-1, the crowd sensed a come-back. There was optimism mixed with concern for O'Connor, replaced by Chris McCann. Tony Mowbray left the arena an angry man.


Managers and players will always tell you that it is not easy playing against ten men and that a red card sometimes has the opposite effect to the one you would expect. However the second half was an example of eleven most definitely being better than ten. The Clarets controlled almost the entire second half; it became a question of whether we would find the equaliser and, subsequently, the winner rather than if the opposition would extend their lead. The answer to both those questions put a smile on the majority of people at the Turf last night; a smile which extends to one of our Lancashire neighbours and the whole host of teams vying for the final three play-off positions.


Gray's second goal came from an Elliott cross. The ball bounced and bobbled, managed to evade a defensive clearance and was turned into the net. Again the West Brom defenders will be far from happy; they had ample opportunity to clear their lines or at least put the ball out for a corner. As a highly thought of centre back in his time, Mowbray must despair at giving away goals like this. We'll gladly take it though.


If the build up to our second was scrappy, the winner more than made up for it. As on countless previous occasions the ball found its way from defence, through central midfield, usually via Djemba-Djemba, and out onto the right wing. Duff put in a high quality cross and McCann, who had an earlier close-range header brilliantly saved by Kiely, applied the finish. Not the classic header in that it scruffily looped in off his left shoulder but the enterprise, endeavour and, dare I say it, quality of Steve Cotterill's rejuvenated side deserved nothing less than to complete the comeback and secure all three points.


We had dominated the second half. Elliott and Akinbiyi spurned excellent chances, the midfield kept the ball well and our defence imposed its authority. Koumas and Kamara posed West Brom's only threat, the latter being replaced by Kevin Phillips following a challenge on Djemba-Djemba which deserved a second yellow card. He is a very good player but, shall we say, he bends the rules somewhat! If they had still boasted a full complement of players, he may well have been a very good player taking an early shower.


This was an excellent performance against a strong team. The red card undoubtedly changed the game in that WBA had to reorganise and the Clarets found more space. Having said that we recovered well from the early setbacks and contributed equally to a flowing, entertaining spectacle putting pressure on their defence prior to the dismissal. The aspect of our approach that I enjoyed the most was our confident attitude, professional application and desire to play good football.


Man of the match, predictably, is Eric Djemba-Djemba. He did not have the most convincing of starts but once into his stride he dominated midfield. He is a class above in his first touch, his awareness and his movement. Andy Gray obviously stood out with two more goals and I thought Duff was tremendous in the first half.


Jon Harley, especially in the second half, continued his recent good form and Wade Elliott put in another good performance. He still drifts in and out of the game but his contributions are more consistent and he looks more likely to have an impact on the game.


So we find ourselves in fifteenth position having taken fifteen points from a possible eighteen and have lost just once in seven games. It is impossible not to wonder what our season could have been like if that elongated, barren stretch of winless matches had not occurred. Draws which should have been wins, defeats which should have been draws or, in the case of Leicester at home, wins. The mind boggles and in truth we are where we deserve to be; a good start and a strong, very late run will never be good enough to pressurise the play-off positions.


It is always nice to dream though isn't it?
Competition:

Coca-Cola Championship

Kick Off:

19:45

Venue:

Turf Moor

Attendance:

12,500
Burnley

Gray 15, 48
McCann 87


3 - 2
West Brom.

Koumas 6
Ellington 8


Match Finished
Sorry, there is no commentary available for this match
Click here to see a full list of the football results from Monday, 23rd April 2007.