Much to the chagrin of the locals, Clarets were plentiful in the Jack Walker Stand. Some more noticeable than others.
For one afternoon I knew how John Bond must have felt when he disguised himself as a steward in the stand at Shrewsbury.
Keeping your emotions in check is not easy on an occasion like this but, sat snuggly beside the press box (with one or two impartial observers around us and the soft Scouse tones of Clarets legend Eyresy within earshot), I suppose it was the next best thing.
What we did have was a decent view of the game from the halfway line and in the early stages it felt like being at a tennis match with heads turning from the left to right as both sides struggled to assert themselves.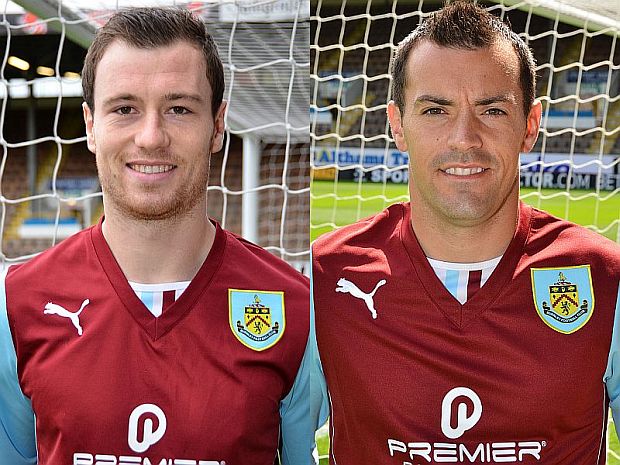 Burnley's Bouncing Bomb
It didn't take long for the two long-toothed derby campaigners – David Dunn and Mike Duff – to clash. In the fourth minute, Duff crudely body-checked the Rovers talisman, for which he might have been booked had it not been for Dunn's over-reaction.
It was the first of several Dunn theatrics. I was pleased to see 'Mr Rovers' start as I wanted him to be on the pitch when we finally turned them over. I was soon beginning to regret that sentiment as he imposed himself on the game from the off.
He does make the game look easy and some good probing work on the left led to our first nervy moment as Heaton easily dealt with Rhodes' off target header.
But then, from an effortless advance and cross from Arfield down the left, Vokes found space to poke the ball home and send the Clarets fans into raptures. The offside flag was raised and we could just make out on the television in the stand that Vokes was off by a toe-end. Here we go again.
If Dunn looked immediately at home for Rovers, so too did Kieran Trippier for Burnley. All composure amongst the huff and puff. At one end he thwarted Luke Varney with a class bit of defending before releasing Danny Ings with a superb ball with the outside of his right foot only for the striker's cross to narrowly evade everyone. He then turned provider with another great ball for Scott Arfield to loop his header just over the bar.
Blackburn impressed with their hustling though. They closed us down effectively in the middle of the park and a bright spell from them led to the opening goal in the 24th minute. Rhodes had a taster a few minutes earlier but shot wide from the edge of the box. When Craig Conway found him in the box again with his back to goal, Shackell surprisingly gave him the time and space to spin and send a cracking low shot into the bottom corner from 15 yards out.
Well it wouldn't be Ewood without a sinking moment. The goal hurt us and the players were rocked a little. Dunn tried to seize the initiative and one mazy run ended in him looking for a penalty. We've seen Mike Dean give them.
The Clarets went too long too often in the first half. I wasn't sure if this was a symptom of our collective nerves or a deliberate ploy to get Ings running in behind their makeshift rearguard. The striker was certainly putting in plenty effort.
He got his just rewards when Conway put a back-pass in his direction in the 39th minute. Ings had a clear run at Robinson's goal but the angle narrowed a little and his low shot was saved well by the former England stopper before Burnley's top-scorer put the rebound wide.
At the other end, Ben Mee blocked Jason Lowe's shot on the line. How many of those have we seen this season? Half-time could not come quickly enough.
I felt calmer at the interval knowing that Sean Dyche will be instilling some good verbals into the players in a way that Gary Bowyer would not.
A couple of texts from Rovers fans started to come in – it was too early for that – and sure enough Burnley came out with a better body language and tempo to their play.
From another teasing Trippier through-ball, Ings and Hanley clashed in the box with the Burnley striker claiming a penalty. With the benefit of watching this one back I think it would have been a harsh one but if it were a foul it should have been a red card too.
Then, in the 55th minute, what Sean Dyche later called 'the key moment'. Jones, a little out of sorts against his former club, effectively laid the ball off for Dunn.
It could have been a catastrophic error but when Dunn slipped the ball in for Rhodes, the Rovers striker – usually so clinical from that position – rolled his shot against the base of the post from 20 yards. The gasps from all corners of Ewood were palpable.
Dyche began to prepare his 'Bouncing Bomb'. Barnes Wallis was the inventor of the bomb that was used to destroy German damns and explode underwater. Burnley's Barnes Wallace combination was about to combust the Blackburn defence.
Barnes is nothing if not niggly and he made himself the filling of a Blackburn sandwich to win the all-important free kick in the 73rd minute. Despite our remarkable progress, we have lacked consistency from our dead ball situations this season and here was Wallace, poised over the ball, ready to make his first key impact on the season. He duly dispatched the ball into the corridor of uncertainty. Shackell closed his eyes and made it happen, beating Robinson to the ball for the crucial leveller.
Cue Darwen End delirium, and a surprising amount of excitement from the seats in front of us. The momentum shift was obvious. Blackburn – with Dunny substituted - looked shot. A sense of fear engulfed the Jack Walker Stand. It felt weird to be feeding off the growing desperation of the home fans, but I liked it.
We didn't have to wait too long for the mortal blow. As the Darwen End urged every sinew from the players, disaster struck for Blackburn, destiny called for Burnley.
From Trippier's cross from the right, Robinson could only punch clear. The ball broke for Mee to feed Arfield on the left. A right-footed ball skimmed the head of Michael Keane, and dropped for Wallace. He did brilliantly to work the ball back for Barnes to tee up Ings. The Suarez of the Championship seized his moment to fire a low shot past Robinson who made a calamitous attempt to save it. The Bouncing Bomb wreaked havoc again.
This was the Clarets' Nirvana moment. The pent up pride and anguish of a 35-year wait gushed down the Darwen End like lava. A Claret flare went off. It was a truly beautiful sight.
In the foreground a frustrated Rovers fan threw his blue and white scarf at a wildly celebrating Burnley lady 10 rows in front. This was really happening. Rovers' fans literally throwing the towel in.
It was very difficult at this point not to go mental. The stress of holding it all in gave me a severe headache for the remaining minutes. Thankfully no long term damage and no Blackburn recovery, despite Lowe's fine shot and two smart saves from Tom Heaton in the dying minutes. It was our day and our night to follow. As I levitated out of Ewood Park past some extremely angry people – I mused over the change in atmosphere along Nuttall Street from a year ago and the cup final win celebrations at Dunny's late goal.
That blue and white shirt will never again conjure up the same feeling. No more inferiority complex.
From now on it will always just be a game of football between them and us – in truth the way it should be - but for the 4600 Burnley fans at Ewood on Sunday, it was a bit more than that. An unforgettable day in a magnificent season!
If this campaign needed a defining moment, this was surely it. There's still a lot of work to do, but the momentum of this result will surely help sweep this relentless Burnley team to its rightful place.
It couldn't have been put better than a text I received from a gracious Rovers fan soon after the end of the match: "Well it had to happen one day! Some bragging rights those, winning at our gaff on the way to automatic promotion. Worth waiting for I guess."
Worth waiting for indeed, though its not quite time for counting chickens yet!