It hadn't been the most exhilarating of performances but no one cared as Sean Dyche marched onto the pitch at the final whistle to salute the hoards in the away end before leaving to allow his players to take the plaudits.
That brought the curtain down on this latest away win, our tenth of the season in the league, and saw Burnley return home on the cusp of an automatic promotion to the Premier League.
We had a good trip over to South Yorkshire. We left in mid-afternoon and, leaving nothing to chance, went for refreshments at the very same pub we'd visited on the way to Oakwell on Boxing Day 2010.
That left us with a short journey to the ground and we were there over an hour and a quarter before kick off. We got in and got good seats (or should I say a good standing area, as my knees are telling me today) and then watched as Burnley fans simply poured in before and after kick off, many too late even to see the only goal of the game.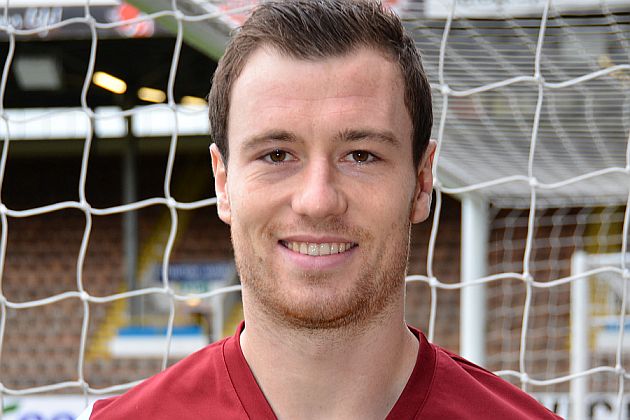 I-I-Ashley-Ashley- Barnes scored the winner
I later heard that there had been an accident on the M1 involving some Burnley supporters. I only hope that they are all ok, that there are no serious injuries. That's far more important than anything else.
The much awaited news of Danny Ings' return to the team was confirmed around an hour before kick off but there was no starting place for Kieran Trippier who returned via the bench. Ings was in for Keith Treacy and Dean Marney, free from suspension, replaced David Edgar from the team that had drawn at Watford.
The teams came out to a superb reception from the Burnley fans who were by now causing chaos in the away end due to the sheer numbers. As stewards quickly extended the area available to us there was an almost hush ahead of the awaited arrival of Sean Dyche. The welcome for our manager was almost off the scale as he turned to applaud the ever increasing number.
After a quiet opening few minutes we started to step things up. Michael Kightly got in a teasing cross that goalkeeper Luke Steele dealt with, but there was nothing the goalkeeper could do a couple of minutes late when the hugely impressive Kightly crossed again.
The ball was played across from right to left, reaching Ben Mee who sent Kightly clear. This time his cross was to the near post where Barnes steamed in to get ahead of the defender to head home powerfully and spark incredible celebrations in the stand behind that goal.
There was no early response from Barnsley and the Clarets might have gone two goals in front but for the assistant's flag. There was some confusion as the ball was played in from the right. Barnes, appealing for a hand ball, got to the ball and knocked it back for Ings who scored, but Barnes had been flagged offside and the goal didn't stand.
Barnsley tried to get back into things and Jacob Mellis, who played a reserve game for Burnley a couple of years ago and restored to the Barnsley side, had a couple of long range shots that didn't cause any concern.
We always looked the most likely and really should have gone 2-0 in front when Barnes had the simplest of chances. David Jones played the ball to Ings who looked a certain scorer. His effort looped up towards the far post.
Barnes initially opted to leave it, believing that it was going in, but then reacted too late and the chance had gone.
All we got from the home side were long range efforts going nowhere near goal but we continued to look impressive and really should have had the game put to bed by half time.
However, it was still 1-0 but it was enough for the players to receive another ovation from the now incredible number of Burnley fans there.
There is no doubt that Barnsley had more of the play in the second half but they hardly threatened us. They hadn't had a single shot on target in the first half and nothing changed after the break.
What they did do was get more physical and certainly Chris O'Grady could be relieved after receiving only a yellow card from referee Neil Swarbrick in an incident that saw Jason Shackell make contact with his arm.
Despite having nothing like as much of the ball we still looked dangerous when we went forward and the only concern was the slender 1-0 lead, knowing that one mistake, fluke or an unlikely piece of genius from Barnsley could change things. No matter what they did though it was us looking the more likely as we countered.
Meanwhile, Burnley's twelfth man, the away end, was in superb form. The singing was incessant, when the team looked as though they might need a lift the noise levels increased and, once spotted in the old stand, Sam Vokes, who had his op today, was singled out until he responded.
'In our Lancashire home', was blasted out as was 'I-I-Ashley-Ashley- Barnes' and some reference to our captain having put the ball in the back of someone's net.
I love watching Burnley and I love my away days. There is no doubt at all that when the Burnley crowd are like this it is very, very special. It's almost as if nothing can go wrong.
Nothing did go wrong. So organised were we, so strong were we, so good defensively were we, that Barnsley matched their first half and again didn't have a single shot on target.
There were no last minute nerves and on a night when we even saluted (sort of) a Blackburn win it was another three points to take us to 83.
In my Watford report I wrote: "The lights are not just on at the end of the tunnel now, the daylight is shining through," and I added: "I'm getting excited because I know where we are going."
I think the tunnel has been demolished now, so bright has it become, and I think everyone knows where we are going.
Dyche, the players, they'll rightly tell us they are preparing for Middlesbrough on Saturday. We are preparing for that special moment when we know not one of the teams currently below us can catch us. It won't be too long a wait, rest assured.
This season is just getting more and more special. Harry's twitching even more, McClaren's getting himself another cup of coffee and putting his umbrella up, Rösler is playing a reserve team, and I've no idea where Little Billy has disappeared to.
I know winning at Barnsley is not that special anymore, after all Brian Laws' team did it on Boxing Day 2010, but this team has also won at Ipswich, Bolton and Blackburn. Now that is special.
One game at a time says Dyche - see you for Middlesbrough on Saturday.
The teams were;
Barnsley: Luke Steele, Ryan McLaughin, Jean Yves M'voto, Lewin Nyatanga, Tom Kennedy, Jacob Mellis (Reuben Noble-Lazarus 60), Stephen Dawson, Martin Woods (Pat McCourt 81), Dale Jennings, Tomasz Cywka, Chris O'Grady. Subs not used: Iain Turner, Bobby Hassell, Jack Hunt, Nick Proschwitz, Emmanuel Frimpong.
Yellow Cards: Jacob Mellis, Chris O'Grady.
Burnley: Tom Heaton, Chris Baird, Michael Duff, Jason Shackell, Ben Mee, Scott Arfield, Dean Marney, David Jones, Michael Kightly, Danny Ings (Keith Treacy 87), Ashley Barnes. Subs not used: Alex Cisak, Kieran Trippier, Kevin Long, David Edgar, Brian Stock, Ross Wallace.
Yellow Card: Dean Marney.
Referee: Neil Swarbrick (Preston).
Attendance: 12,904 (including (3,419 Clarets).