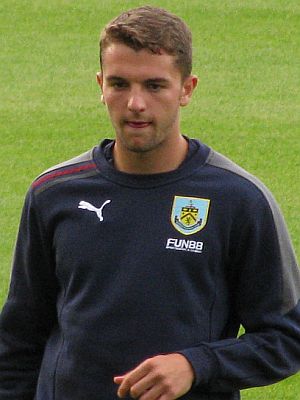 Four goal Jay Rodriguez
It had been a drab affair for some 55 minutes with Burnley struggling to find any sort of rhythm, but then the game exploded and in the hour or so there were no less than nine goals and plenty of missed chances.
It was played in front of a shockingly low crowd, Burnley's lowest in some five years, with many staying away because of the unnecessarily high price of £15. Still, as someone said towards the end of the game, "It's a cheap do - £15 for 120 minutes football and working out at less than £1.70 per goal". I didn't need reminding that Grimsby away had worked out cheaper nine years ago.
Goals change games they say, and there is no doubt that this game was desperately in need of it when Jay Rodriguez gave us the lead from the penalty spot, but it's some time since I saw a game change to such an extent.
Ahead of the game, Eddie Howe had promised to field his strongest team, and he did just that with Charlie Austin coming in for the injured Martin Paterson in the only change from Saturday's 2-2 draw with Watford.
With Keith Treacy also absent on international duty, and the number of substitutes increased to seven for this game it meant bench places for Michael Duff, Brian Easton and young professionals Joe McKee and Wes Fletcher with McKee getting a competitive first team call up for the first time.
The first half of the game, frankly, had little going for it. There was little to get the sparse crowd excited and in return the crowd wasn't big enough to even try and lift the performance. Probably our only real chance came when Austin did well to get the ball back for Jay Rod who couldn't find the finish.
It could have been worse too. Burton twice might have scored with one effort across goal going just wide of Lee Grant's right hand post.
The whole 45 minutes from Burnley had been laboured. We were wasteful in possession and there was no tempo to it. We were passing the ball across the pitch at times without seemingly going anywhere and as we went in at half time the hope was that things would be better in the second half.
Marvin Bartley came on for a disappointing Dean Marney for the start of that second half, but for almost ten minutes nothing really changed. Chris McCann had a shot from distance but that was about it.
Then, a Ross Wallace shot was turned away by the goalkeeper after the former Preston man had linked well with Kieran Trippier and in the very next attack we won a somewhat fortuitous penalty decision.
There was no doubt that Austin was fouled. He'd done well to get onto a ball that dropped loose, but the trip on him was clearly outside the box and in the D so we can be thankful that referee Pawson pointed to the spot.
Jay Rod made absolutely no mistake to the 'keeper's left and the Burnley v Burton tie then became something completely different.
Austin missed a good chance from close range after good work from Elliott and Rodriguez but some ten minutes or so after the penalty we had the referee pointing to the spot again. As with the first, there was no doubting the foul as Wallace went down, but this time there was no question as to where it happened, a clear penalty.
Up stepped Jay again to hammer home, this time a more central kick if anything to the right of the goalkeeper.
Job done we thought and it should have been. Unfortunately Burton pulled one back and a good goal it was too as Cleveland Taylor weaved his way into the box and placed his shot into the bottom corner.
Even so we kept on going forward and, with seven minutes remaining, Austin scored with a sensational striker. Coming down the right he came inside the defender and then unleashed an unstoppable left footer which simply flew into the far top corner.
It was a goal worthy of winning any game and surely now, with seven minutes remaining, it was all over.
With suggestions that we might now introduce one of Fletcher or McKee it was probably a surprise to see David Edgar getting ready to come on, but before we actually made a switch we'd conceded another goal and this time it was a soft one.
Bartley was the player responsible when he woefully sold Andre Amougou short with a back pass and when the ball fell to Calvin Zola he made no mistake.
There were just five minutes remaining but worse was to come. Elliott gave a free kick away just over 20-yards from our own goal on Burton's right. He received a yellow card and then Grant failed to deal with the kick, it dropped and despite a block from Ben Mee it fell for Jacques Maghoma to score.
Incredibly, we'd conceded three goals in twenty minutes and were now facing extra time.
Maybe the golden goal should have been re-introduced. Had it been we wouldn't have had long to wait for the winner. In the very first minute of extra time we were back in front with another superb strike. This time it was Wallace. He was more central but his shot left Ross Atkins grasping thin air.
Two minutes later and it was 5-3 as Jay converted from distance. Perhaps the goalkeeper might have done better but the low shot was difficult to deal with.
That was it now. There was to be no comeback from Burton and it was a surprise we had to wait until the second half for goal number six. Either side of the break saw Jay miss chances to get a fourth for himself but almost immediately after the second of those misses he did exactly that.
For me it was the goal of the game as he linked up with Elliott in a sweet move before finishing with aplomb.
That finally was it. Fletcher got on but by then we were just pushing the ball across the field, retaining possession and ensuring no further hiccups. Even so, he very nearly got on the end of a right wing cross.
"All's well that ends well," the saying goes and by the time everyone was leaving the first 55 minutes or so had been forgotten. It really was a transformation and by the time that final whistle blew we'd seen nine goals, and some of them memorable goals at that.
Then you check the results. Barnsley, Coventry, Derby, Hull, Ipswich and Portsmouth all went out to lower league opposition, and five of them playing at home. When the draw comes round tomorrow none of them will be there. We will, and we'll be seeded to give us good chance of making round five.
Yes, we need to be better than we were but once we got going last night we could have finished up with a hat full of goals, and that's a real positive.
The teams were;
Burnley: Lee Grant, Kieran Trippier, Andre Amougou, Ben Mee, Danny Fox, Wade Elliott, Dean Marney (Marvin Bartley 45), Chris McCann, Ross Wallace, Charlie Austin (David Edgar 90), Jay Rodriguez (Wes Fletcher 108). Subs not used: Brian Jensen, Michael Duff, Brian Easton, Joe McKee.
Yellow Cards: Lee Grant, Wade Elliott.
Burton: Ross Atkins, Tony James, Nathan Stanton, Aaron Webster, Andrew Corbett, Adam Bolder, Cleveland Taylor, Jacques Maghoma, Chris Palmer (Jimmy Phillips 81), Justin Richards (Adi Yussuf 62), Calvin Zola (John McGrath 103). Subs not used: Kevin Poole, Ryan Austin, Greg Pearson, Danny Blanchett.
Yellow Cards: Aaron Webster, Adam Bolder.
Referee: Craig Pawson (South Yorkshire).
Attendance: 4,069.
Footnote:
Jay's four goal haul
Most goals scored by a player in a League Cup game for Burnley
Gordon Harris (v Cardiff 1960), Andy Lochhead (v Doncaster 1965) and Andy Payton (v Hartlepool 2000) are the only Burnley players previously to hit a League Cup hat trick
Billy Jackson (v Keswick 1903), Joe Anderson (v Leicester 1921), Ian Lawson (v Chesterfield 1957) and Andy Lochhead (v Bournemouth 1966) are the only Burnley players previously to have scored four or more in a cup tie
First Burnley player to score four in a game since Paul Barnes scored all five in a 5-2 league win against Stocport in 1996